With 64 locations, Cervus Equipment Corp. is the largest dealer group for John Deere and Peterbilt Motors across Canada. The company is a diversified equipment dealership group, with 35 of its dealerships in agriculture, 11 construction and industrial, and 18 in transportation. Of the 64 total dealerships, 6 are located in Australia, 9 in New Zealand and the rest in Canada.
As a publicly held company with shares traded on the Toronto Exchange, Cervus has opted to diversify to expand and increase shareholders' value and to even out some of the inevitable cycles of the ag business.
Founded in 1999, Cervus Equipment, which initially specialized in retailing farm machinery, has made a purposeful effort to diversify its business base while maintaining its core competency as a dealer of heavy equipment. It first branched out into the small construction, commercial and industrial business, by adding suppliers like JCB and Bobcat, for construction equipment, and Sellick, Clark and Doosan that manufacture forklift trucks. Most recently, Cervus added Peterbilt over-the-road trucks to its dealer group.
Peter Lacey, founder and now chairman of the board of Cervus, says one of the main goals of Cervus' diversification is to have non-competitive product lines to continue growing at a pace their manufacturers are comfortable with. He lists dealer succession in different industries as another reason. "We asked ourselves, 'Why don't we look at being an equipment consolidator of a multitude of top brands?' This way we're not putting pressure on any one of our OEMs for our future growth or limiting our growth by being dependent on only one brand."
As Cervus diversified into different industries and countries, it maintained its core strength of dealerships for heavy equipment, as well as its core values, which resonated with customers in every country where Cervus is represented. Agriculture remains its main source of revenue, making up 63% of gross sales in 2015, followed by transportation at 26% and construction and industrial at 11%. President and CEO, Graham Drake, who has been in the dealership business since 1992, says that while there are a lot of different businesses to choose from when it comes to diversification, dealers should stick with what they know.
Cervus Equipment Corp.
Calgary, Alta.
Founded: 1999
Employees: 1,500
Major Lines: John Deere (agriculture), Peterbilt (transportation), JCB, Bobcat, Sellick, Clark, Doosan (commercial and industrial)
Locations: 64 (49 in Canada 6 in Australia, 9 in New Zealand)
2015 Revenues: $1.1 billion (63% agriculture: 82% wholegoods, 18% parts & service, etc.); (26% transportation: 57% wholegoods, 43% parts & service, etc.); (11% commercial & industrial: 61% wholegoods, 39% parts & service, etc.)
Owners: Publicly held (CVL) and traded on the Toronto Exchange (TSX)
Dealer Succession & Consolidation
Drake says industry consolidation will "continue to happen as it happens." He says much of it is driven by the lack of succession planning in family, private and individually owned businesses. Lacey says this is where Cervus comes in. "We look at Cervus as a solution to the problem of dealer succession, so it applies to basically any kind of dealership," he says.
It also applies to dealers regardless of geography. When John Deere asked if Cervus would consider expanding overseas, Drake says they had New Zealand and Australia in mind because Deere dealerships there tended to be fragmented and, like their North American counterparts, they lacked effective succession planning. Expanding overseas offers large dealerships like Cervus the opportunity to grow without overwhelming areas in North America. In some cases, dealer groups in an expansion mode can appear threatening to other dealers carrying the same equipment brand in the region. "There is some consolidation yet to do in western Canada, but in partnership with Deere, that's why we're in Australia and New Zealand," Drake says.
Regardless of the area, some things are the same worldwide, most notably the challenge of getting employees at the dealership being acquired to buy into the corporate culture of the new ownership. Drake says the values of the business drive the culture. "Culture is formed by the habits you do everyday," he says.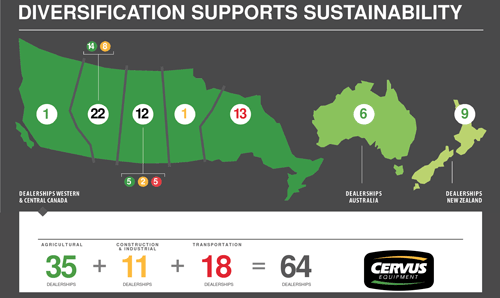 Cervus' diversification has allowed it to enter the agriculture business in Australia and New Zealand, where succession planning among dealerships is not very effective. Expanding overseas prevents companies like Cervus from getting too big and overwhelming areas in North America, says CEO Graham Drake. Source: Cervus Equipment Corp.
Business processes also have an impact on culture since they affect how everyday habits are formed. For example, Drake says the processes around recordkeeping, service, parts and other management tasks work with the business system to create organizational culture. If any of the processes behind these areas are missing it creates a gap. While there are clear differences in culture across different industries, Drake says customers want similar things. "Whether it's a large fleet customer in Ontario, or a three truck operator in another situation or a farmer, the one consistency I find is they want a trusted relationship with their dealer to support the product that they're buying."
Dealer Takeaways
Stick with what you know. Don't diversify into an industry too far outside of your expertise.
Identify your strengths and leverage them. Incorporate them into your business processes to strengthen your business system.
Know your culture and how it would apply in other markets.
Keep the end goal in mind. Only diversify if your core business is strong and diversification will make it stronger.
Drake says serving customers well is a common component of culture across industries, but that each marketplace has its own unique characteristics. In New Zealand and Australia, where 15 of Cervus' dealerships are located, Drake says the core values of Cervus resonated with the employees but the customers have a different dynamic. The core values make it possible for Cervus to relate to customers across the globe even though they may have different expectations. "… At the core of that is when they can trust us as a dealer … when our employees serve them well. That's really what we believe is the common component."
Managing Across Industries
Drake says dealers should be cautious about a few different things when it comes to diversifying a business. "One that crept up on us is the complexity of the business system," he says. Cervus tried to find one business system that would apply to all of their equipment dealers serving various industries, but they found the best solution was to use the best business system for each OEM. Using the best system for each OEM — four in total — allows Cervus to specifically serve its customers in the different markets, Drake says.
To support the different business systems they use, Drake says making sure their business processes are strong and that each business is streamlined is key. "We continue to work on that because we're finding this is an opportunity to make it easier for the company to do business with its branches, with our customers and also for managing information, the reporting side of it," Drake says. While there are also complexities around using just one business system, Drake says they would have if they could. He says the biggest concern right now is spending more time on business processes, supporting the stores and adding value to each division.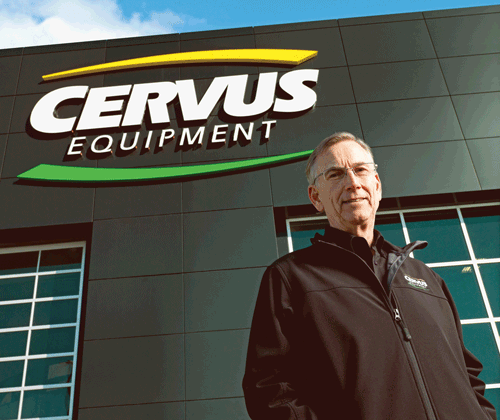 Graham Drake has been in the dealership business since 1992. The biggest challenge in diversifying, he says, is the complexity of business systems, the differences in customers across industries and employee resistance to adopting the culture of the new company. Photo Courtesy of Cervus Equipment Corp.
Drake also explains there are significant differences in managing dealerships in different industries. For example, customers approach service differently in trucking than in farm equipment. He says Cervus has developed a consistent set of steps as a starting point for each service department, regardless of customer base. These are modified in each store, whether it's a truck store with 28 technicians or an ag store with 4.
While these steps can be applied throughout Cervus' service departments, Drake says inventory management and building relationships with both OEMs and customers must be handled differently in each industry. He says this can be done effectively by having expertise in the marketing side of the business, a thorough knowledge of the industry, and discipline in following established processes. "A lot of it is understanding the marketplace, understanding the customers, understanding how we and our OEM serve those customers most effectively."
Managing Used Inventory
Cervus Equipment Revenue by Geography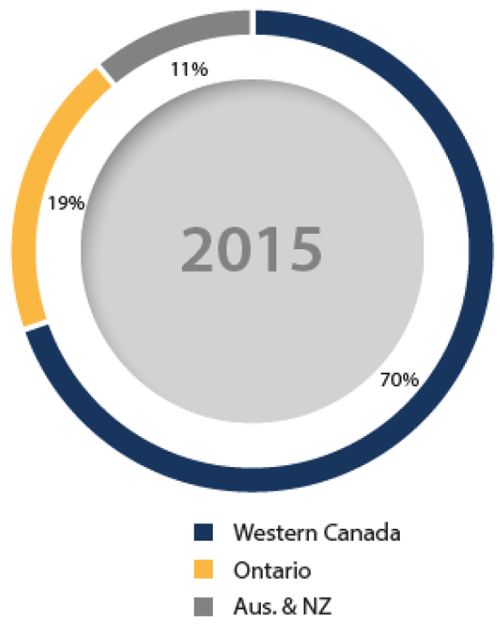 In 2015, 70% of Cervus' revenue came from Western Canada, 19% from Ontario and 11% from Autralia and New Zealand. Source: Cervus Equipment Corp.
Diversifying its business has also shown Cervus the significant differences in managing used equipment in other industries outside of the agriculture. Used equipment makes up a much larger portion of inventory, or assets on the balance sheet, in ag than in the other industries where Cervus operates. Drake says the split between new and used ag equipment inventory is 45% and 55% respectively. The inventory split in trucks, on the other hand is 90% new and 10% used.
He says several factors account for this difference. The seasonality of the ag business and quick turnover of inventory in trucks are two of them. Product diversity in trucks is another. Drake says there is much more variety in trucks, so stocking new inventory is more critical than in ag equipment. He says there are a lot of options for combines and tractors but Cervus sells a basic set of specs in each of its trade areas, which is enough for its farm customers.
Truck sales also usually do not involve trade-ins. Drake estimates that only about 30% of truck sales transactions involve trades. He says customers often take care of their old trucks themselves or are adding to their fleets.
Another difference between trucks and ag equipment is farm machinery is usually not used to its maximum capacity. A 5-year-old truck normally has about 800,000-1,000,000 miles on it, greatly reducing its value. But trade-ins up to 5 years old on in ag can still retain 50-60% of their value, Drake says. With higher usage, come higher rates of parts and service in the trucking business. "On the ag side of our business 20% of our revenue is aftermarket parts and service. With trucks, it's 40-45% parts and service."
With parts and service making up such a large part of the truck business, absorption rates are even more prevalent than they are in ag, Drake says. "Generally speaking, on the truck side absorption is more critical. It is a bigger part of the business, so its absorption is north of 100%."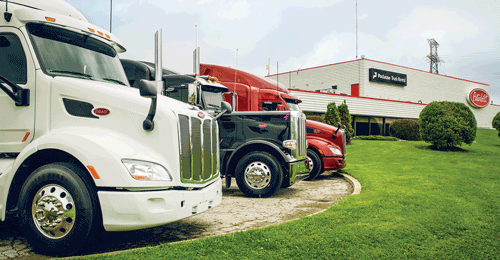 Cervus acquired the Peterbilt contract in 2012 and grew quickly after that. A key member of the executive team's experience in trucking made the transition smoother and 18 of its 64 locations are now dedicated to transportation. Photo Courtesy of Cervus Equipment Corp.
In the ag industry, Drake says as farmers grow, their needs change. "Technology and its support is critical to farm operations. A larger dealer is needed to adequately support customers utilizing technology." This has caused dealers like Cervus to have precision ag specialists to focus on these value-added services, Drake says.
As a larger dealer with multiple branches, Cervus has the capability to take trades from larger customers. "One of our newer stores loves the fact that they've got access to a larger selection of used equipment that they never had before," Drake says of one the acquisitions Cervus made in 2014. He says on the truck side of the business customers are looking for consistent service and support.
Playing to Its Strengths
Not only has Cervus diversified by seeking out other areas of business, but other companies have also sought the company out for ventures outside of its core business. For example, Drake says Cervus has received inquiries to manufacture ag goods. "Instinctively, we made small investments in things like this and realized fairly quickly that it was outside of our expertise. We don't bring a knowledge base to these things," Drake says. "All we brought was capital … "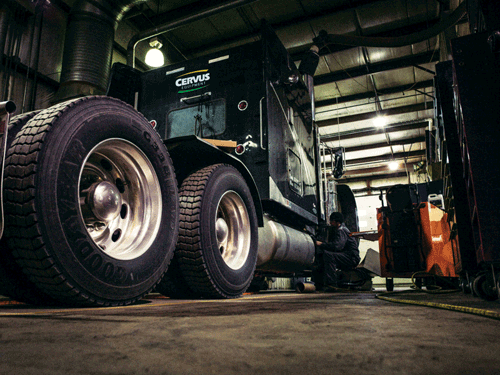 The differences in service across industries prompted Cervus to develop a set of steps for each service department to improve business processes. The steps are used in all of its stores, from trucking to agriculture. Photo Courtesy of Cervus Equipment Corp.
Another example was Cervus' attempt to create a real estate investment company to develop properties around the dealerships. The company had what it needed in the dealerships, but not in the land around them.
"We found that it wasn't our expertise, either," he says. The company recently sold the buildings and land of 11 of its dealerships, valued at $55.7 million, to Skyline Commercial REIT, which will lease the properties back to Cervus. The sale is allowing Cervus to free up capital to reduce its debt and focus on operating the dealerships.
Drake says even back before Cervus was founded and he owned a single dealership, his main priority was to invest in the dealership, not in the actual facilities. As Cervus grew, the dealerships it bought often wanted to sell the land with the business and acquiring real estate happened naturally. The recent sale of land and facilities, and partnership with Skyline "Not only freed up cash, but it really got back to our core principle," says Drake. "As a business, Cervus equipment operates dealerships and leases facilities where we can."
Regarding dealers stepping outside of the core business, Drake says the best thing for a dealership to do that's looking to diversify is to identify its business's strength and leverage it.
Diversified for Success
Drake says entering the truck business with Peterbilt has been a big opportunity for Cervus, but they don't have any plans to diversify into other industries any time soon. The company is focused on improving the businesses it has and there is plenty of room for improvement, he says.
Cervus Equipment Gross Sales by Segment
(for year ended Dec. 31, 2015)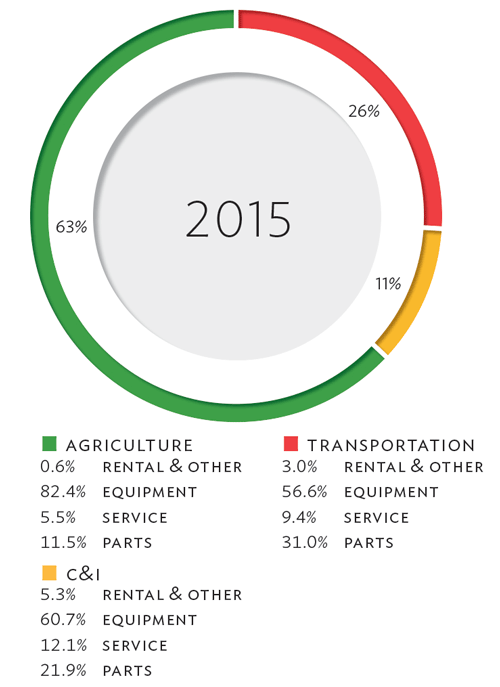 In 2015, 63% of Cervus' sales were from agriculture, 26% were from transportation and 11% were from commercial and industrial. Source: Cervus Equipment Corp
Cervus' rapid growth following the acquisition of Peterbilt was a surprise to Drake. "Our growth has come quicker than even we had planned because of how we focused on the business," he says. Future growth will come by keeping that focus and running the best business possible. "Our focus is running this business the best we can today, continually improving what we have today and being ready for opportunities in the areas where we're already represented."
The varied backgrounds of the Cervus executive team made the acquisition of Peterbilt Motors smoother than it might otherwise have been. Drake says having a vice president with a background in trucking in Eastern Canada helped.
When he retired about a year and a half ago, Cal Johnson, a long time member of the dealer group's leadership team who previously headed up ag operations, took his place. "He's been with Cervus since 2000. Cal has the knowledge of a dealership business and Cervus' way of doing business and that's the blend we have there," Drake says. As vice president, Johnson oversees the truck side of the business and three general managers — two in Ontario and one in Saskatchewan. The general managers, Drake says, came in with extensive industry knowledge. In conjunction with Johnson's knowledge of Cervus, they make a well-rounded team.
Drake also advises dealers looking to diversify to keep their end goal in mind. Knowing the reasons behind diversifying will help provide a clear vision of what a dealer wants to do. "Maintain the strength of the business you have today," he says. He also identifies knowing the culture of the business and how it applies to other markets as an important step before diversifying.
Drake offers Cervus' expansion into Australia ag equipment as an example, noting the importance of sending people who were well acquainted with and proponents of Cervus and its corporate culture. The representatives from Cervus worked well with the local people and consistently embedded the culture of Cervus and John Deere into the Australian operations.
He stresses that the need for high level talent required for expansion and diversification should be a major consideration for dealers. Managing Director, Mark Bradley, who is originally from Canada but based in New Zealand, oversees two general managers in New Zealand and two in Australia. Bradley's experience at Cervus goes back to one of its original stores.
Drake advises dealers to diversify only if their existing business is already going well and diversification will further strengthen it.