Today's technological advances have raised customer expectations to new heights. Online retailer Amazon is working toward delivering goods via unmanned aerial vehicles in the near future. Google Express offers delivery to your doorstep within hours of submitting an order via a mobile app.
The farm equipment industry is no different, and dealerships throughout North America are stepping up by increasing their mobile service capabilities — or, in some cases, launching a new division — to cater to a customer base with growing demands for on-site maintenance and repairs for their fleets.
Farm Equipment conducted a survey in January to determine just how important mobile services were to farm equipment dealerships. Mobile service represents less than 40% of revenues for 73% of survey respondents. However, considering 66% of survey respondents expect mobile service demand to grow in the next 3 years, there is plenty of reason to prepare for an expanded source of revenue begging to be had.
"The results reaffirm you're going to see continued growth in mobile service at the dealership level," says Joe Dykes, vice president of industry relations for the Equipment Dealers Assn. "To what extent and how much that growth will be is still to be determined."
The Bigger They Are…
Respondents to the survey cite a variety of drivers for the growth of their mobile services divisions.
Seventeen percent credit the increasing size of equipment being used by today's farmer as the main reason for increased demand for mobile services from customers. "Today, they've got large, 4WD tractors and combines with duals, so to haul these requires an oversized load, and it's difficult to break it down in the field for transport," Dykes says. "It can also be difficult to get the trailer out to the field to load the equipment. "Equipment has grown in size to cover more acreage," Dykes adds, "so it is more troublesome to get into the shop."
One such dealer is Van Wall Equipment, a 16-store John Deere dealership based in Perry, Iowa. Todd Brazelton, service manager at Van Wall's Knoxville, Iowa, store expects his mobile service demand to expand by 10% over the next 1-3 years as a result of the growing size of farm equipment.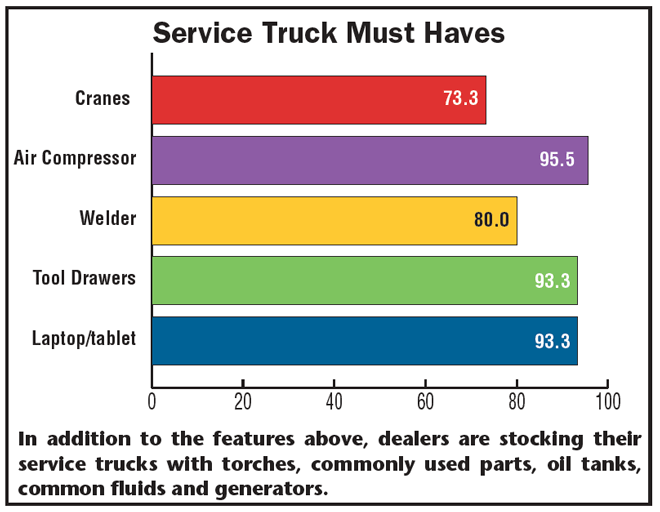 "The equipment is getting too big to transport to the shop, so it is faster to get the customer going when it can be repaired in the field," Brazelton says.
Customer Convenience
Simply put, today's farmers are looking for more convenience in their operations, so dealerships are reacting in kind by turning to mobile service. In fact, 15% of survey respondents said this would be the driving factor for the growth of their mobile service.
With convenience comes costs, however, and Dykes says dealerships are working out how to make sure clients are covered when it comes to mobile services. To make this work, Dykes says dealerships are creating customized service plans for each client built on data acquired over time via customer relationship management (CRM) processes.
"If they have the data on what tends to need repairs and when it usually needs them, they can be proactive and create a service plan based upon experience and captured data," Dykes says. "It's all part of the CRM they're using, so once they start doing that, they can customize so it's not so much a warranty but more of a service plan."
Kya Vermeer of Mobile Ag & Industrial Supply Inc., a shortline dealer in Bakersfield, Calif., expects the mobile service to grow between 10-15% over the next 1-3 years.
"Most of those machines will have warranty maintenance and customers will want to have their equipment taken care of on their site," Vermeer says. "This decreases downtime and increases response time for our techs. When we don't have to wait for the machine to be brought in from the field, the techs are able to solve the problem more quickly for our customers."
Bigger Business
Sales in general and the related warranties — customized and otherwise — also will drive the need for mobile services, according to the survey respondents. Seven percent of the survey takers believe this is the reason their mobile services will grow in the next few years.
Chad Stoline, corporate service manager for Van Wall Equipment of Perry, Iowa — Farm Equipment's 2016 Dealership of the Year — intends to expand his company's fleet of mobile trucks to support its growing market share. Van Wall also conducts a large amount of annual inspections on machines during the off-season, which is the impetus for adding to its fleet. Stoline expects inspection work to grow by 5% annually as farmers demand more out of their equipment.
"The operating window for these machines is getting tighter," Stoline says. "With GPS and other guidance, our growers are comfortable running these machines at night. We will need to do more service calls and add additional hours of service during the use season."
Technology on the Go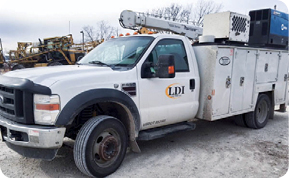 AGCO dealer Lang Diesel typically buys used trucks and prefers to buy ones with less than 50,000 miles on them. In addition to cranes, air compressors and a welder, the dealership stocks its trucks with commonly used repair parts.
Farmers also are building out their own machine and repair shops to handle maintenance and repairs for their own fleets. An on-site shop may give farmers the opportunity to repair the hardware on the equipment, but today's fleets are equipped with computers loaded with proprietary software manufacturers protect at all costs.
Another 7% of respondents say this would drive the demand for their mobile services in the next 1-3 years. The increased technological complexity found in today's equipment is being addressed with the way dealerships equip their service trucks, as well — 93% of respondents say their truck specs include a laptop and/or tablet. This matched the traditional tool drawers at 93% and was topped only by air compressors at nearly 96%.
"For most of this equipment, the first thing technicians have to do is diagnose, so they utilize a laptop and instantly have access to all this proprietary technology," Dykes says. "With that laptop, they're not only providing diagnostic services and helping with efficiency, but they're communicating with the service department and using their CRM to where they can produce the job ticket and bill the job more efficiently."
Dealerships also are utilizing various mobile device apps to make more accurate diagnostics on-site. Dykes says customers today can take an image or video of a problem on their cell phone, send them to the dealership digitally and get advice on how to solve a specific issue. Oftentimes, a little advice can save the farmer a service visit and its associated costs.
"Sometimes, all that may be required is assisting a customer while sitting at the desk and not take the time to come out and get them back up and running," Dykes says. Many survey respondents have outfitted their service trucks with specs beyond these traditional essentials, as well. For example, numerous dealers said torches have been added to their fleets.
"For employee satisfaction, we have also installed microwaves in all the service units as well as for the techs that want them," says Dwight Eby of Premier Equipment, a 10-store John Deere dealership in Ontario. "A good supply of miscellaneous electrical wires and components is essential, as well. However, I feel that it is more important to have the truck with the proper tools because you can never stock the truck with all the parts that you are going to need."
Stoline of Van Wall Equipment also is among respondents who have outfitted their fleets with various fluids customers require. These include coolants and some popular oils, as well.
While some of the specs on each truck vary across the board, the number of trucks dealerships employ in their fleet vary widely, as well. Twenty-one percent of the respondents have just 2 trucks in their fleet, and 86% of respondents have 10 or fewer trucks in their fleet.
Working with Farmers' Shops
Vetter Equipment Co., an 11-store Case IH dealer based in Denison, Iowa, is adjusting to the do-it-yourself farmer/mechanics in its market by catering to the mobile connectivity they have embraced. Kevin Heisterkamp, manager of Vetter Equipment Co.'s Storm Lake, Iowa, dealership, says this also could prevent technicians from heading to job sites without the proper parts for the job.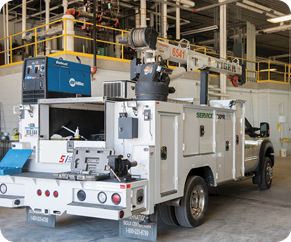 Each of Van Wall Equipment's 16 ag stores has at least 3 crane-equipped trucks, with some of the bigger locations like the Nevada, Iowa, store having 4. In total, the dealership has over 40. At $130,000 each, the trucks have been a significant investment. For more on how Van Wall equips its service trucks, visit www.Farm-Equipment.com/VanWallTrucks.
"We have mobile connect capabilities that customers can sign up for and our service manager is able to see the customer's unit information back at the dealership," he says. "This could help solve issues before the tech is sent and he could then have the correct parts with him."
Heisterkamp admits this change has forced Vetter Equipment — which relies on mobile service for about 30% of its revenues — to reexamine how it handles its technicians' workloads and schedules. Since farmers often have machine shops on par with his own, Heisterkamp has considered sending technicians home with their trucks so they can drive directly to a customer when called upon, with a parts runner meeting them from headquarters in a much more fuel-efficient vehicle. This would allow the dealership to expand its territory.
The prevalence of machine shops owned by farmers also has Heisterkamp reconsidering how he wants to expand Vetter Equipment's operation. His store currently employs 7 technicians, and Heisterkamp hopes to triple his current 20 mile radius. Presently, Vetter Equipment has one large service truck with cranes that can pull cabs and engines, as well as 3 service bodies on quarter-ton pickups and 3 quarter-ton pickups with portable toolboxes.
Heisterkamp believes his best bet is to expand in the service side of his business, and that means making mobile service a more viable option.
"I think our expansion will come in the service part of the business with technicians capable of doing everything," Heisterkamp says. "Right now, we have one service truck that is fully capable of doing everything — it has welders, air, a hydraulic hose machine and cranes. To that end of it, we'll need each technician with their own laptop, and right now we have 4 at the moment that can go out on service with satellite and internet access so they can work in the field."
Harkness Equipment, a shortline dealer in Harriston, Ont., is going a step further in its dedication to mobile service. The dealership has plans to replace the service shop with a mobile shop that also will sell parts and farm cleaning and disinfecting products.
"We hope the service truck will improve our retail sales opportunities," owner Jim Harkness says. "If we get the right technician on the truck, he can earn a commission on a wholegoods sale as well as parts and accessories."
Not for Everyone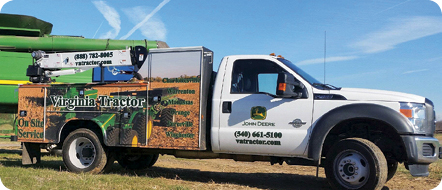 John Deere dealer Virginia Tractor, as well as a number of dealers who responded to the Farm Equipment survey on mobile service, has added torches as standard equipment on their service trucks.
Although survey respondents were overwhelmingly in favor of going with the trend toward mobile service, one dealership is moving away from this part of the business. Allen Berry, president of ACM Tractor in San Marcos, Texas, is getting his dealership out of mobile services for a variety of reasons.
ACM Tractor, for example, rarely sells tractors over 90-100 horsepower. Over 90% of its sales come from tractors with about 45 horsepower. Also, the company is the only dealership within a 30-mile radius, so this makes bringing equipment to its shop less of a hassle.
Also among Berry's reasons, however, is tightening regulations regarding solvents, waste and oil that make the risk of mobile service not worth the reward. While ACM still makes service calls, the dealership prefers not to upsell them, Berry adds.
"They really frown upon spilling oil on somebody else's land, so you always have the risk," Berry says. "While we never have, there's always that risk. If a customer wants you to make service calls for regular oil changes, you have the risk of spilling it from or on his facility."