---
Photo Above Courtesy of Vanderloop Equipment
---
Driving along Highway 151 in Beaver Dam, Wis., a sleek and modern facility appears on the horizon. The European style building is Vanderloop Equipment's newest store, and represents a different approach than the 65-year-old AGCO dealership's two other locations in Brillion and Lena, Wis.
"We wanted it to have a little bit of the European look from the front. When we went to the architect we said draw us something up that's European. We didn't quite anticipate a store this large," says Robb Vanderloop, third-generation co-owner of the dealership. His cousin Carey Vanderloop is also a third-generation owner and serves as the dealership's sales manager. While the back end of the 30,000 square foot facility is essentially a pre-engineered building, Vanderloop says the storefront was a custom design they worked with the architect on.
When it came to designing the service area, Vanderloop stuck with what they know works. "Over the years, we've made our facilities work as efficiently as possible. So we made the same facility here as we did at the Brillion store," Vanderloop says.
The Beaver Dam service shop nearly mirrors the shop at the Brillion location. The square footage (12,000) is equal between the stores and the wash bays at the two stores are identical. "This building is taller and it has crane rails in it for a bridge crane, but that's the only difference between the two shops," he says.
Learning Experience
While this latest store brings the dealership up to 3 locations, Vanderloop had another store in Marathon City, Wis., which was their first experience with expansion. Back in 2000, Vanderloop purchased a dealership in Marathon City, on the west central side of the state. He describes the acquisition as a "real tough learning experience." The building was old and the dealership had a lot of old parts in inventory.
Dealer Takeaways
To minimize customer downtime, consider having loaner components on hand to swap out parts to keep the customer working. Worst case scenario, Robb Vanderloop recommends having a used machine that hasn't been reconditioned yet that can be used as a loaner.
Take time hiring new employees so you find the right people for the job and the team. Hiring someone just to fill the spot can cause more harm than good if they don't fit with your culture.
While the industry standard calls for minimum inventory and high parts turns, Vanderloop Equipment keeps a large parts inventory to ensure they can get their dairy and custom cutter customers back up and running as quickly as possible when feed quality is on the line.
They spent money remodeling the facility and training the staff over the years, trying to make it work, but after 17 years Vanderloop closed the Marathon location. "Unfortunately, one of our key employees out there passed away from cancer. It was just time to end things," Vanderloop says. "We really tried to make it work over the last 17 years. The product mix that we had there was a little bit out of our expertise."
With that facility closed, Vanderloop is now focusing on the other three locations along the eastern side of the state and their dairy customers.
Betting on the Future
While the new store is larger than the dealership's current needs require, Vanderloop says they plan to continue to grow the business and want to be ready for that growth. "My dad always said, 'If you're not going forward, if you're staying the same, you're going backward,'" he says. "At the other locations, we're continually updating facilities and trying to make the working environment the best we can for the sales, parts and service personnel. We're trying to keep up on everything and keep the dealership viable."
Currently the Beaver Dam store has 5 employees, but it has the capacity for 25-30. "We have about 30 employees at the Brillion store, and the potential volume here is about equal to Brillion," Vanderloop says. Within the next 1-3 years, he expects to have 6 service techs, an additional 2 employees in the parts department and a couple additional salespeople. "Our administration is centralized in Brillion, so we won't have the need for administrative personnel. We have existing customers in this area and we needed to either expand our Brillion location or add a new location to handle the growth. We are continually striving to better serve our customers through managing workloads across all our locations; Beaver Dam is a prime example of that."
Vanderloop isn't just looking at how this location will grow, but the company as a whole. The efforts being made at the new store, and facility upgrades at the other locations, are all helping the business expand. "Whether the succession is within or whether the succession is from outside the company, you have to maintain the value of your company. The only way to really do that is to keep pushing forward," Vanderloop says.
Beyond capital improvements, building the right team, one with depth, is also key to Vanderloop's growth plans.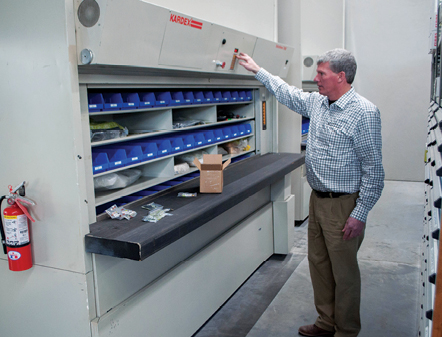 To maximize space in the parts department, Vanderloop Equipment purchased 2 used Kardex vertical storage carousels from a manufacturer in Florida. The system reduces the space needed for parts storage by 30%.
Building the Right Team
Finding the right team that works well together and embraces your dealership culture can be challenging and doesn't happen over night. "That's what the whole company is about, building the right team," Vanderloop says. "Without the people, we really have nothing. But, it takes years. We've got plenty of room for growth here, the current staff could probably work in 30-40% of this building."
Vanderloop plans to spend the next 1-5 years working to find the right people who fit with their team. "I'd rather take my time and find the right people and be a little short for a while than just putting people in positions that won't last. They could do you more harm than good if they're not doing the right things," he says. "That goes for any department. In service, if they don't fix it right, we have problems. In parts, if they get the wrong parts, we have problems."
Vanderloop Equipment
Locations: 3 in Brillion, Lena and Beaver Dam, Wis.
Ownership: Robb Vanderloop (general manager) and Carey Vanderloop (sales manager) are third-generation owners of the dealership. Mark Vanderloop, service writer, is the fourth generation to work at the dealership.
Mainline: AGCO
Shortlines: Claas, Mustang, Gehl, Apache Sprayers, Laird, Nuhn Industries, Amazone, MB Attachments
Business System: DIS
The dealership does a lot of work with area tech schools for recruitment, and Vanderloop isn't afraid to draw employees from industries outside of agriculture, such as automotive or manufacturing. The dealership also relies on word of mouth and recommendations from their employees. "We really take our time to find the right people," Vanderloop says. "In Brillion, we ended up looking for a service writer for a year and a half. That's a difficult position to fill. Our service writer, my son Mark, was overloaded. We decided that any warranty jobs under $500 we weren't even going to worry about applying for because he was spread too thin. We got to the point where a second service writer would improve efficiency, provide a better customer experience and improve warranty recovery."
The management structure at Vanderloop Equipment is departmentally organized. Sales, service and parts managers oversee their respective departments at all 3 stores. At each location, there is a lead person for each department.
Vanderloop says the department managers are fully responsible for their departments, from the financials to the hiring and firing of staff. "Up until recently, as general manager, I was doing all of that," he says. "I'm working on getting the department managers more involved to share that load. To be a manager, that's a broad definition. A true manager is, like I said, responsible for everything in that department. And that's the direction we want to go at this store. It's going to take a little bit of time. You don't just flip the switch and have that happen. I'll still be working closely with all the managers."
Building the right team, with the right people, in the right positions, is just part of what it takes to make sure Vanderloop Equipment's customers have the best experience possible.
In Defense of High Inventory
Vanderloop says the dealership's number one priority is keeping its customers going, and that means having the parts they are going to need on hand. "Our parts turns, according to the industry numbers, is terrible," he says. "We're way over stocked on parts. We carry a large parts inventory to ensure the customer is up and running. If a customer would go down and we don't have the parts, we lose because that customer is unable to run. It's kind of a no-win for us, and so we intentionally overstock parts."
With the majority of Vanderloop customers being dairy farmers or custom harvesters who serve dairy farms, having the right parts on hand is critical. "Feed quality is so important. You have a window of just hours to produce high quality feed," he says. "Ultimately, it's the cows that pay for all this equipment, it's the milk production. We have to make the best quality feed that we can at the right time. It doesn't matter if it's a dairy that does its own crops or a custom harvester that is doing contract work, up-time is critical."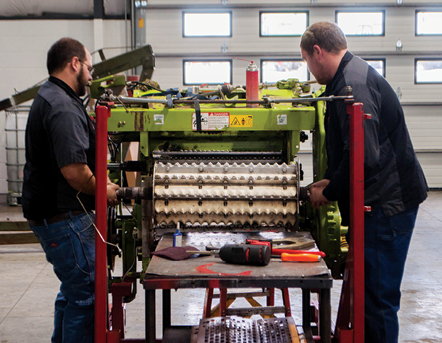 To help keep customers working during the season, Vanderloop Equipment offers winter service plans that include guaranteed uptime. In late December, the AGCO and Claas dealership's 3 stores had 45 forage harvesters in for winter service.
Encouraging Proactive Service
With a need to get customers back up and running as quickly as possible, Vanderloop Equipment has an emergency paging system for after-hours calls and the technicians rotate being on call. Like many dealerships, in an effort to prevent those emergencies, Vanderloop Equipment stresses preventative maintenance. As an incentive to get customers to use the winter service plans, they include guaranteed uptime. Spread across the 3 stores, Vanderloop had 45 forage harvesters in for winter service in late December.
---
"Ultimately, it's the cows that pay for all this equipment, it's the milk production. We have to make the best quality feed that we can at the..." right time … up-time is critical
---
"We have one customer, who was coming from a competitive brand, that we were talking about the service and parts pager service while showing them around their new machine, and his wife asked, 'Well, what do you do if it breaks down?' Well, we have an emergency pager. We continued our walk around and she asked, 'Well, what happens if you have 4 or 5 of them broke down at the same time?' Our technician told her, I don't know. It's never happened. I guess we would call in another tech.' Preventative maintenance is the key to machine uptime."
When a customer's machine does go down, Vanderloop has loaner components, gearboxes, feed rolls and different parts for the machines. These components can be swapped out to keep them up and running. "Worst case scenario, if the machine goes down, we give them another machine to use which we won't charge them for. That's part of the service plan; we do whatever we have to do," says Vanderloop.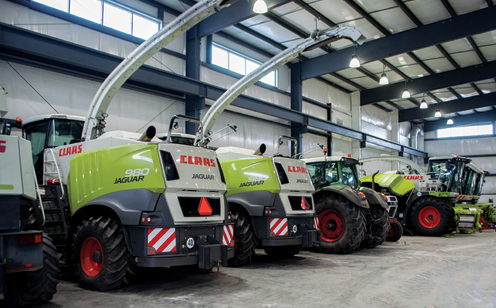 Having found a layout and design that works for them at the Brillion, Wis., store, the 12,000 square foot shop at Vanderloop Equipment's newest store in Beaver Dam is identical to Brillion, with the addition of rails for an overhead crane.
Early on, having extra machines on hand for customers was challenging because Vanderloop's machine population was low. Now with equipment that was taken in on trade, it's no longer a problem. Today, they usually have half a dozen machines on hand that can be used for customers in need.
"We'll take a trade machine and before we recondition it, we use it as a loaner machine. Once the season's over, that machine will be completely reconditioned for resale," Vanderloop says.
However, giving a loaner machine to a customer is still a last resort. Rather, they try to use a component for the customer. Vanderloop says this is much more cost effective for both the customer and the dealership. "At the hourly cost of equipment, every hour we put on it is depreciating the machine's cost. It's an expensive policy to have but it sets Vanderloop apart from the crowd," he says.
Mobile service, while it has its applications, doesn't always work well if a complex repair is needed. "If we have a machine that needs to have significant work done, it's just more efficient for us to haul it into the shop. The technicians, parts supply, tools and everything are just more efficient at the dealership. If we have a breakdown that requires a pretty extensive repair, I tell the guys, if there's any question whether it's more cost effective to haul it in or to do the job onsite, we always haul it in."
Vanderloop says the technicians can better serve the customer in the shop where there's a generally better work environment, special tools and proper equipment. They can be more productive in that environment, plus it's safer for them, he adds.
Selling Efficiency & Value
Selling a premium line like Claas means the Vanderloop sales team, led by Carey Vanderloop, needs to look beyond selling on price. "If we tried to sell on price alone, we'd probably have a difficult time," Robb Vanderloop says. "We have to show how we can make it cost effective for the customer." One machine is now capable of doing in just a couple hours what it used to take a week to do.
Vanderloop says when they got the first Claas forage harvester, local customers would come in and ask, "Who's ever going to buy something so big?" That was in 1998 with a Claas harvester and a six row head. "Now 19 years later we're up to 12 row heads with over 900 horsepower and capacities up to 500 tons an hour," he says.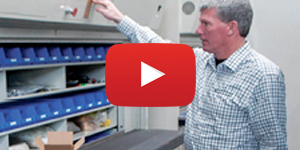 Watch Interviews
Click the following links to view video interviews with Robb Vanderloop.
Building Building a Class Branded Store
When talking with customers, Vanderloop says they focus on selling the value. "We're not the least expensive, so we have to overcome the price. The price is the challenging factor for us," he says. "But it's not just about the original cost, it's about resale value, it's about maintenance costs, it's about machine reliability. Maintaining the resale values for our customers is critical."
Through focusing on the customers and their needs, along with building the right team to serve each customer, Vanderloop Equipment is poised for the growth they're planning on seeing over the next few years. "They always say the third generation is the one that screws it up. We are third generation. I wanted to make sure that didn't happen," Vanderloop says.