When it comes to unit sales of farm machinery, in the past 5 years North American farm equipment dealers have seen the highest highs and the lowest lows they've experienced in the past 3 decades. As sales rose in 2012 and 2013, so did many of the industry's operational and financial measures. Likewise, as sales began dipping in 2014, these same indicators reflected the industry's downturn.
Many of these changes are reflected in the results of the 2016 Cost of Doing Business (CODB) study conducted by Equipment Dealer Consulting, P.C., the certified public accounting group affiliated with the Western Equipment Dealers Assn. (WEDA). Working in concert with various state and regional equipment dealer associations, WEDA compiled survey responses from 230 dealers who operate more than 600 store locations in the U.S. and Canada.
Working with the Dealer Institute, the educational arm of WEDA, an analysis of the study results was presented in a Farm Equipment webinar on Oct. 25, 2016. The presenters included Gord Thompson, a former dealer-principal, and Robert Charbonneau, a CPA with WEDA since 1983.
Summarizing findings of the study, Curt Kleoppel, president of Equipment Dealer Consulting, says total equity percentage increased almost 1.75% from a year ago and gross profit margin percentage increased last year. The overall net income before tax decreased 1%, which was one of the negatives indicated by the study. Dealers are still managing inventory, debt and used equipment values.
Stable Revenue Mix
Looking at the dealers' revenue mix during the 5 years between 2012-16, only minor shifts occurred in the percentage of sales from new and used wholegoods. Parts and service revenues, on the other hand, saw healthy increases moving into 2016.
Interested in the Complete Report?
To get the complete report, dealers must contact their state or regional equipment dealer association. The 2016 report has been sent free of charge to equipment dealers who provided their financial reports for compilation. Non-participating dealers can purchase the results for $200 if they are association members; the report is $450 for non-members.
Questions? Call Lonnie Finch, CPA, at 800-762-5616 with questions or to learn how to access the survey results.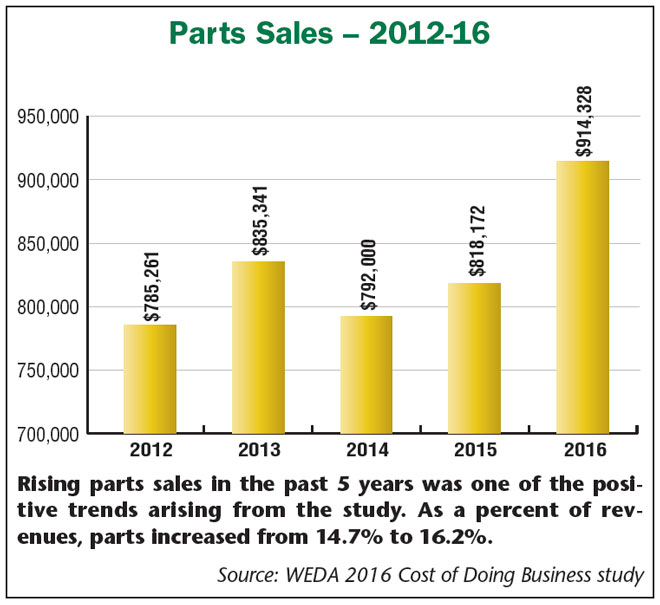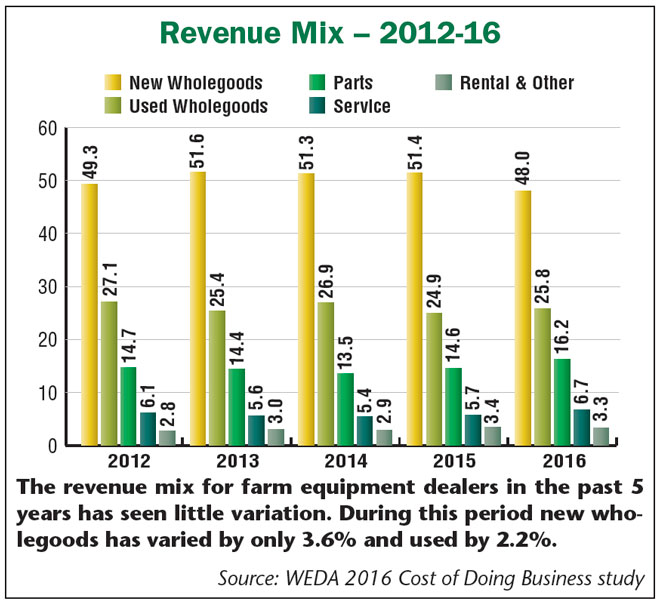 After rising to between 51-52% of total revenues during the period, sales of new wholegoods slipped back to 48% in 2016. Historically, the highest percentage of new equipment sales took place in 2005 when sales of new wholegoods exceeded 57% of total revenues. The 5 year average is 50.3%.
During the 5 year period covered in this report, revenues from used wholegoods peaked during the first year (2012) at 27.1% and dropped as low as 24.7% in 2015. Between 2012-16, revenues from used wholegoods averaged 26% of total dealership revenues.
While slipping to only 13.5% of total revenues in 2014, by the time the 2016 study was conducted, parts sales recovered to 16.2%. This was up from the 5 year average of 14.7%, but far below the industry's peaks. In 1985, parts revenues were nearly 24% of total revenues. Nonetheless, the increase that showed up in the 2016 results showed dealers were pointed in the right direction.
Likewise, service revenues experienced a healthy pickup with the most recent CODB study. After being stuck between 5-6% of total revenues between 2012 and 2015, results of the 2016 study saw dealerships' service revenues approach 7% (6.7%). On average, dealers reported service revenues comprised 5.9% of total revenues during the 5 years considered in this report. This remains well off the peak of 8.9% that dealers reported in 2000.
Inventory & Asset Turns
If cash is king in the farm equipment business, then inventory turnover is what keeps cash flowing. According to Thompson, inventory turns are calculated by dividing total cost of sales by average inventory value. The WEDA report indicates that the industry benchmark for inventory turns is 2.5-3 times.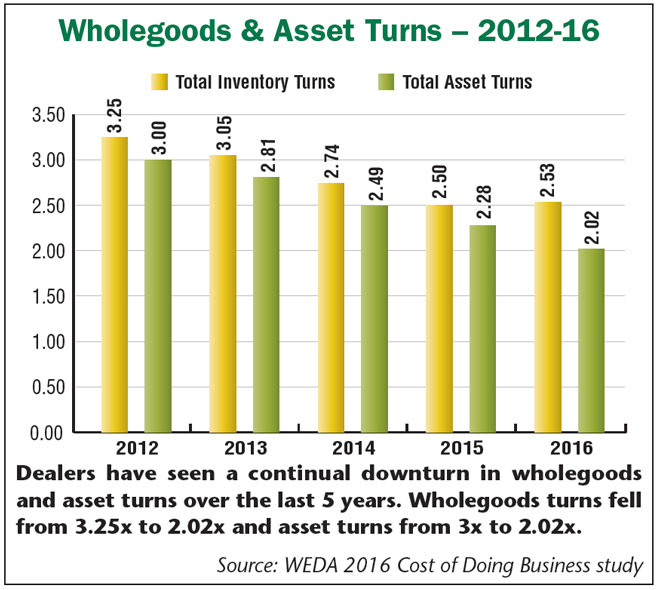 One example of strong industry performance during the boom years for equipment sales is, on average, dealers were turning their inventory 3.25 times in 2012 and 3.05 times in 2013. Since that point, turns have trended downward to 2.5 turns by 2015 and 2.16 times in 2016. Along with this, Charbonneau points out, as could be expected, inventories increased each year as turns decreased. "The result is dealerships are paying more in interest expense and more cash is tied up in older inventory sitting on their lots."
Thompson adds, "Obviously inventory is top of mind for every dealer and we're currently underperforming in this area. It's causing a lot of dealership pain and when you combine it with where margins are headed on equipment, it makes it all the more painful. This is a trend we need to do something about."
Like inventory turns, dealers' have experienced similar declines in their total asset turns in recent years. Between 2013-16, asset turnover has dropped by 28% from 2.81 to 2.02, and by 11% between 2015-16. Charbonneau says increased inventories have been the biggest culprit.
Total asset turns are calculated by dividing total sales by average total assets. What it measures is how effectively you're using your assets to generate sales, says Thompson. "This is concerning because when inventory turns decrease as they have, asset turns decrease at the same time, and these trends have a negative impact on return on assets."
---
"If there's a key component to this report, wholegoods inventory is it. We've got to get a handle on this to get a handle on the costs associated with it..."
---
Rising Wholegood Inventories
Lower inventory turns combined with higher wholegoods inventories have created dealers' most perplexing dilemma during the past 3 or 4 years, according to Thompson. "If you're experiencing pain in the cash department, the number one reason probably involves wholegoods inventory."
Charbonneau points out that, on average, wholegoods inventory increased about a million dollars from $3.95 million in 2013 to $4.95 million in the 2016 study. With unit sales falling, increasing equipment inventories are particularly problematic for dealers.
"You just get more and more cash tied up in inventory that hasn't sold and it puts a squeeze on [cashflow]. The impact is compounded during times like this when sales are declining," says Thompson. "If there's a key component to this report, this is it. We've really got to get a handle on our wholegoods inventory to get a handle on the costs associated with it."
Thompson points out that part of the bloated inventory problem could have come about through dealer mergers and acquisitions. "Sometimes when there's a merger, there's a need to straighten out inventory situations. This could be a temporary phenomena that comes along with such moves."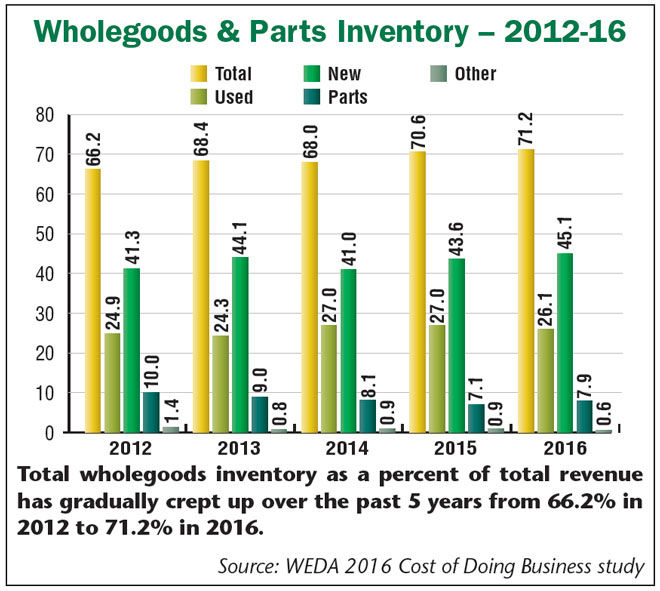 In all likelihood, the overall impact of mergers and/or acquisitions on inventory levels has been minor compared to other factors, which include the accumulation of higher value, low hour machinery during the boom cycle of 2010-13.
Overall, wholegoods inventory (new and used equipment) grew from about $3.2 million in 2012, or about 66% of total assets, to nearly $5 million in 2016, or 71% of assets. During this period, the inventory of new wholegoods ranged from about 41-45% and used wholegoods from 24-27%. When parts and other inventory are factored into the equation, total inventory increased to $3.8 million in 2012, or 77.6% of assets, to $5.6 million in 2016, or nearly 80% of assets.
Looking further back, new equipment inventories have remained relatively stable, ranging from about 40-49% in the early and mid-1970s to 1990. Since then new machine inventories have settled into the 40-45% range.
It is with used equipment where the biggest changes are seen. In 1970, used equipment comprised about 9% of total wholegoods inventory. This grew to 27% by 2014 and has remained in that area in 2015 and 2016. Parts inventory levels, on the other hand, have declined from 14% in 1970 to a range of 7-10% during the past 5 years.
Total Equity Paradox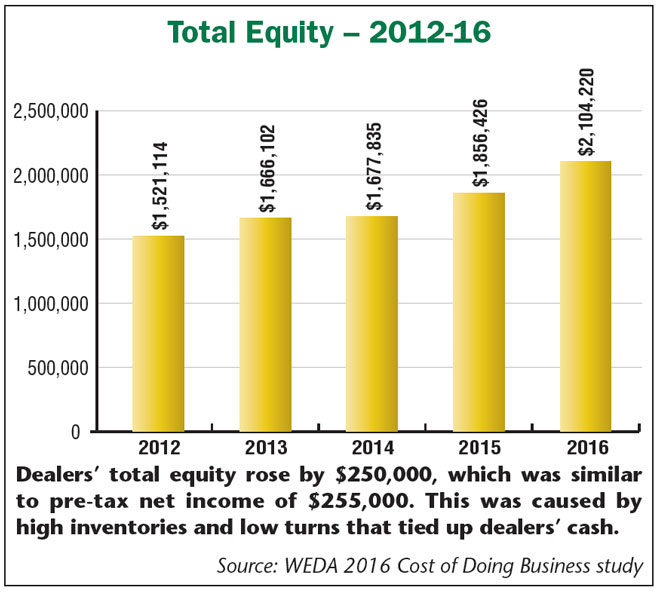 One of the ironies that emerged with the 2016 CODB study is the increase in total equity rose at about the same rate as pre-tax net income. "What would cause equity to go up at a rate faster than earnings?" Thompson asks.
He's referring to the fact that 2016 net income before taxes was $255,000 while equity rose to $250,000, which means that the equity rose more than after tax income.
"High inventories and lower turnover will make this happen," says Thompson. In these instances, the dealers' equity is tied up in inventory and cashflow and earnings suffer.
He adds, in some cases, there are scenarios where dealers are contributing additional paid-in capital to meet manufacturer or banker requirements. "This means that equity is rising faster than earnings. So effectively, we have negative cashflow at that point from the owner's perspective. This is not a long-term trend we want to see continue."
Mixed Margins
Dealer total gross margins over the past 5 years for all sales held their own, varying by only about 1% during this period. An examination of margins by department shows stability in new wholegoods and parts, but declines in used wholegoods and service.
---
"Money spent on floorplan interest doesn't do anything to help the equipment sell faster, run better or make the end buyer any happier. It's just dead money out the door and it gives dealers a reason to manage their inventories as well as they possibly can..."
---
Not surprisingly, the highest margin on new wholegoods occurred in 2013 when dealers reported an 8.2% margin, reflecting the high point for unit sales that also came about that year. The low was 6.7% the following year. The average gross margin on new equipment between 2012-16 was 7.3%.
Also, not surprisingly, gross margins on used machine sales steadily declined during this period. The industry posted a 5.1% margin on used wholegoods in 2012 and 2014, but dealers reported a gross margin on used of 1.6% in the 2016 study. The average margin on used equipment over the 5 year period was 3.7%. According to Charbonneau, the decrease between 2013-16 was about $260,000 in terms of dollars, or by about 33%. "This is not good," he says.
Margin on parts sales climbed from 28.8% in 2012 to 30.6% in 2016. The average gross margin for parts over the 5 year span was 29.5%.
Dealers' highest margins come from the service department, but between 2012-16, they weren't able to maintain the 65% level seen in 2012. Service margins dipped as low as 61% in 2014, but rose slightly to 61.8% in 2016. The average over the 5 year span was 62.6%.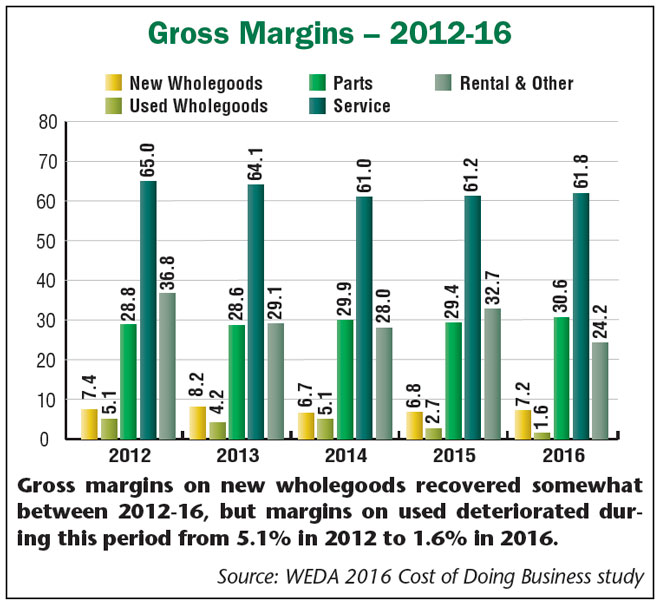 Used equipment margins are the biggest worry for dealers, according to Thompson. "When you combine lower turnover and lower margins, it worsens the situation. When I was a dealer, I tended to focus on the gross margin percentage. I had targets and wanted to maintain them. I would sometimes hang on to the used for a while to try and get my target margin because I was aware of the implications of dropping it."
At the same time, he says, "It's really not a sustainable situation we're in right now in terms of the combination of turns and margins" and suggests dealers may have to change how they would like to price used equipment to what the market dictates.
He says as equipment dealers find themselves in the type of business environment that agriculture has been experiencing the past few years, they need to rethink their approach to used equipment. What is most important has always been gross margins times turns. For example, he explains, "Let's say your target gross margin is 8% with a goal of 2 turns, which equals 16. If you lower it to 6% but can turn inventory by 3.25 times, this is 19.5, which is a better scenario. We all know the longer used equipment sits, the more expensive it becomes to get it up and running. Lowering your margin to move it quicker also improves your cash situation.
"I was guilty of hanging on to stuff for too long. What I'm seeing today with the big dealers is they're a lot more prone to moving a piece of used faster to get rid of it. We need to stop getting married to our used equipment because it's really causing us a lot of grief," says Thompson.
Continued on next page >>