Great Plains, which was recently acquired by Kubota Corp., is introducing 14 new products, including new vertical tillage tools, stack-fold planters, five-section chisel plows, field cultivator air drills, rotary cutters and compact no-till seeders. The company has introduced 21 new products in the last 3 years. Three patents were issued this year for its dual hybrid seed meter, Accu-Shot system and quick detach coupler.
The new products expand on its traditional tillage and planting equipment as well as adapt technologies for smaller applications. The new lines feature capabilities for reducing trips in the field, vertical tillage to improve soil beds and expanded size ranges of other products to accommodate lower horsepower tractors.
The company is celebrating its 40th anniversary. It has invested $58 million in capital improvements since 2012 and expects to invest $10 million this year.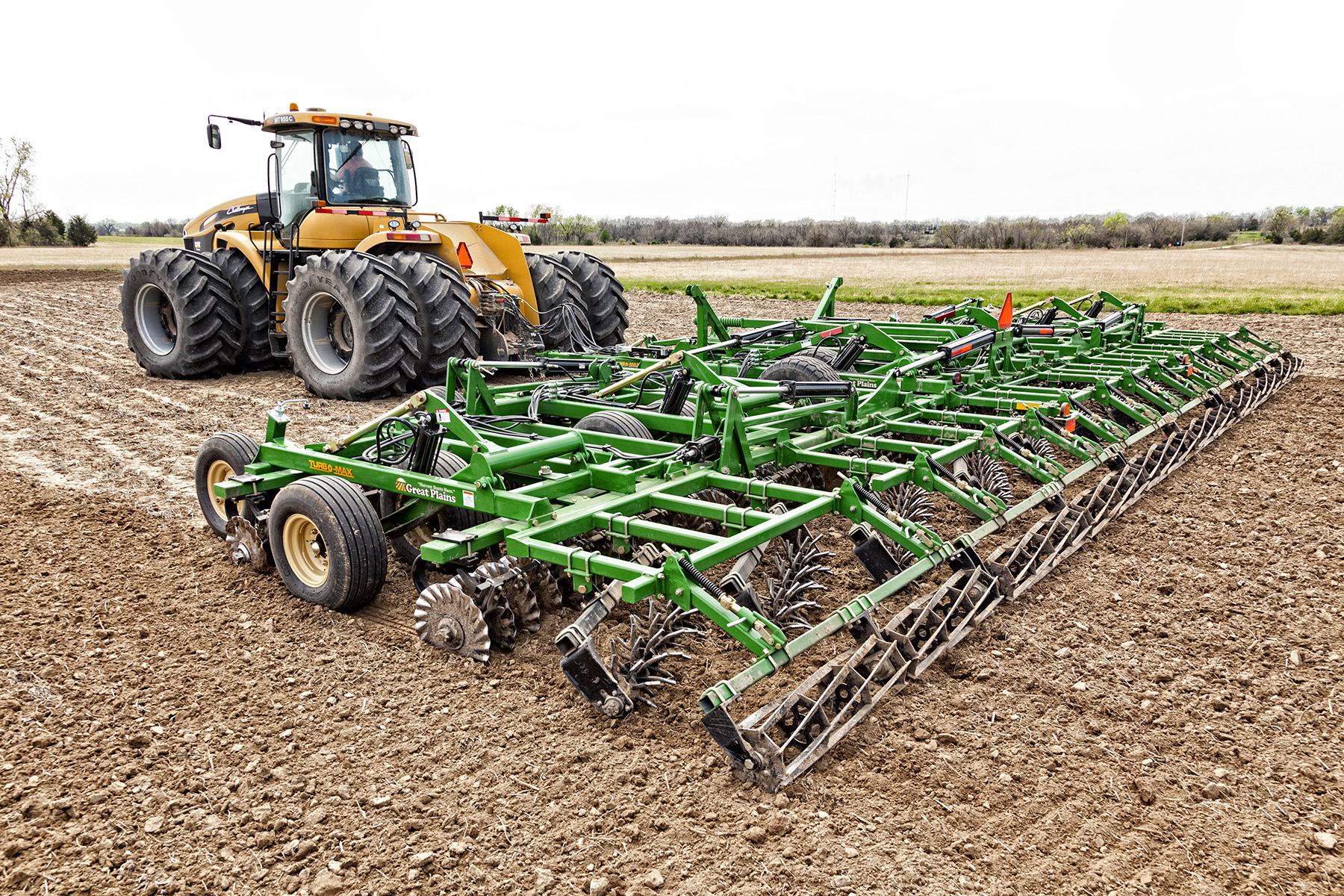 Turbo-Max Vertical Tillage Tools
Great Plains is enhancing its Turbo-Max vertical tillage tools with two smaller versions, the 850TM (8.5 feet) and 1000TM (10 foot) models for lower horsepower tractors as well as the larger 4800TM (48 foot) model for larger tractors. The goal was to accommodate a wider range of farming operations.
Turbo-Max performs "true vertical cutting" of the soil, according to the company, only working in the direction of travel to remove compaction and prevent the addition of density layers to the soil. The benefit is improved water infiltration, root development and nutrient uptake.
Each of the Turbo-Max models is equipped with the following features:
Turbo coulters: All Turbo-Max models provide vertical cutting with 20 inch turbo coulters spaced 7.5 inches apart. Offset front and rear gangs cut residue at a length of 3.75 inches.

Hydraulically-adjustable gang angle: Gang angle is hydraulically-adjustable from 0-6 degrees on-the-go. The 3-6 degree range is ideal for sizing and covering residue in the fall, while running at 0 degrees in the spring leaves a smooth, level seedbed for the planter.

Maintenance-free bearings: Exclusive360 degree self-aligning bearings are maintenance free, and a 6 lip seal on each side locks in grease and prevents contamination. Additionally, the walking beam pivots use Teflon-coated bushings, eliminating the need for tapered bearings and grease in pivot points.

Hydraulic weight transfer: A standard feature on all models, hydraulic weight transfer creates an even, constant down force across the entire width of the implement, assuring uniform penetration and eliminating the possibility for wings to float.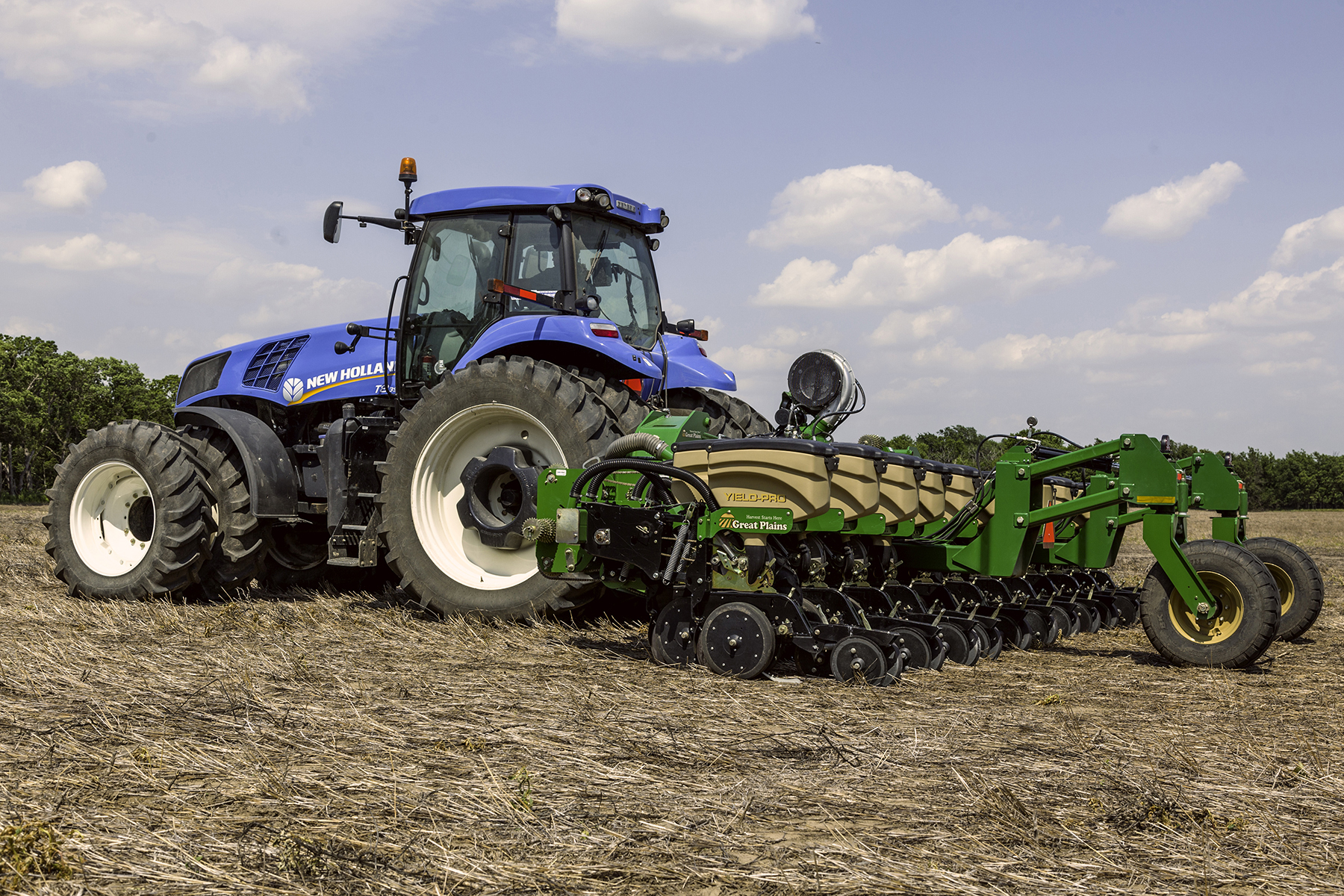 30-Foot Stack-Fold Planter
The company is introducing a 30 foot stack-fold planter, the 3P3025AH, developed specifically for the Delta region. The planter includes individual hoppers and comes in 15 inch single and twin-row configurations as well as 20, 22, 30, 36 and 38 inch single-row designs.
The planter features Great Plains' Air-Pro meter and 25 series row units. Its three sections offer planting flexibility and terrain-following abilities.
Its compact stack design gives it a narrow 15 foot transport width and low transport height. Optional hydraulic lift assist is available for lower horsepower tractors with limited lift capacity.
Optional equipment includes:        
Wing lock
Wing flex
Air design inside disc scrapers
Unit-mounted coulters with fluted or turbo blades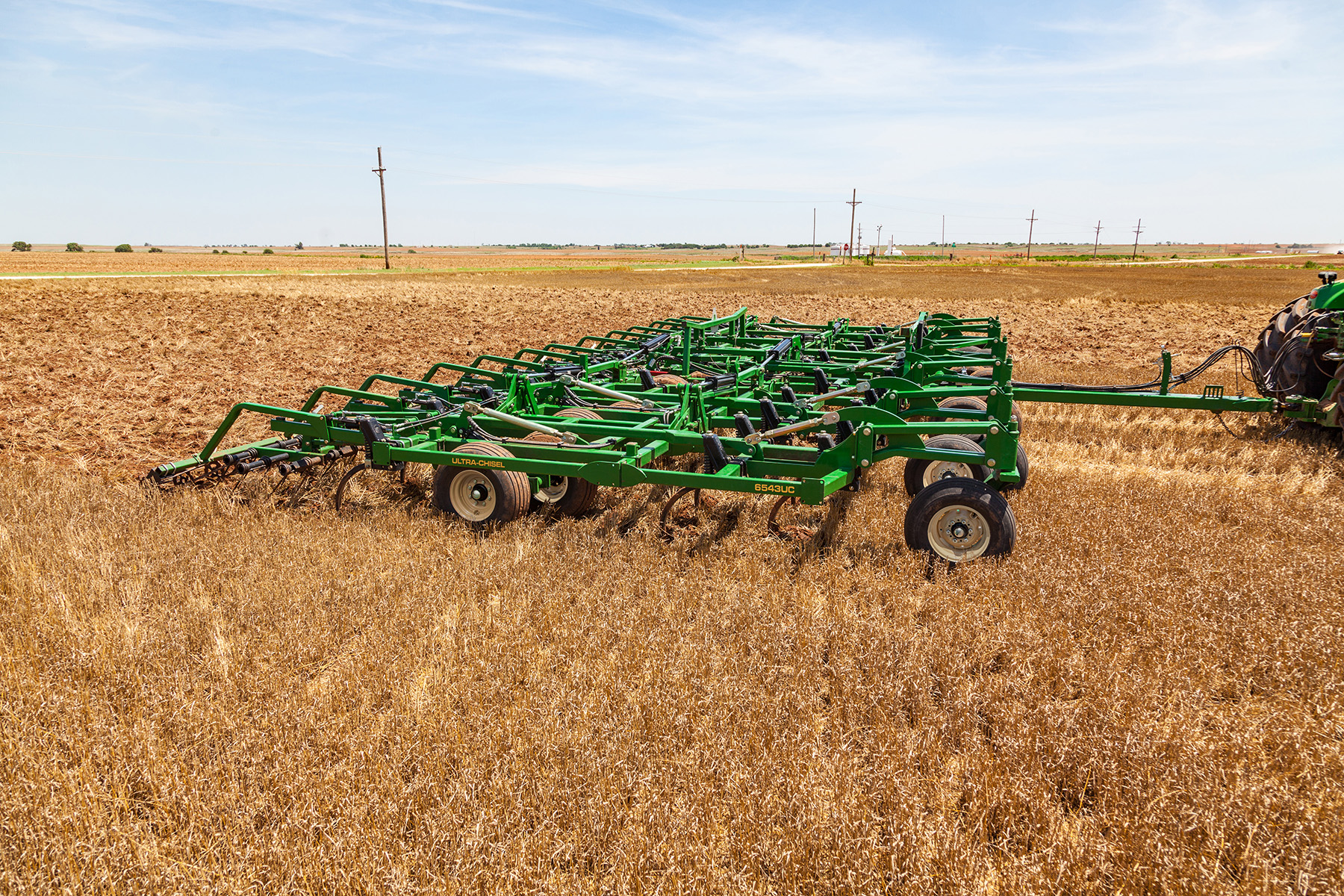 Ultra-Chisel Plow
Great Plains is expanding its line of heavy duty chisel plows with the new 5 section Ultra-Chisel model. The new model offers wider working widths than the previous model and range from 39-45 feet.
The plow features a rocking bolster system on the center rockshaft to provide even, steady depth control in changing field conditions. It also offers a 900 pound trip force and is designed to till a 6-8 inch soil profile.
The Ultra-Chisel can be equipped with 7 inch wing points to create total fracture across the entire profile instead of only leaving slots in the soil. Alternatively, large 12 or 16 inch cultivator sweeps can be used for deep tillage and weed control. Optional rear-leveling attachments include a five bar high residue spike harrow, a three bar heavy coil tine or a combination of harrows with a finishing reel.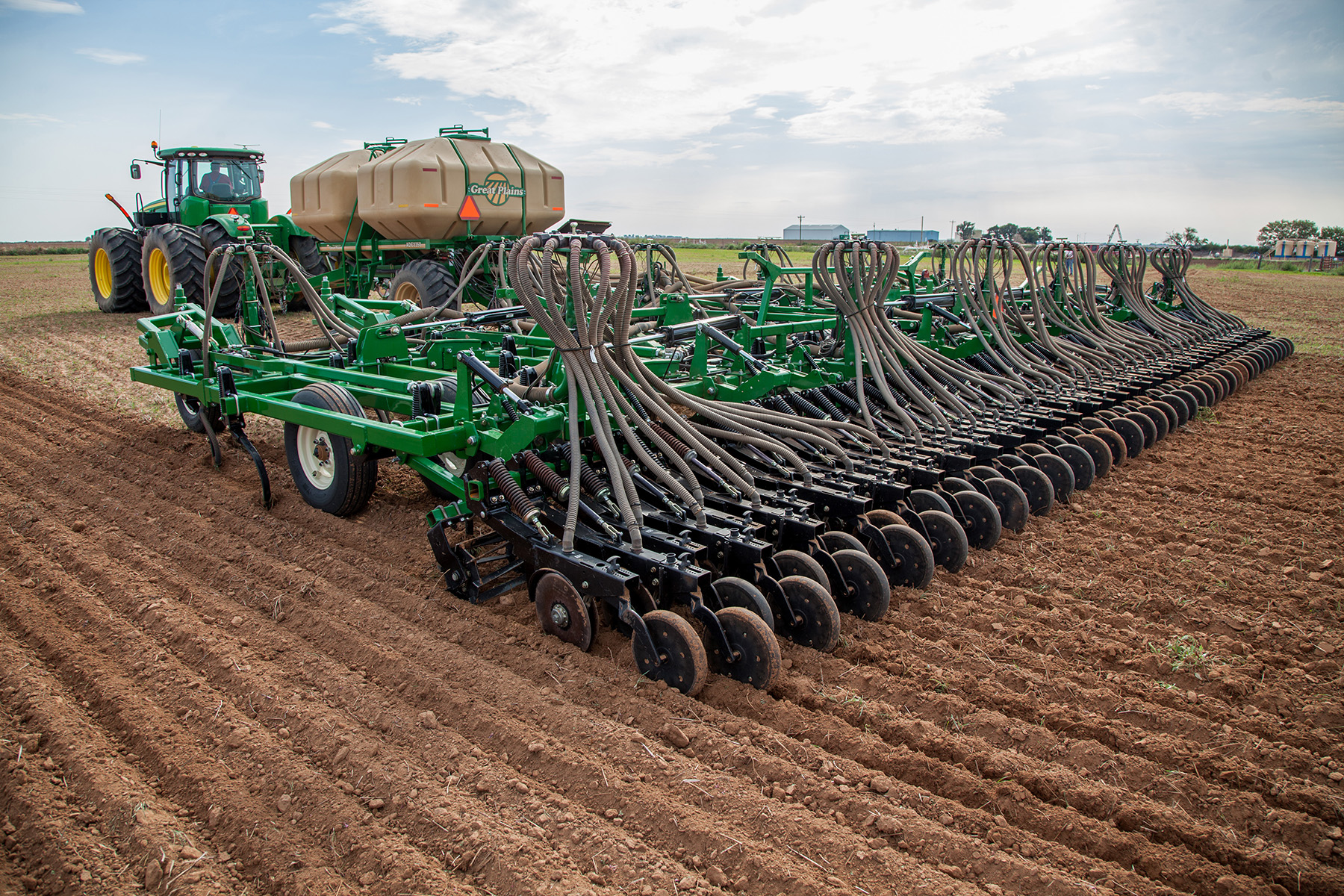 45-Foot Field Cultivator Air Drill
Great Plains' new field cultivator air drill (FCA4500) is intended for farmers in the High Plains region who plant large acreages of wheat in a conventional tillage system.
The machine's design is based on an 8544 field cultivator. It features the Max-Mix shank pattern on 7 inch spacing, followed by a seedbed conditioner reel, to eliminate any weeds and uniformly mix soil, residue and fertilizer, if applied. The implement has Great Plains' 00 series openers and can be combined with a 350 bushel cart.
Optional equipment includes:
Tramline kit
Press wheel choices
35 bushel air drill cart
Fertilizer delivery system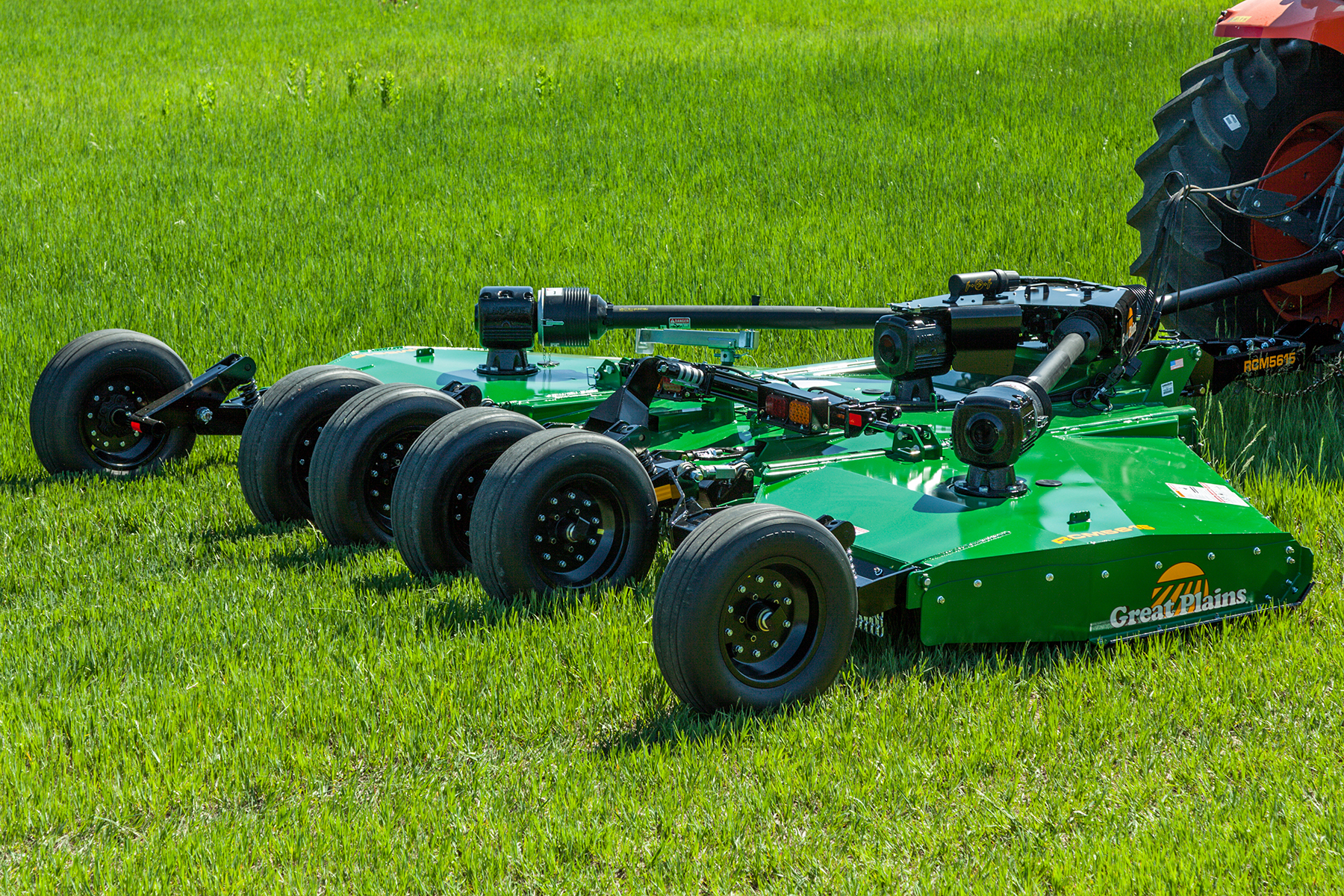 Rotary Cutters
The company is introducing a new line of rotary cutters, intended for operations of all sizes. The new line of two and three blade, multi-spindle cutters includes both rigid and folding models and have working widths of 8-20 feet.
Models range from standard-duty to extra heavy duty, with pull-type and 3 point options on the 8 and 10 foot models. Additionally, both 540 and 1000 RPM drive models are offered to match a variety and range of horsepower. Offset models are also available.
Trailing units are available with a choice of equal-angle or constant-velocity drivelines, along with multiple axle and tire options to fit all conditions. An optional constant-velocity driveline hooked to a large, heavy gearbox can cut brush up to 4 inches in diameter. Optional equipment includes hitches, deck rings and a tool box.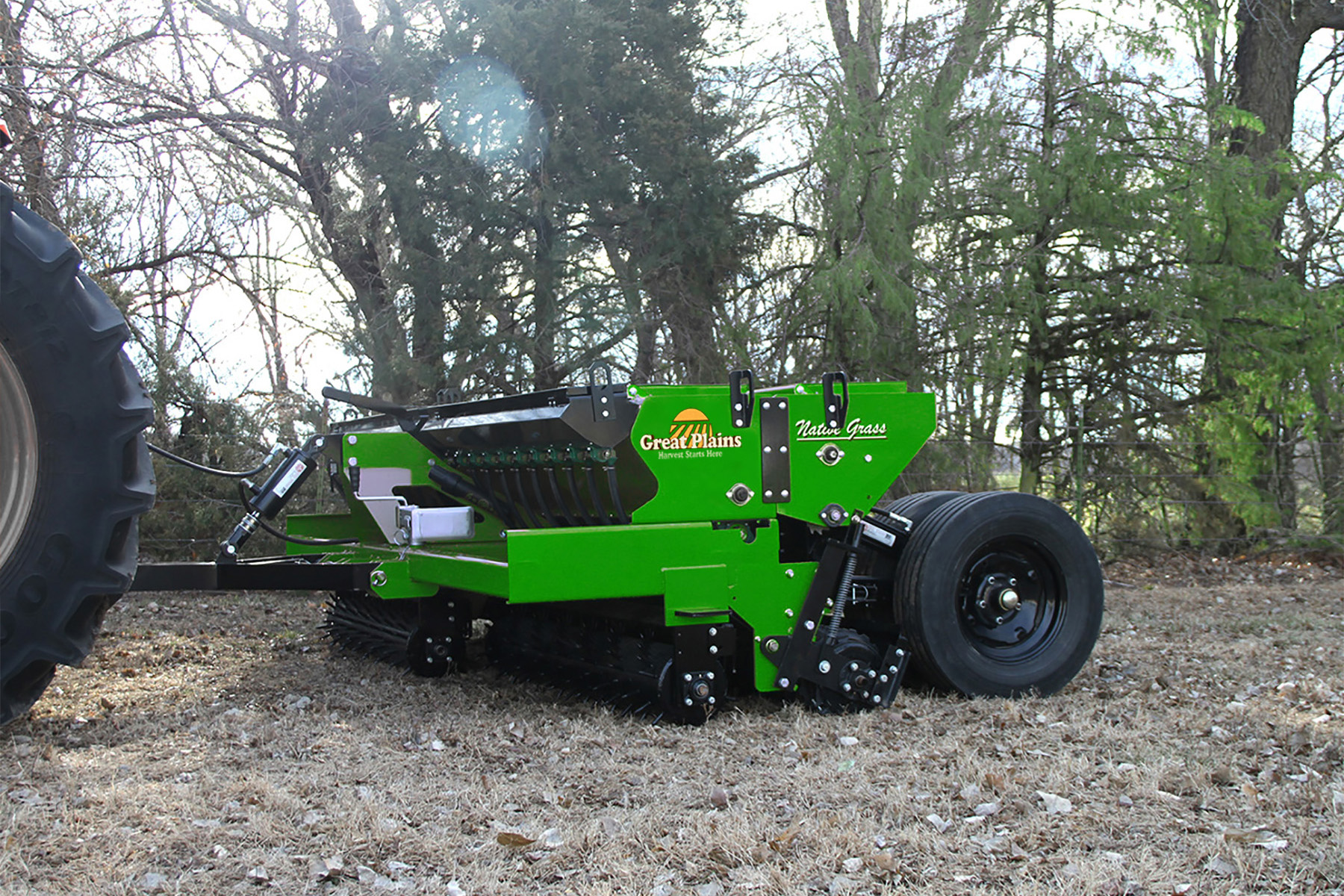 Compact Simple No-Till Seeder
Great Plains is also introducing NTS25 series no-till drill, a compact "simple seeder," for applications that don't require a larger no-till drill. The simple seeder is offered in 7, 9 and 11 foot widths and is intended for jobs like planting food plots and rights of way and renovating pastures.
The seeder is available as a 3-point or pull-type model with transport wheels and is ground-driven by spikes incorporated into the rear packer-roller. The seeder incorporates Great Plains' precision drill metering technology and comes with a regular seeds box and a small seeds box.
The main and small seeds boxes are calibrated by opening the seed cups with the seed-rate regulator, while the native grass box is calibrated with a 4 speed, single-lever gearbox. Optional equipment includes a native grass box and a digital acre meter.