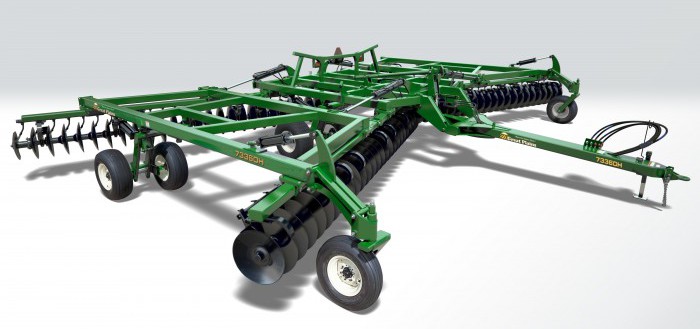 Great Plains announces the availability of its new and improved 7000 Series Disc Harrow. Like its predecessor, the 7000 Series Disc Harrow delivers the reliability and performance Great Plains customers have come to expect. Its double offset gang configuration remains one of the most effective methods to mechanically eliminate weeds while re-leveling rutted fields. The new model, however, includes the following improvements that separate the Great Plains 7000 Series Disc Harrow from its competitors:
Increased Transport Clearance

Increased Transport Capacity

A One-Piece Center Torque Tube Axle

Improved Lift Axle Design

Improved Hydraulic System

Improved Leveling System

Heavier Gang Bars

Hydraulic Gauge Wheels on large-wing models

Low-Profile Hitch

Maintenance-Free Pivot Points and Bearings 
Additionally, farmers will appreciate the time and money savings the Great Plains 7000 Series Disc Harrow delivers through its maintenance-free pivot points and bearings, resulting in an implement that is "grease zerk free."
The 7000 Series Disc is available in widths of 23-36 feet and will be delivered to authorized Great Plains dealers this spring. For more information, visit www.greatplainsag.com.