As the timeline of Hlavinka Equipment will attest, operating a diverse business is nothing new for the Hlavinka family. Since its founding in 1939, when Joe Hlavinka Sr., partnered with the Boettcher family to purchase the Farmers Lumber Co. in East Bernard, Texas, the Hlavinkas have owned and operated various businesses, from lumber and hardware to coffins and construction.
But during its more than 75 years in business, the one common thread running through the Hlavinka's various business ventures has been the family's core focus on agriculture. Since 1939, the Hlavinkas have been selling and servicing International Harvester equipment, which today is branded as Case IH.
"My grandfather bought the first store in a sealed bid auction," says Terry Hlavinka. "Fortunately, he was the sole bidder and was able to get it for $18,000 or $18,500. But that was a lot of money back then, so he partnered with the Boettcher family. They remained partners until the 1950s when my dad and his brother joined the business."
While the Hlavinkas maintained their lumber and hardware businesses, in the 1980s their ag business began to expand as Tenneco acquired International Harvester and then merged with J.I. Case, and the company introduced the Axial-Flow combine, Cotton Express pickers and Magnum tractors, opening new doors for Hlavinka Equipment to serve the region's farmers.
In the 1990s, the utility of the Steiger tractors increased the company's focus for the construction equipment business, and the Schaeff line of light equipment was added. When Terex acquired Schaeff, it provided Hlavinka Equipment with a complete line of construction equipment products. The family also got more aggressive in dealer acquisitions and added new stores in Rosenberg, Nome, El Campo, Bay City and Taft, Texas. The company acquired another dealership in Tivoli, Texas, in the early 2000s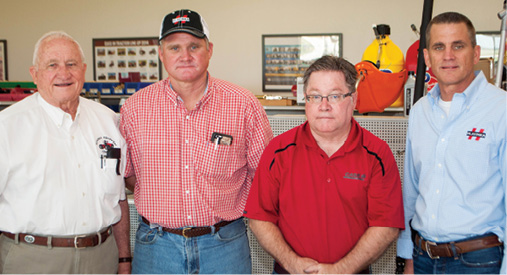 Current owners of Hlavinka Equipment includes (l-r) Joe Hlavinka Jr., Kenneth Hlavinka, Steve Hlavinka and Terry Hlavinka. Another owner, Byron Hlavinka, was not available for photos.
Hlavinka Equipment, East Bernard, Texas
Founded: 1939
Major ag lines: Case IH, Kubota
Major construction lines: JCB, Terex
Locations: 7 Case IH (East Bernard, El Campo, Victoria, Rosenberg, Nome, Bay City and Taft, Texas); 1 JCB (Angleton, Texas)
Employees: 140 Other ag businesses: Manage 22,000 acres and raise cotton, milo, corn and soybeans; Own and operate 3 grain driers
Other businesses: Construction company, Chevrolet dealership
While the mainline equipment manufacturers today are "urging" their dealers to expand through mergers or acquisitions, Joe Hlavinka Jr. says that is not necessarily the best strategy for his dealership.
Joe Jr., who remains as president of Hlavinka Equipment, says, "We grew our dealership out of necessity. The farmers started getting bigger and there were becoming fewer of them. So, we had to go out and capture that business. Also, Case wanted to get rid of its company stores. These two factors gave us a good opportunity to expand."
Terry, who now serves as general manager of Hlavinka Equipment, adds, "Of course, it also allowed us to spread our fixed costs and utilize our inventories more efficiently."
Of equal importance, he points out, was acquiring the other Case IH dealerships also allowed Hlavinka to eliminate a lot of in-line competition. "We spent a lot of time worrying about the other Case IH dealers down the road, instead of focusing on our real competition, which was John Deere."
Even with its focus on ag, the family's enterprises remained diverse. For Terry, business diversity is just another way of describing an opportunity to meet customer needs.
Diversified in Ag
There are three major segments to the Hlavinka ag businesses: equipment (which includes automotive sales), farm operations and grain drying. At 80 years old, Joe Jr. remains active in the business, but his sons handle the day-to-day operations. Terry and Kenneth Hlavinka are the major shareholders and several other family members have a financial interest in the businesses.
Terry heads up the Hlavinka Equipment dealerships, which includes 8 locations scattered throughout the Texas Coastal Bend in the southeastern region of the state, which includes Houston. He lists his mainline brands as Case IH and Kubota, but specialty lines are taking on an increasingly critical role to keep up with the dealership's changing customer base.
While cotton and rice are still mainstays in the area, some corn and soybeans are also grown in the region. But urban sprawl has been prevalent in and around Houston and the other bigger towns in Hlavinka Equipment's sales territory.
The recent prolonged drought and fluctuating commodity prices have dramatically altered cropping in the area. This, together with booming population growth in the Metropolitan Statistical Area around Houston — from 4.7 million people in 2000 to more than 6 million in 2015 — has caused the dealership to diversify its product offerings during the past three decades. This includes offering compact construction equipment to serve the needs of local construction contractors, as well as that of larger farmers and ranchers.
---
Several automobile manufacturers would love for us to sell their vehicles. So auto dealers are treated really well by the manufacturers...
---
"This has really impacted our business," says Joe Jr. "Our Rosenberg location isn't too far from here (East Bernard) and that urbanization is starting to drift over this way, too. Those cotton fields between Houston and Rosenberg are now covered in concrete and housing developments. It's cut out a lot of farming but we're still selling a lot of four-wheel drive tractors and scrapers that are being used in developing the new housing."
Joe Jr. adds that commercial and industrial development is following suit. Construction of the world's largest tilt-wall building in the country is underway in Hlavinka's territory. The company makes HVAC systems. "These developments are taking a lot of agricultural land out of production, so we've had to adapt," he says.
"Our customers have constantly evolved," says Terry. "As a result, shortlines have been added for specialty crops in this area like rice. We need different type of planters, for example, and until recently Case IH didn't offer a drill for our market, so we had to go to other suppliers for this and things like grain carts. Case actually offers a pretty nice grain drill now, but they didn't have one that our customers could use for a long time."
He says the same holds true for small tractors. "We picked up Kubota in 1982 as the urban areas began expanding out into the areas we serve. We sell a lot of their equipment out of two of our locations."
Adding compact construction equipment was in response to other opportunities that Terry saw developing in Hlavinka's sales region. "It wasn't only a hedge against urbanization in the area, but we were finding the demand among our farm customer base, as well. Nearly everyone uses skid steer loaders and backhoes, larger farmers and contractors alike. Adding the Terex line several years ago was an opportunity to capture more business within our dealership's footprint."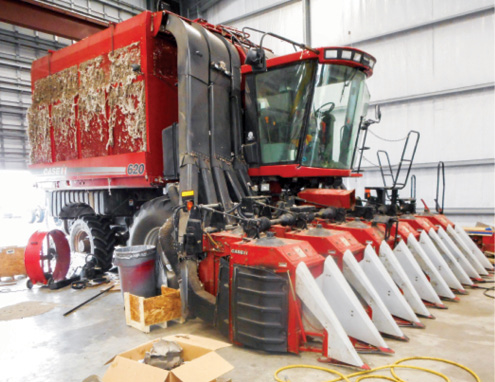 As urban sprawl continues to consume what was once farmland around Houston, Texas, demand for large agricultural machinery, like this cotton picker, that once defined Hlavinka Equipment, continues to diminish.
Last year, the dealership opened its eighth location in Angleton, Texas, specifically to carry the JCB line of compact construction equipment. He says that JCB offers several innovative products, like its side entry skid steer that allows the operator through a side door rather than climbing over the bucket to enter the cab, which is the traditional design for most skid steers. Telehandlers and compact track loaders are also machines that could serve both farm and construction equipment operators.
He says he also likes the fact that JCB has demonstrated a willingness to work with its dealers. "There were a couple of minor things that we asked for and they agreed to them, which is getting to be rare among equipment makers," says Terry.
Grounded in Farming
Despite the various ventures the Hlavinkas have taken on over the years, farming remains at the core. Today, Terry's brother and partner, Kenneth, oversees the farming and ranching operations.
This segment of the family business manages about 22,000 acres. According to Kenneth, about 6,500-7,000 of those acres are cropped with rice, cotton, milo, and, from time to time, corn and soybeans. Some of the land is leased out. "We also have some minor oil and energy investments," says Terry.
Waterpark Development is a
Major Departure for Hlavinka Businesses
The opening of the Typhoon Texas waterpark in Katy, Texas, in May 2016 will represent Hlavinka's biggest departure when it comes to business diversification. Typhoon Texas is the largest privately developed waterpark to be constructed in North American in more than a decade.
Kenneth also raises a few hundred head of cattle.
The day-to-day farming operations keep the overall business well grounded as the partners can empathize with the challenges that are confronting farmers and ranchers.
Kenneth explained that last summer's cotton crop was only fetching about 60 cents per pound. "With the exception of a couple brief moments, a couple years, since starting my career cotton prices have been down. It got to $1.75 a couple of times, but cotton prices never really capitalized on the run-up in the other agricultural commodities. It hasn't been a good year for crops in general," he says. "There was too much rain in the spring, and then we got rain during the harvest season."
Investing in Grain Driers
The Hlavinkas originally got into the grain drying and storage business for their own crops in the early 1990s. In February 2015, it acquired a third operation that will complement its other ag investments, according to Kenneth.
"At the time we acquired our first drier, we were simply interested in preserving the quality and quantity of our own crop," Kenneth says. "We believe now, however, that this acquisition meets our strategic plans of providing service to our industry. Our present business structure and distribution model provides synergies that offer competitive advantages in this challenging industry."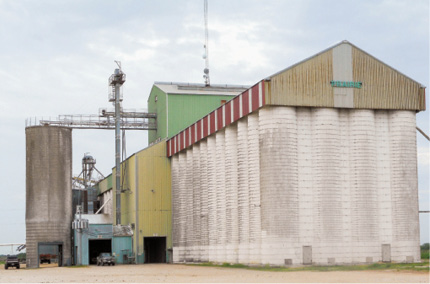 The Hlavinkas have operated grain driers for their own crops since the 1990s. In 2015, they acquired their third unit as a commercial venture that would complement their other ag investments, and as a service to the industry.
The new company, Hlavinka Commodities Co. LLC, will be operated as a subsidiary of Hlavinka Cattle Co., which is affiliated with
Hlavinka Equipment.
The facility acquired by the Hlavinka's last year had been shuttered by the previous owners. "It was the victim of the lack of irrigation water," Terry explains. It is a commercial facility and available to area farmers.
"We've struggled with rice production, particularly west of Houston and down in our Bay City store territory because the Lower Colorado River Authority suspended water deliveries 4 years ago," Terry says. "So we've lost about 60,000 acres of rice in this immediate area and most of that land has just gone unplanted. This facility was almost entirely dependent on customers who relied on water from the Colorado River Authority. Its volume was reduced to the extent that it shuttered completely last season. The drought gave us the opportunity to purchase the business."
He adds that acquiring the state-of-the-art grain drier further reinforced the Hlavinka's commitment to agriculture in the area and was not aimed at short-term returns.
"We're long-term players in this industry, and we knew that eventually water would return and it could happen as early as 2015. It didn't, but it looks very promising for 2016. So we opened the business in 2015 and had a small amount of rice go through the facility. It's already one of the best facilities in the state of Texas and has had some major upgrades in the past decade. Understandably, in the last couple years there has been virtually no maintenance done because it wasn't being operated. But we're investing in some improvements."
Terry adds that they were able to get enough rice through the facility last year that they were comfortable with continuing its operation. "Hopefully our customers feel comfortable with it. It further diversifies our business. It captures more business from the same customers. Providing more products and more services just draws us closer to our customers. It enhances our relationship in a lot of different ways."
Adding Automotive
In 2008, Hlavinka stepped outside of its core business of ag, but stayed within its expertise as a dealer when it bought a Chevrolet dealership in East Bernard, Texas, not far from its farm equipment location. It was a business decision based on what the company sees coming down the road.
"The timing wasn't perfect," says Terry, "but the price was right. The fact is that had we waited until 2009, there wouldn't have been a car dealership here to be bought. It was actually the second time that we had some interest in that car dealership. Dad and some other business folks here in East Bernard had invested in that back in the '80s for a period of time. At that time, the goal was to keep the car business in the town. It was more a matter of supporting the town."
Terry looks at the decision to purchase the car dealership, which is now called Traditions Chevrolet, as a "good hedge for our business." With the urban sprawl that's so prevalent in the area, he reasons there's going to be less farm land and more pavement and development.
"There's going to be more automobiles. This is a fact. Just to the east of here, we're seeing a very high rate of urbanization and agriculture steadily declining. So, I look at it as somewhat of a hedge. And it's similar business in many aspects to a farm equipment dealership. It's a different customer, but very similar to our Kubota customers in Rosenberg. I believe if you become a good car dealer, you'll be a better tractor dealer, and vice versa."
Terry says that 2009 and 2010 were tough years for the automobile industry. But they moved forward and made "all the General Motors upgrades to the facility" and 2015 was the best year ever for that dealership.
He adds that the automobile industry offers opportunities to grow. In ag, he says, there's possibly three or four legitimate equipment choices in many parts of North America if you want to grow and succeed in the farm machinery business. In automotive, there are a lot more.
"General Motors is the first or second largest brand in North America and they have several auto brands to offer. In addition to Chevrolet, we could possibly add other GM brands at the same facility," says Terry. "But there are several automobile manufacturers that would love for us to sell their vehicles. So auto dealers are treated really well by the manufacturers."
According to Joe Jr., last August was the biggest month the company has had in the car business, which wasn't the case for ag equipment. For business purposes, the auto dealership is a subsidiary of the equipment company.
Still in the Family
This year marks the 77th anniversary of the company and the fourth generation of Hlavinka's is now beginning to become involved in the business. Despite the difficulties some families have experienced in working together over a long period of years, Terry says the family continues to work well together, and that bodes well for future expansion and diversity.
"We have almost never had an argument with a family member," says Terry. "We may have a difference of opinions on a business strategy occasionally. But we grew up and played together as kids, and wound up working together. We don't all work in this business, but the entire family works hard. We're just busy and we work a lot. No one sits around waiting for a check to come in the mail. It has always been my business philosophy that the people who are actually turning the screws on a day-to-day basis and those that take most of the risk are the ones who should reap the bigger rewards."
Currently, while Terry and Kenneth are the majority stockholders, the family has a succession plan that they've documented and put into writing. A couple of years ago, the business was restructured to include three generations of family members in some type of stock ownership and/or management. Family members own shares commensurate with their involvement and contribution to the business. "Three of these owners are capable of leading the business," says Terry.
He expects that business diversity will continue as a major part of the Hlavinka family legacy.