---
As part of Geringhoff's new Independence product line, the Freedom corn head give growers the freedom to choose how they plant corn, and how they harvest it.
Geringhoff introduced three new products for row-crop harvesting during the 2016 National Farm Machinery Show on Feb. 10-13 in Louisville, Ky. These included two new corn heads and a flex draper for soybeans.
The new Independence product line includes two headers that provide corn growers the flexibility to plant in any configuration. The Freedom allows growers to choose optimal corn planting configurations based on their conditions without worrying how they will harvest the crop. The Freedom's newly designed, angled, 2-chain system optimizes crop feeding, maximizes yield retention and reduces crop loss and plugging. Its new gearbox design can handle row spacing of various planting configurations. Also, its Rota Disc technology offers best-in-class residue processing, which is critical for high population corn.
The Patriot is designed specifically to harvest twin-row planting configurations and was developed with Stine Seed Co. for these high population fields. Its double-sprocket gathering chain system eliminates the whipping effect when conventional corn heads try to harvest twin row corn. Optional end row augers improve feeding and yield retention.
The company also introduced a new flex draper for soybean growers. The new TruFlex Razor delivers razor-precision soybean harvesting, and according to the company, it is the first "flex-flex" draper that combines a 3-section, flexible frame and segmented reel with a flexible cutter bar. In development for the last 5 years, the product delivers the closest, most uniform on-the-ground cutting in the industry, even on hilly terrain. Its center knife drive, center belt drive and integrated airflow system minimize losses and improves performance during harvest.
For more information, visit www.Geringhoff.com.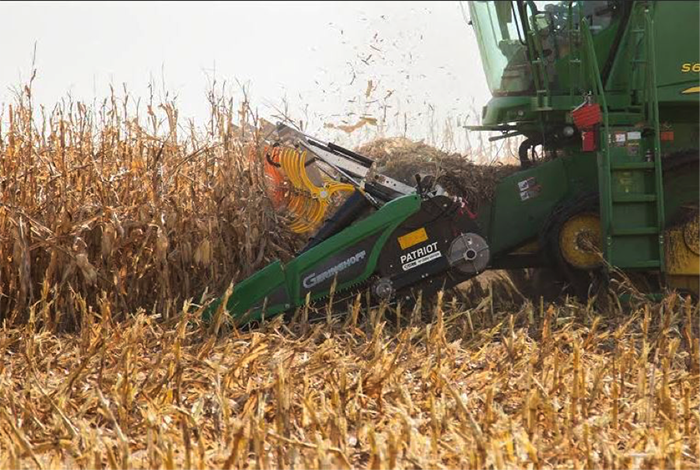 As part of Geringhoff's new Independence product line, the Patriot corn head was developed specifically for twin row harvesting in high yielding conditions.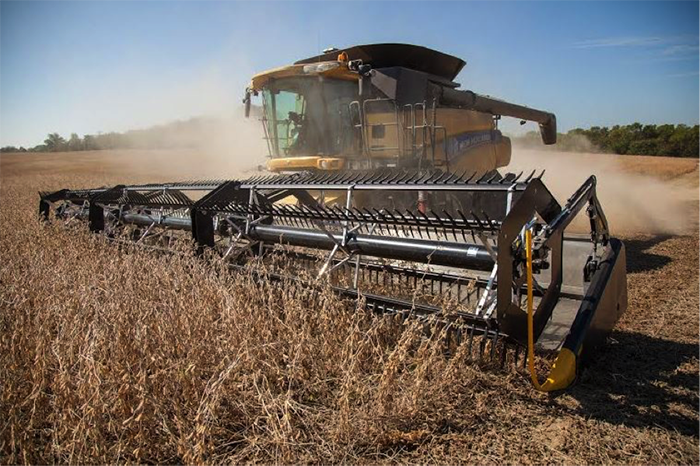 Geringhoff's TruFlex Razor brings a new level of innovation to draper technology. This is the first draper to combine a flexible cutter bar with a flexible frame and segmented reel.