When Deere & Co. announced its first-quarter 2016 earnings last Friday (Feb. 19), it reported that its worldwide equipment sales declined 15% compared to the same period of 2015. The company also said that it expects fiscal year 2016 sales to be down 10% year-over-year vs. down 7% in its previous forecast. For the U.S. and Canada, the company says it anticipates retail sales to be down 15-20%, with large ag retail sales down by as much as 25-30%.
Much of the decline in the company's 2016 forecast is based on falling crop and livestock receipts and, ultimately, lower U.S. net farm cash income. According to Mircea (Mig) Dobre, machinery analyst for RW Baird, USDA projects total 2015 U.S. crop receipts will be down 6.2% from the 2014 level while livestock receipts are expected to be down 9.1%.
U.S. Farm Commodity Prices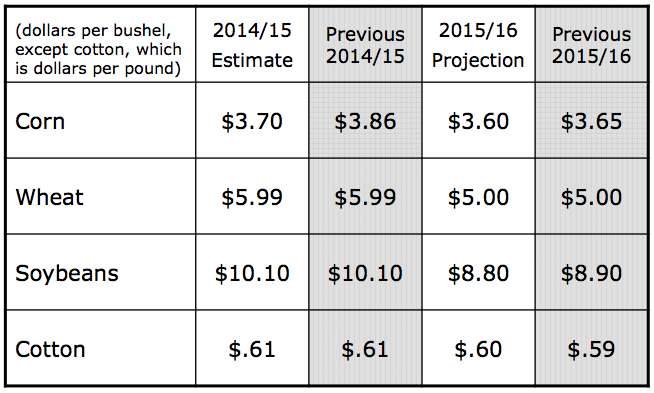 U.S. Farm Cash Receipts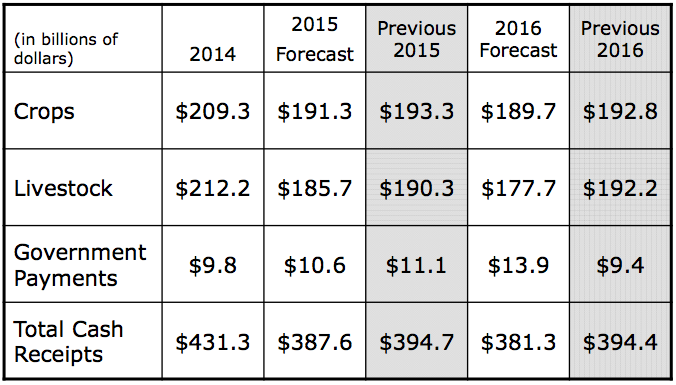 U.S. Net Farm Cash Income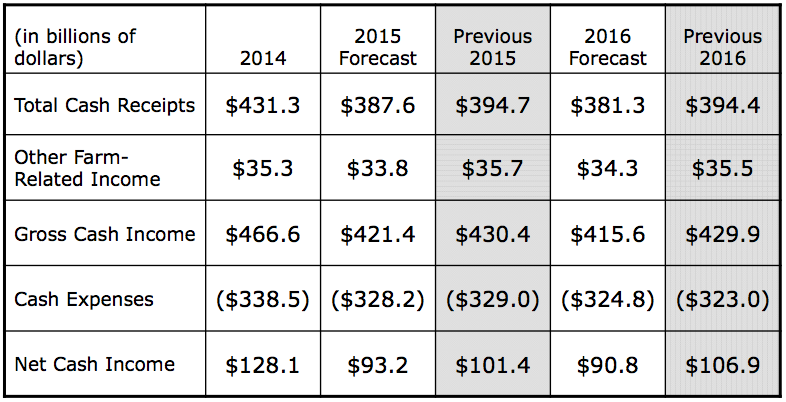 "Additional signs of peak include pressure on used combine prices (often the first sign the ag market is weakening), the meaningful decline in crop prices, as well as limited incremental demand from ethanol due to the 'blend wall' (ethanol demand uses 30-40% of U.S. corn production annually). Relatively healthy farm balance sheets give farmers the ability to continue to spend via increased leverage, although there are signs that lenders are becoming increasingly cautious with financing farmers' machinery purchases," says Dobre.
Joshua Jepsen, Deere's manager of investor communications, added, "Given the record crop harvest of the last three years and the resulting lower commodity prices, our estimate for 2015 cash receipts is now down about 10% from 2014 peak levels. Our 2016 forecast contemplates total cash receipts to be about $381 billion, down slightly from 2015."
Overall, Deere expects U.S. net farm cash income to fall to $381.3 billion, which is down from $394.4 billion in its earlier forecast. The company reduced its per bushel prices for corn to $3.60 from $3.65, soybeans to $8.80 from $8.90, while it kept its outlook for wheat at $5 per bushel.