The level of early orders for new 2016 farm equipment continued to decline this year, according to the results of Ag Equipment Intelligences' 2016 Dealer Business Outlook & Trends survey. The level of presells is considered a reliable indicator for farmers' buying intentions for the coming year.
Final survey results indicate that less than 7% of dealers are reporting an increase in early orders for 2016. This compares with nearly 10.5% last year and 27% two years ago. In total, this year's survey produced 282 usable responses from dealers throughout the U.S. and Canada.
For 2016, none of the dealers expect presells to be up more than 10% (vs. 1.1% in 2015 and 0.0% in 2014). Only 0.4% are forecasting early orders to increase by 6-10% and 6.5% say their presell level this year is in the range of 1-5% compared with a year ago.
 A summary report of the results of the 2016 survey will appear in the October/November issue of Farm Equipment.
---
You May Also Be Interested In...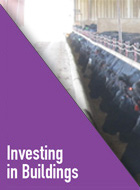 Case Study: When is Investing in a New Structure the Right Decision?
In this year's SOURCEBOOK Special Report, we go in-depth with 5 different scenarios examined in a format similar to Harvard Business Review case studies. In one case study, we explore how a consultant might approach a farmer questioning whether they should invest in a new building. 
---