Farm Equipment dealers from across the U.S. and from all colors, converged in Washington, D.C., May 20-21 for the 12th Annual North American Equipment Dealers Assn. Legislative Fly-In.
Blaine Bingham, chairman of NAEDA and president/CEO of Bingham Equipment, a 10-store Bobcat, Kubota, New Holland and Case Construction dealership in Arizona, welcomed the dealers and stressed the importance of their participation. "Every time I attend this event, I become a bigger believer that what we're doing is important," he says. "When it comes to our representatives in Congress, we need to stay close to those who get it, but it's even more important to stay close to those who don't get it and help make them get it."
The two-day event kicked off with an afternoon of briefings on NAEDA's top policy issues. The issues dealers took to Capital Hill included tax reform, water resources and infrastructure, trade, regulatory reform and transportation funding. Of these topics, tax reform was the most pressing, followed by transportation funding and regulatory reform.
Commenting on why the event is important, Bingham says, "As large employers of people, we have entrusted our representatives to make many important decisions and spend trillions of our tax dollars. They must be constantly reminded of what is important to us and there's no better way top do it than in person. Making our representatives more accountable is a huge challenge in front of us. How can we push them to execute on the necessary things our economy and our country needs?"
Tax Reform a Must
While comprehensive tax reform is now off the table for 2015, according to Jade West, senior vice president of Government Relations for the National Assn. of Wholesaler-Distributors, who joined the NAEDA group's briefing, there is still hope for some action on bonus depreciation and Section 179 provisions, which were enacted under the American Taxpayer Relief Act of 2012 and the Tax Increase Prevention Act of 2014 (more commonly known as the Tax Extender Act).
Jade West, senior vice president — Government Relations for the National Assn. of Wholesalers, briefed farm equipment dealers on the need for tax reform, particularly Section 179.
NAEDA supports the passage of America's Small Business Tax Relief Act of 2015 (HR 636), which was passed in the House of Representatives in February and reinstates Section 179 to $500,000 with a 50% bonus depreciation.
West says it's likely Congress will act on Section 179 and bonus depreciation early in the year, but when asked what "early" meant in Washington, she said hopefully in September. A major point dealers made during their visits was that passing the 2014 extension for Section 179 in late December made it extremely difficult for dealers and farmers alike to make good business decisions. It was nearly impossible for most to take advantage of the tax break because of the late passage.
Another major issue surrounding tax reform was changing the class life of farm equipment to that of construction equipment for depreciation purposes. This would take depreciation from 7 years down to 5 years. Bingham stressed this point during his visits. "Right now I could sell a tractor to a farm customer and the depreciation would be 7 years, and then I could sell the exact same model to a construction customer and it would be 5 years," he explains.
Other tax reform issues included not repealing Last-In, First-Out (LIFO) accounting and deleting IRC Section 263A of the IRS code that requires businesses to capitalize certain costs, such as labor, handling, purchasing and storage of inventory products, if the business has more than $10 million in sales.
---
"You need to stay close to those who get it, but it's even more important to stay close to those who don't get it and help make them get it…"
---
According to a NAEDA survey of its members in 2012, 52% of dealers are using LIFO.
Audie Burgan of JM Equipment, a 5-store AGCO dealer in California, had one very promising meeting, says Michael Williams, NAEDA vice president of government relations. In his meeting with his Congressmen he was given a complete tax package rewrite to review. "The fact that he's in the Congressman's office talking about tax reform and putting forward ideas he had on reform and being asked to get back to the Congressman on how that would impact his and other dealerships in the state, is one of the pluses of being in D.C.," he says.
Mrs. Schmidt Goes to Washington
Following a day of briefings, dealers and association staff took to Capitol Hill to meet with legislators and their staff. I spent the day with members of the Far West Dealers Assn. on their visits. The diary below offers an inside look at what the day entailed.
8:30 a.m.: Before we depart for Capitol Hill, Mike Williams, vice president of government relations for the North American Equipment Dealers Assn., provides some last minute reminders and tips, perhaps most important among them is to stay on the right side of the escalators on the Metro lest you be run down by Washington regulars.
9:00 a.m.: I join Blaine Bingham, NAEDA chairman and president/CEO of Bingham Equipment, Natalie Higgins, the incoming vice president of government relations for NAEDA, and Rick Lawhun, president/CEO of NAEDA, in the hotel lobby. We opt for hopping in a cab because it looks like rain rather than the Metro since Natalie is the only one prepared with an umbrella.
9:15 a.m.: We arrive at the Russell Senate Office Building and set off for our first meeting with one of Sen. John McCain's (R-Ariz.) staff members. It's a good thing we're early because when we arrive at the office we thought belonged to McCain, a note notifies us it's been moved to room 225. Upon getting to room 225, another note informs us to now go to 218. Once we finally find the right room, we are welcomed by McCain's staff and take a seat to wait for Austin Kennedy, one of McCain's legislative aids.
9:30 a.m.: Kennedy joins us and we get down to business. The discussion focuses largely on the need for tax reform and how last year's late extension of Section 179 was virtually useless. "Republicans are sick of the extenders. We really want to get these permanent," Kennedy assures us.
9:55 a.m.: After making our way up 2 floors, we arrive at Sen. Jeff Flake's (R-Ariz.) office and inform the intern at the reception desk we have an appointment with Brian Kennedy, one of Flake's legislative assistants who focuses on agriculture.
10:03 a.m.: The group sits down with Brian Kennedy and jokes about how we thought maybe he was the brother of the staffer we met with earlier. After a little bit of polite chitchat, Blaine gets into who we are and why we're there. The meeting is fairly quick, but Kennedy says the senator supports the policies we are discussing. Our next meeting is at the Rayburn House Office Building and we ask Kennedy what is the quickest way to get there. He enlists one of Sen. Flake's interns to take us on the train that connects the Senate and House buildings. Since the train is for staff members only, she escorts us all the way through.
10:30 a.m.: We arrive about 15 minutes early for our meeting with Jonathan Hayes, Rep. Trent Franks' (R-Ariz.) chief of staff. It's a tight office filled with photos of Franks' district. We barely get into our pitch before Hayes gets into the problem with Congress, pointing out that the two extremes (the far left and the far right) are unwilling to compromise on anything and everyone is too worried about reelections for much to get done. During our meeting, Franks pops in quickly ahead of another meeting. The meeting wraps up, and I'm not sure we ever actually got to the meat of why we were there. Blaine and I part ways with Nick and Lindsay and head downstairs for our meeting with Greg Safsten, a legislative correspondent for Rep. Matt Salmon (R-Ariz.)
11:30 a.m.: With a few different meetings going on in the small office, the three of us squeeze around a small table nestled among some staffer cubicles. Once again, we stress the need for permanent extension of Section 179 and how the late passage last year made it hard to take advantage of the tax break. We ask Scheikert for advice on where to grab lunch and then make our way to the cafeteria in the basement of the building.
12:00 p.m.: Like two fish out of water, Blaine and I somehow manage to navigate our way through the busy cafeteria and find what seems to be the last open table tucked way back in a corner. After a satisfying meal, we make our way to the Cannon House Office Building for our next meeting with Rep. David Scheikert (R-Ariz.).
1:00 p.m.: Because it's the last day Congress is in session before the Memorial Day Holiday, Scheikert isn't available to meet with us. Instead we meet with Ryan White, a senior legislative assistant. Our meeting with Scheikert's staff follows much of the same pattern as our other meetings. Most of the people we've met with have told us they're on the same page as we are. However, we do get a little push back here on the gas tax during this meeting. After we wrap up, Blaine and I part ways and I head back to the Russell building to meet up with Brad and Jason Wickham of Wickham Tractor, a 2-store Case IH dealer in Colorado, and Steven Kost of the Far West Dealers Assn.
1:50 p.m.: I join the Wickhams and Steve outside of Sen. Cory Gardner's (R-Colo.) office, who is an old friend of the Wickhams. Gardner's family owns Farmers Implement Co., a Case IH dealer in Yuma, Colo. His background in ag is evident upon walking in his office. While the staff is just moving into a new office, Gardner's tractor collection appears to be one of the first things that was unpacked. Gardner is tied up when we first arrive but we get some time with his chief of staff. Given Gardner's background, it's no surprise that he's on board with the main topics we present — tax reform, regulatory reform, trade and the transportation fund. When Gardner eventually joins us, our conversation moves more to how business is going and life back in Colorado. Around 2:30 we wrap up our meeting and end the day on a high note.
Is Regulatory Reform Possible?
Much like trade, regulatory reform benefits dealers because of the impact it has on their customers. William Kovacs, senior vice president of Environment, Technology & Regulatory Affairs for the U.S. Chamber of Commerce, explained that Congress has delegated the regulatory process to agencies and as a result eliminated a lot of checks and balances. This is particularly true when it comes to the Environmental Protection Agency (EPA).
"I heard it loud and clear. On regulatory reform, Congress has delegated all the responsibility and authority to many of the agencies, such as EPA, and a lot of people believe it's time to shift that authority back to Congress. That's why we have checks and balances and that's why we have Congress. If they delegate it away, what good is that?" Bingham says. "Yet, we heard in some of the meetings they're afraid to do that because they're afraid it's going to put a vote into the hands of the president and they don't want the president to have any more authority on anything. It's a catch-22 — they don't want our current president to have more power or authority."
One bill NAEDA is supporting is the Federal Permitting Improvement Act of 2015, which would streamline the permitting for environmental reviews and permitting under the National Environmental Policy Act for major infrastructure, energy and manufacturing projects.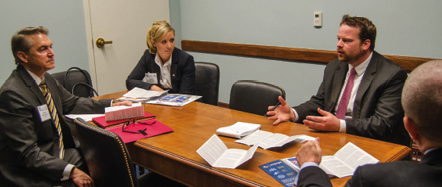 Blaine Bingham, NAEDA chairman and president of Bingham Equipment, Natalie Higgins of NAEDA and Rick Lawhun, president and CEO of NAEDA, meet with Brian Kennedy, a legislative assistant of Sen. Jeff Flake of Arizona.
"It would require agencies to talk to industry and the community, which they haven't had to do," Kovacs says.
Transportation Funding Needed
Dealers also discussed the need for finding a permanent source for the long-term solvency of the Highway Trust Fund (HTF). One possibility that was discussed is raising the gas tax, which hasn't been raised since 1993. During briefings, Christian Klein, vice president of Government Affairs for the Assn. of Equipment Distributors, stressed that using general fund transfers to the HTF puts the debt burden on future generations. He says the gas tax is one of the most transparent taxes we pay, and thus makes it the more fiscally responsible option.
"I think everyone agrees that program needs to be either funded or amended somehow such as with an increase in the gas tax. But after our meetings, I couldn't get a real good view on where the gas tax stands today," Bingham says.
---
"It is absolutely key that we — not only as equipment dealers but as citizens — reach out and interface and try to affect positive change in our government..."
---
Trade is Key for Ag
Trade was another big topic dealers discussed during their meetings on the hill. Chief among the trade discussions was Trade Promotion Authority (TPA), which gives the White House new fast-track authority to allow trade agreements to receive an up or down vote to expedite decisions. Legislation that is good for dealership customers is also good for farm equipment dealers. The day after dealers met with Congress, the House of Representatives passed TPA legislation. Following the passage, Agriculture Secretary Tom Vilsack said:
"Today the Senate helped move America closer to securing responsible agreements that open markets for America's farmers, ranchers and agribusiness and create jobs and improve wages across the country. Over 70 organizations representing America's farmers and ranchers, and past secretaries of agriculture in both parties dating back to the Carter Administration all support Trade Promotion Authority because export sales are vital for U.S. agriculture. Last year, agricultural exports totaled more than $150 billion and for many of our products, foreign markets represent half or more of total sales. Those exports supported approximately 1 million U.S. jobs last year. The economy is strengthened and better paying jobs are created in rural America and communities throughout the country by the additional economic activity that flows from expanded farm and food businesses.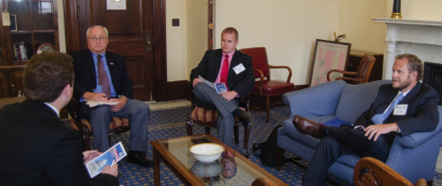 Steven Kost, executive vice president of the Far West Dealers Assn., and Brad and Jason Wickham of Wickham Tractor, meet with Chris Hansen, chief of staff for Sen. Cory Gardner of Colorado. Gardner's family owns a farm equipment dealership.
"Standing still is not an option," said Vilsack. "Our farmers and ranchers face exorbitant tariffs and other barriers in important foreign markets, and if we do not act to maintain and gain market share in these places, our competitors will. U.S. agriculture's interests are best served by ensuring America is at the table with strong negotiating authority."
On June 24, the Senate voted to approve TPA legislation.
There was also discussion of supporting legislation that would allow trade with Cuba, which according to NAEDA would benefit both countries. It was pointed out that the U.S. producers compete with Brazil, Canada and other countries for trade with Cuba. It is NAEDA's stance that Cuba would be best served by the U.S.
The 2-day event was packed with meetings, and while the lack of compromise on the part of Congress was a bit discouraging, overall discussions were positive. Bingham summed it up saying, "Over all, it is absolutely key that we — not only as equipment dealers, but as citizens — reach out and interface and try to affect positive change in our government."