An aspiring entrepreneur named Harley Summers and a small shop in Maddock, N.D. was where it all started for Summers Mfg. in 1965.
Now after more than eight expansions, thousands of product designs and millions of sales, the nationwide manufacturer is celebrating 50 years of business in the agriculture industry. 
To commemorate the milestone, Summers is hosting an open house in each of its 3 locations in the Midwest.  The first event, which was held June 11 in Aberdeen, S.D., offered dealers and customers a live look-in at the facility, as well as the opportunity to share stories and learn more about upcoming equipment.
During its humble beginnings, Summers originally specialized in Goebel truck and pickup hoists, and it took a venture into the farming industry for the business to experience its first level of sustained success. The partnership and acquisition of the Herman Harrow, a reliable tillage machine that helped brand the business in the early 1970s, started a trend of consistent breakthroughs in the equipment industry continuing to this day.
Whether it was the introduction of the Agri-Sprayer in the 70s, the Superweeder in the 80s, or this year's VRT (variable rate-tillage) implement, spokesperson Brain Perkuhn describes the company's design achievements as a collaborative industry effort.
"The ideas stem from our factory workers, as well as our engineering staff. A good part of the engineering staff is involved in the practices themselves, either as farmers or as close associates with farmers around the region. They see what their needs are and what they're having troubles with."
Complementing the information acquired in the fields are the business perspectives of dealers, which Perkuhn attributed as a key factor in keeping the ideas fresh.
"Whenever they run into issues and need a resolution, we work closely with a few that give us great feedback and insight regarding what they're looking for in terms of future products. It's a little bit of everything," he says.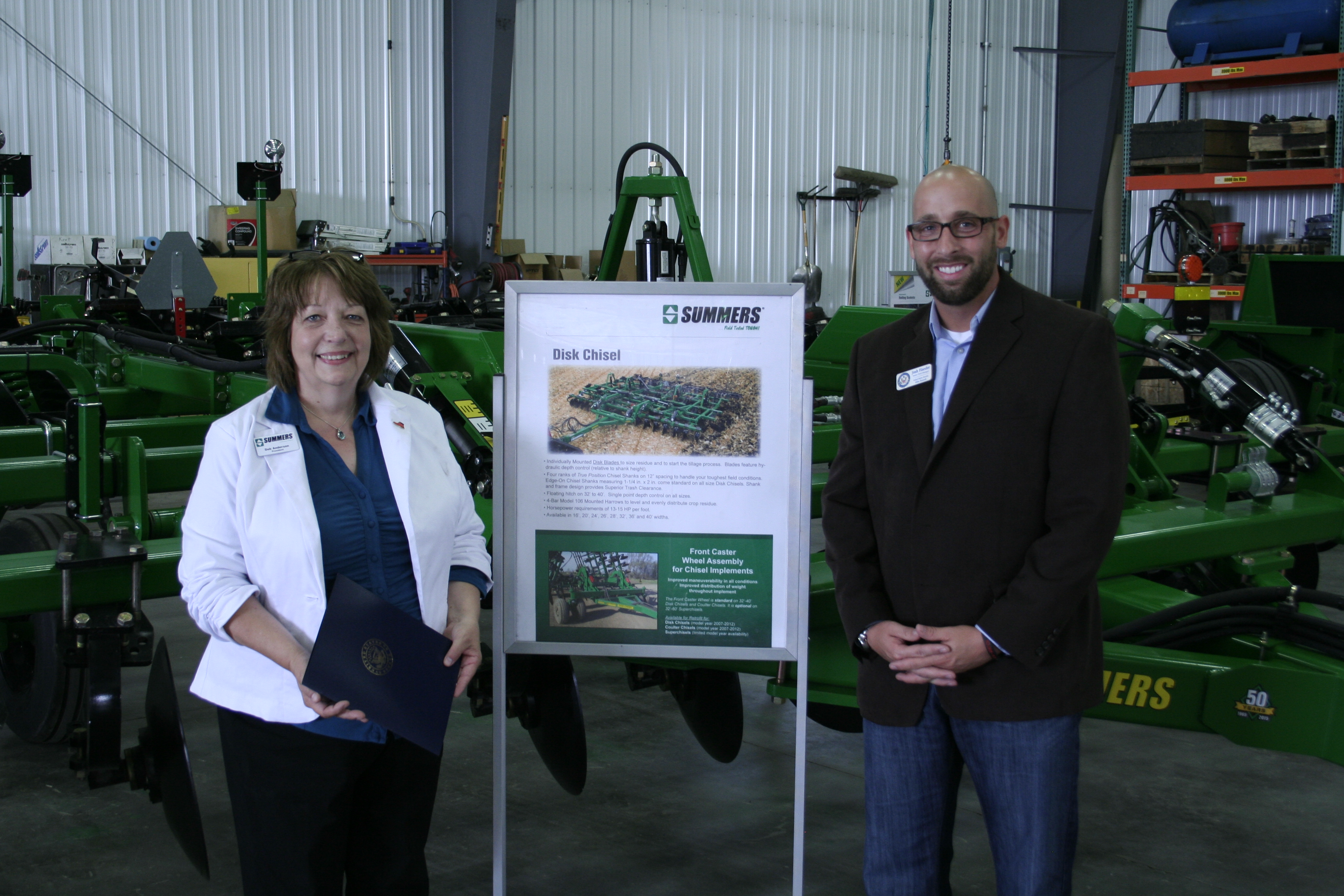 Several South Dakota state staff members attended the Summers 50th Anniversary open house June 11 in Aberdeen. Pictured alongside company president Debra Anderson is Josh Haeder, Senior Field Manager for Sen. Mike Rounds.
In a forever-changing industry, ag manufacturers are always looking ahead for the next major shift in farming practices that will define their business. For Summers, Perkuhn says the company is expecting a continual transition into technologically-focused equipment.
The challenge, however, is for the farmer investing in the right methods with so many options to choose from.
 "We're getting more and more into the precision farming. I think that's going to continue to grow and make the farmers profitable. So for one, we're developing different types of fertilizer application equipment," Perkuhn says. "We're testing some now, and I think that's going to help the farmers the most in being precise."
In addition to technology is a trend toward more no-till practices, a movement which Summers has been accommodating with different designs of sprayers and land rollers.
With such a variance in tillage practices for different farms, Perkuhn says the company sees an opportunity to help farmers capitalize on particular needs.
"We're just trying to find that sweet spot between the conventional tillage and the no-till that comes with the different soil types, regions, climates and weather. There's probably a niche for a little bit of every type of equipment just based on what their specific needs and soil types are, as well as the other conditions."
With two more open house events in Devils Lake, N.D. July 30, and Maddock, N.D., Oct. 15 respectively, dealers and customers will have an opportunity to evaluate more products and designs in-the-works.
Whatever the product may be, company president Debra Anderson expressed confidence in a recent press release that attendees will like what they see, now and in the future. After becoming 100% employee-owned back in 2007, the expectations and motivation to continue headlining the manufacturing industry are higher than ever.
"I know that because of our quality line of agricultural equipment, our strong sense of community, and a continual desire for better farming solutions, Summers will be just as innovative and productive in the next 50 years as it was through the first 50," Anderson said. "I would like to personally thank our employees and valued customers for helping shape where we are today. With their continual dedication and support, Summers' future is bright."