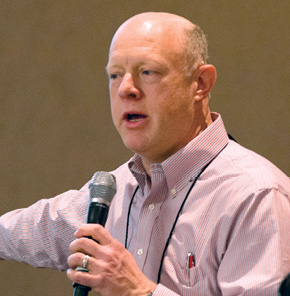 About the Author
Founded 61 years ago, Birkey's Farm Store is a 13-location Case IH dealer group in Illinois and Indiana whose 415-employee operation generated $315 million last year. President/CEO Mike Hedge, a CPA, joined the dealer group in 1992. Birkey's was the 2007 Farm Equipment Dealership of the Year, and in fact grew 600% during a 12-year period without outside capital by diligently managing the balance sheet and the activities that drive cashflow and asset turns. On numerous occasions, Birkey's recently retired CEO, Ron Birkey, referred to Mike as "the best financial mind in all of the farm equipment industry." An "evangelist of balance sheet management," Hedge is known for an ability to connect financial principles to employees across a spectrum of disciplines and backgrounds.
In his general session presentation at the 2015 Dealership Minds Summit in Cincinnati in January, Birkey's Farm Store President/CEO Mike Hedge elaborated on the importance of monitoring sales mixes in wholegoods and how it provided some key warning signs last fall.
"The new/used wholegoods sales mix is something I've really paid attention to over the past 5 years or so. This mix is unique for each dealership and will vary among individual stores within a complex.
"It's important because this has a high correlation to our used inventory turnover and can provide signs as to the trending of our used turnover. I tend to look at this in terms of rolling 12 month sales, but also monitor our monthly results and year to date results.
"During those times when we were turning our used inventory at 4 times or more, our relationship of new to used sales was at 51% to 49%. It doesn't take a big move in this mix to begin seeing the used inventory turnover slide.
"Last October, this ratio began moving up each month from that 51% level. By January, I could see the used inventory issue was much greater than manufacturers projected. The mix continued to move up until it topped out over 55%. During this period, we saw our used turnover decrease by about 40%. The mix has been moderating for about 6 months and I believe we are within a couple of months of seeing our used turnover begin to rise.
"Your dealership's numbers will be different, but understand what they are in conjunction with your turnover and the cash flow, and then communicate to where you need to be. We're happy raising our market share and new sales by 20%, but we know how much we've got to raise our used sales to go with it."
---
Related Content