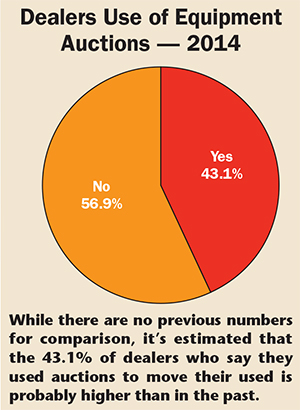 Knowing that many farm equipment dealers have tried to avoid auction services in the past, but with the current heavy backlog of used machines on their lots, we asked them if they utilized a commercial auction service — either public or online — to reduce their inventory of used equipment during 2014?
While there is no previous data to compare, in the 2015 Dealers Business Outlook & Trends survey 43% of dealers answered "yes." The remaining 57% said "no." A total of 301 dealers responded to the survey.
Slightly more Canadian dealers utilized an auction service — 44.4% — than did U.S. dealers — 42.9%.
Again, this was the first time the question was asked, but empirically, it would appear that more dealers than usual are utilizing outside auction services to rid themselves of excess used equipment inventory. Apparently this is stirring up some concern. As one dealer said in the most recent Dealers Sentiments & Business Conditions Update report: "I am reluctant to add much more inventory, especially larger items. I believe the big dealers are going to be dumping inventory on the auction market over the next few months and that will affect the entire market."