Last week, Deere & Co. reported its second-quarter net sales and revenues were down by 9% to $9.9 billion and net sales and revenue, and net income fell to $981. Overall, worldwide equipment sales fell by 10% to $9.2 billion.
 The company said its sales of ag and turf equipment fell 12%. Operating profit came in at $1.2 billion for the quarter and $2 billion through the first 6 months of the year, compared with $1.582 billion and $2.347 billion, respectively, last year. According to the company, "The deterioration for both periods was driven primarily by the impact of lower shipment volumes, the unfavorable effects of foreign-currency exchange, and a less favorable product mix, partially offset by price realization."
In its outlook, Deere expects worldwide sales of agriculture and turf equipment to decrease by about 7% for fiscal-year 2014. Although the agricultural economy remains in a relatively healthy condition, farm income is forecast to be lower than last year. The decline is putting pressure on demand for farm equipment, especially for larger models. At the same time, strength in the U.S. livestock sector is providing support to sales of mid- and smaller-size tractors. Based on these factors, industry sales for agricultural machinery in the U.S. and Canada are forecast to be down 5-10% for the year.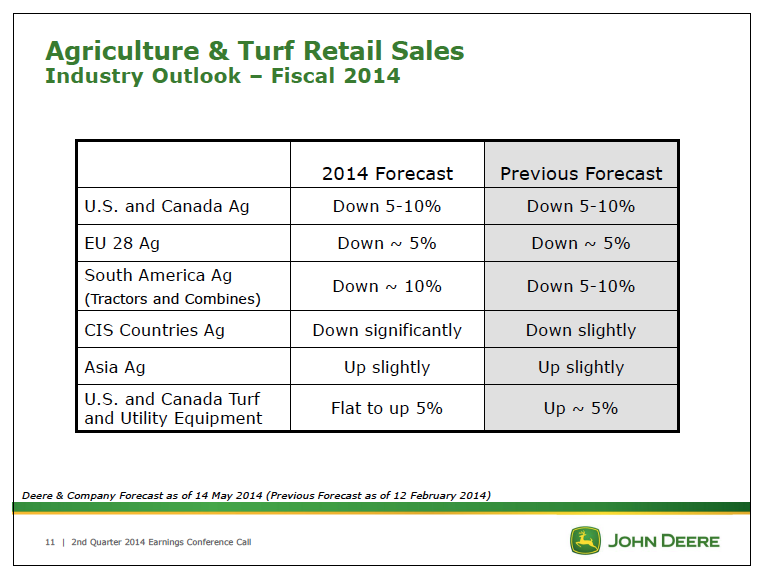 Despite its projected slowdown in farm equipment sales, the company doesn't expect U.S. farm cash receipts to decline dramatically. During its conference call with analysts, Susan Karlix, manager of investor communications, said Deere projected to decline somewhat for 2013.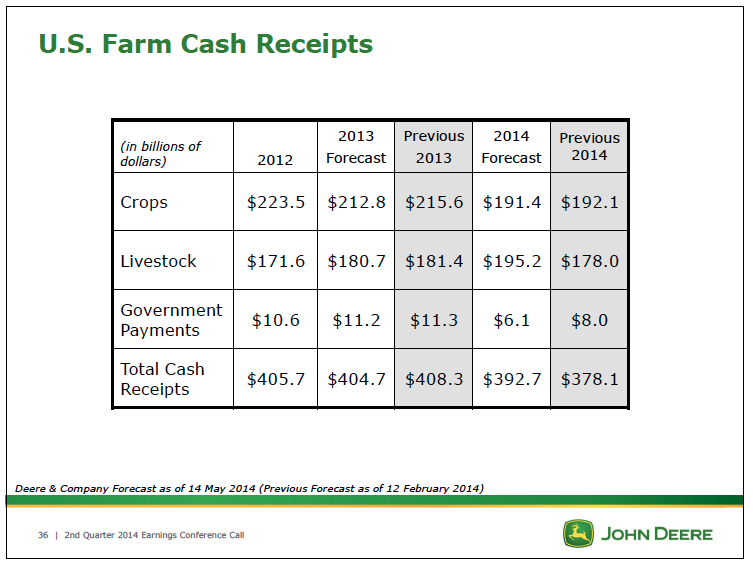 "Assuming trend yields, grain production levels are expected to be up in 2014, which would result in lower feed grain prices. Livestock receipts are forecasted to remain at record levels. As a result, our forecasts calls for 2014 cash receipts to be about $393 billion, down only 3% from 2013, which was the second highest level ever recorded."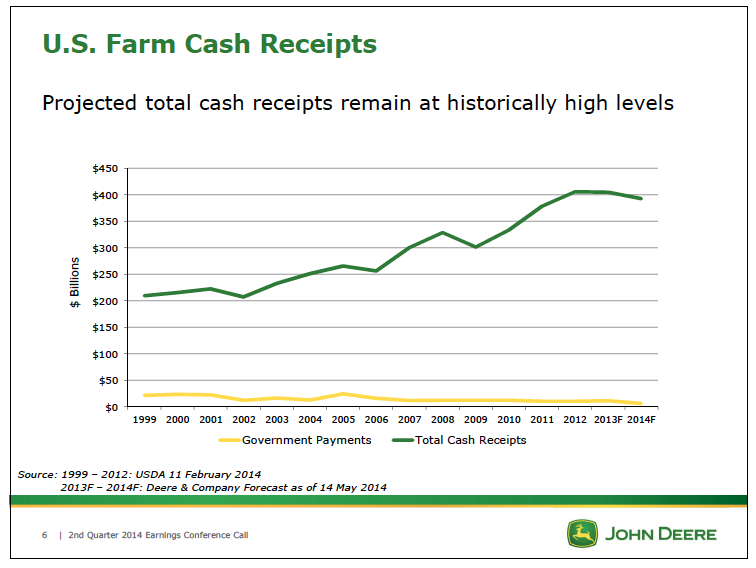 The company also said it expected U.S. net farm cash income to come in at $114.7 billion, up from its earlier outlook of $110.1 billion, but down its 2013 forecast of $125.6 billion.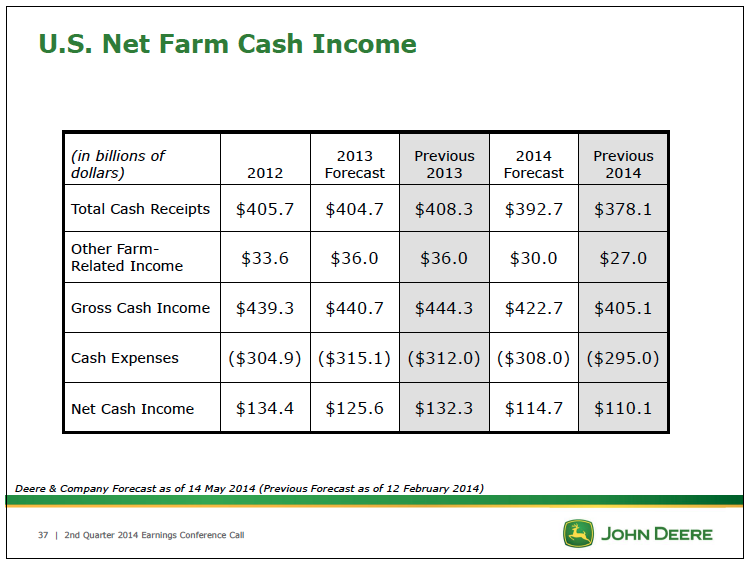 In terms of crop plantings and crop yields, Karlix said, "North American farmers appear to be shifting some acreage from corn to soybeans in response to relative prices. But even though supplies appear to be adequate, global grain and oil seed demands remain strong. Unfavorable growing conditions in any part of the world would hurt production, reduce the stock to use ratio and result in prices quickly moving higher."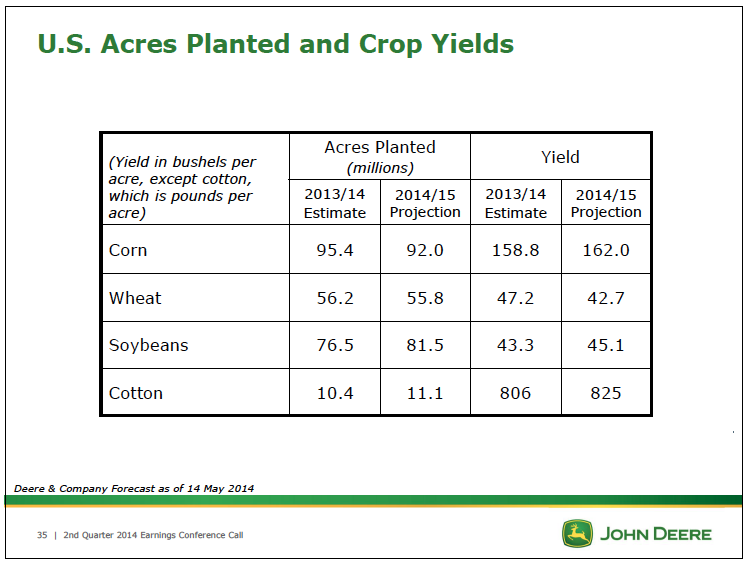 At the same time Deere raised its pricing outlook for corn to $4.35 per bushel from its previous forecast of $4.25, and for wheat to $7 per bushel from $6.50. It lowered its estimated price for soybeans to $10.25 per bushel from $10.50, and cotton from $.65 per pound from $.70 in its earlier forecast