When building new or modernizing an existing facility, farm equipment dealers often speak of the 'Wow' factor that a refurbished show floor, expanded shop space or eye-catching exterior can provide.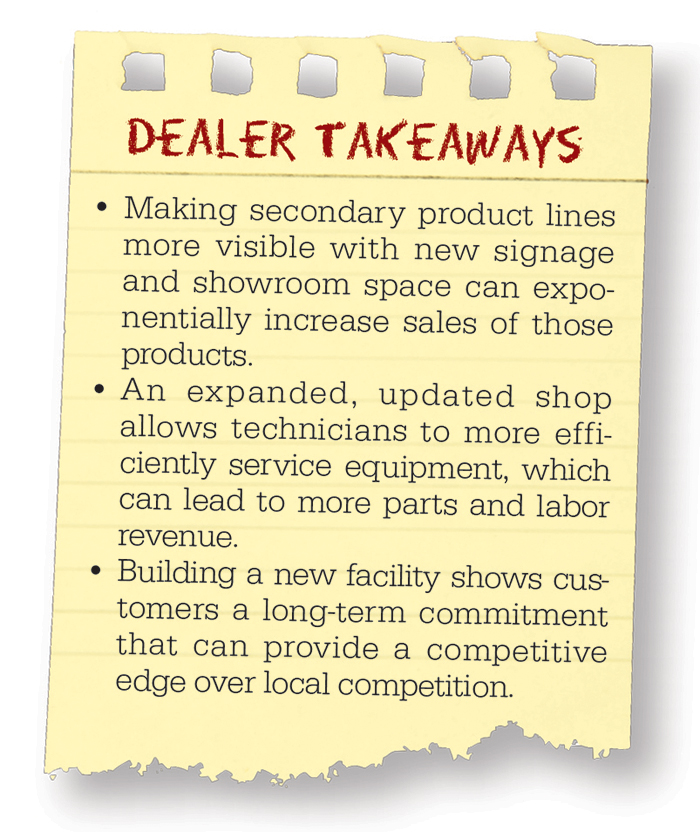 "Farmers are buying a dealership more than they are a brand and this trend will become even more prominent as time goes on," says Mitch Merz, general manager at Merz Farm Equipment in Falls City, Neb. "No matter what the dealership has for physical inventory, it's that customer's past relationship and brand image of that particular dealership that will be the determining factor of purchase."
The single-store AGCO dealership is nearing completion of a 4,000 square foot facelift to include a new customer entrance, highway frontage and updated dealership brand image. Merz says the modernization has already helped "gain relevancy with potential customers who we had no prior relevancy with."
But beyond the sales promise the bricks and mortar of a new facility offer, what tangible impact — positive or negative — does investing in a new facility have on a dealership's bottom line, and how is this being quantified?
Farm Equipment surveyed dealers who had built new facilities or made significant updates to existing stores in the last few years, to find out what numbers they could put behind the benefits of dealership modernization. Here is what they had to say.
Booming Business
When Jim Boyers, president of Middletown Tractor, laid the foundation for the dealership's new facility in Fairmont, W.V., his goal was to grow revenue by 5-10% once the new store opened in 2011.
"This wasn't necessarily to offset costs, because we were overcapacity at the existing facility and to grow at all, we needed to expand," he says. "But excluding land, we paid about $75 per square foot for our new facility."
Part of a 3-store network of John Deere small ag and turf dealerships, Middletown's Fairmont location expanded from 8,400 square feet on 2 acres, to 23,000 square feet on 7 acres. The service department alone is 7,000 square feet and other new amenities include a combined training/conference room and a children's play area.
Boyers says the dealership has not only met sales expectations, but exceeded them since opening the store. Overall, sales have increased 15% and the total number of transactions at the dealership has increased by 20%. Some departments have seen more substantial growth, with toy sales increasing by as much as 40%, Boyers says.
Middletown is also a Stihl equipment dealer. Part of the construction of the Fairmont location included installation of a standalone 8-foot by 16-foot Stihl sign with digital time and temperature readings visible from the highway.
"Our Stihl business has increased by 400%," Boyers says. "We have a lot more visibility with our location. We timed it out that our John Deere signage is visible for 27 seconds from the highway going 70 mph."
For AgriVision, a 13-store John Deere dealership network in Iowa, building a new facility in Pacific Junction, Iowa, made its turf division more visible and profitable.
The dealership closed two smaller, older stores totaling 25,000 square feet and built the new 62,000 square foot facility, which opened in 2010. The interior features separate sides for the turf and ag divisions, which paid immediate dividends for the dealership. Glass doors divide the divisions and bold signage directs customers where to go to find the respective service and sales departments.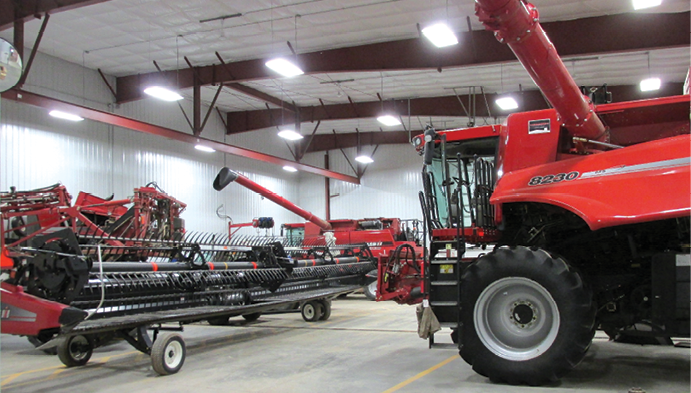 In 2012, Torgerson's LLC expanded shop space at its Great Falls, Mont., location from 7,000 square feet to 22,000 square feet. Since the expansion labor sales have increased by nearly $1 million and service sales are up by $1.3 million. Photo courtesy of Torgerson's LLC
"Our consumer turf business has grown by 40% since we moved into the facility because we now look like we are in that business," says Jeremy Ostrander, general manager with AgriVision. "When customers come in, they know where to take their lawnmower and aren't intimidated by the ag side, which makes them comfortable and willing to keep coming back."
Growing Parts & Service
Not every dealership sees the "honeymoon bump" in equipment sales, but a more robust parts and service department can boost a store's bottom line. This was the case for Torgerson's LLC, which expanded the shop space at its Great Falls, Mont., location from 7,000 square feet to 22,000 square feet in 2012.
"Our service sales more than doubled as a result of the expansion, from $1.2 million in 2011 to $2.5 million in 2013," says Wayne Fischer, vice president of operations at Torgerson's LLC, a 6-store Case IH dealership group. "Selling $0.70 in parts for every $1 of labor, that's another $700,000 in parts sales we've seen. Plus, we've been able to turn machinery around a lot faster and that's also increased the velocity of trades."
When Vetter Equipment, a 10-store Case IH dealership built a new 63,000 square foot store in Nevada, Iowa, it more than tripled the size of its parts department. The new facility, which opened in March 2013, also features a 22,000 square foot service department.
"We could basically take the majority of the old building and fit it inside the new shop space," says Gary Anderson, store manager. "We now have 1,347 parts shelves to source parts for customers much faster."
The improvements have contributed to a 10% year-over-year increase in parts sales and service revenue has increased by 15-20% since the new store opened. Overall, store sales have increased, but not quite to the level Anderson expected.
"Wholegoods sales are up, but I haven't quantified it from a percentage standpoint because we suffered through a drought year in 2013," he says. "I don't feel we've really reached the sales potential of where we'll be another year form now."
Stotz Equipment, a 23-store John Deere network in 8 states, opened a new 18,000 square foot facility in Bluffdale, Utah, in January 2011. For the first year, the Bluffdale management team budgeted for a 10% decrease in parts and service.
However, Keith Greenwood, corporate operations manager, says the new store actually saw a 10% growth in aftermarket business the first fiscal year, a percentage that has continued to climb every year. Aftermarket growth was 11.9% in fiscal year 2012, grew to 12.6% in fiscal year 2013 and is up 50% through the first 5 months of the 2014 fiscal year.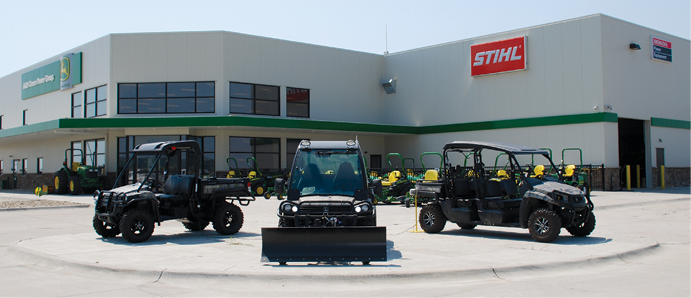 Building a new facility or updating an existing one can provide an immediate return on investment for dealers. AgriVision opened a new 62,000 square foot store in Pacific Junction, Iowa, in 2010, which has helped grow its turf business by 40%.
"While it would be difficult to quantify all the benefits of a new building, our experience shows that customers are more attracted to do business with us," he says. "At the end of the day, the expense of a new building must translate into increased efficiencies for our customers and us as a dealer."
Increasing Employee Efficiency
Beyond pure sales figures, dealers also quantify the return on investment of a new or recently updated facility through productivity and efficiency tracking of employees.
This is especially true for service department expansions, as dealers set higher performance expectations for employees as a result of a larger shop space or more accessible parts inventory.
In August 2013, AgriVision expanded the service department at its Hamburg, Iowa, location going from 13,000 square feet to 30,000 square feet, including a new wash bay.
"In the proposal for the expansion, our goal was to increase efficiency and gain an additional 5% in what we call labor performance, which is a combination of productivity and efficiency," says Todd Morgan, customer support manager at the store. "In the short time since we opened, we've increased labor performance by 6%. To get there in just 6 months, it doesn't take long to start paying for these kinds of expansions with that kind of return on investment."
At Hiawatha Implement's new location in Hiawatha, Kan., the new shop space features three-ton overhead USECO cranes on both sides and a 20 foot aisle running through the middle of 13 work bays. Opened in 2011, the John Deere dealership's shop is 15% more efficient, according to owner Larry Roeder.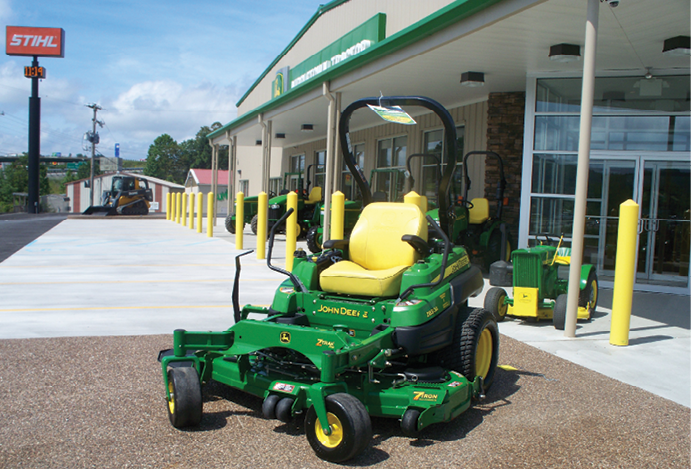 Middletown Tractor's new Fairmont, W.V., location included a standalone 8-foot by 16-foot Stihl sign with digital time and temperature readings visible from the highway. "Our Stihl business has increased by 400%," President Jim Boyers says. "We have a lot more visibility with our location." Photo courtesy of Middletown Tractor
"We've expanded our employee base by 20%, so having room for everyone and making the shop more functional and parts more accessible has been key," he says. "Customers seem more interested in doing business with us as a result. We sell and service expensive machinery so it's kind of important for credibility to have a respectable business."
Competitive Edge
Most dealers say their primary reason for investing in a new facility is because business growth is contingent on expansion. However, they also note the competitive difference a modernized store front, show floor or service area can make with customers.
In the case of Middletown Tractor, Boyers says they would have likely struggled to stay competitive with two neighboring small ag dealerships, had they not built the new facility in Fairmont.
"It would have definitely had a negative effect on business, and our competition is mandating that we continue to progress," he says. "But it all depends on if customers view the facilities as a value. There are some that don't, and are just interested in the least expensive piece of equipment they can purchase and where they can purchase it.
"Those that do value the service end of it, we believe we'll have an advantage in that area because of what we have at our new facility."
In 2012, New Holland dealership Quincy Tractor built a new store in Jerseyville, Ill., right next to an established John Deere facility. Owner Lance Carlson admits that their new facility probably "excited the competition," and offered customers another option for farm equipment sales and service.
"By no means did we expect that by building our new store we would buy the business of our competitor's customer," Carlson says. "We still have to earn their business. But at the same time, farmers see us committing to the community by building a structure and realize we are here long-term and won't drop a line and be in and out of business."
Carlson says they haven't yet quantified the financial return on the Jerseyville facility, but he says the new facility has attracted employees away from the competition.
"We hired 3 people who left Deere dealerships to come work for us," he says. "It was kind of an unique situation because we didn't know them and they came to us."
The AgriVision store in Pacific Junction competes with 2 single-store, small ag dealerships, which has both positive and negative effects on business, Ostrander says.
"Some of the smaller dealers we compete with haven't invested money into their business and that allows them to keep overhead low," he says. "In the short-term, they maybe were able to leverage that as a sales tool and that put a target on our back."
But long-term, Ostrander says AgriVision can set themselves apart from the competition because customers are responding to the dealership's investment in staff, parts, shop space and technology all under one roof.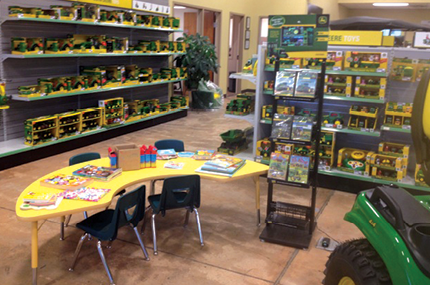 Part of a 3-store network of John Deere small ag and turf dealerships, Middletown Tractor's Fairmont location expanded from 8,400 square feet on 2 acres, to 23,000 square feet on 7 acres. New amenities include a children's play area and toy sales at the store have increased 40% since the store opened in 2011. Photo courtesy of Middletown
"Customers are looking for a partner and their time is valuable," he says. "Being able to come to a dealership like ours and knowing that 6 technicians can work on their compact utility tractor vs. 1 somewhere else, they appreciate that level of commitment."
Building for the Future
When investing in a new facility or modernizing an existing one, dealers are aware of alternative ways customers can purchase equipment, whether through a competitor or even online.
Fischer says Torgerson's earns customers' business by investing in a facility capable of taking quality care of their equipment. This in turn helps wholegoods sales. The dealership's growth in after sales support is the difference between a customer spending money with them, vs. buying over the Internet, Fischer says.
"Even if farmers don't have the ability to purchase equipment locally, they can go on the Internet and look at 1,400 combines on TractorHouse.com and at the end of the day, there's not a nickel's worth of difference between most of them," Fischer says. "Nobody is making junk anymore. If we're going to be the ag dealership of the future, we have to invest the dollars in putting up a best-in-class dealership and have best-in-class people behind it."
At the same time, dealers should consider whether building a 'Taj Mahal' is absolutely necessary. Several competitors near Merz Farm Equipment have recently built new facilities or remodeled. Merz suggests that dealers who build brand new, top of the industry facilities run the risk of dividing their customer base.
"Some customers are proud of their dealership being the best in the industry, no matter the cost," he says. "While the other part of the customer base is questioning the amount of money they are paying on each transaction to pay for that facility.
"I had a competitive customer from a top of the industry dealership that asked, 'I wonder how many times I am paying $22 for an $18 bearing.'"
This comment stuck with Merz as he helped develop the dealership's expansion in Falls City, Neb. His goal with the store modernization is to be "functional and nice, but not be over the top."
The building is simply bricks and mortar, but what the building represents is more important; commitment to the customer, he says.
"I can show my customer a tractor on an epoxy floor the same way the competitor shows his tractor on a granite floor," Merz says. "The difference is my customer is focused on the product and not how much of the sticker price is going to pay for the granite floor."