Proactive, two-way communications between service managers and techs is improving customer service as well as shop productivity and profitability.
---
Matt McConnell says it was service managers asking for help that led Koenig Equipment to adopt its "walk around" approach. So far, the dealership has seen significant improvement in its service labor performance.
---
In the 1970s, Hewlett-Packard executives adopted a business style called management by walking around (MBWA). It involved wandering through the workplace in an unstructured, random way to check in with employees to get their input on how things were going in their areas. It was a tactic designed to force managers out of their offices to communicate with line workers. Reportedly, it was successful in getting staff to better understand and anticipate issues that could impact the business or lead to ideas that could improve the business.
Koenig Equipment has adopted a similar, but more structured concept. Developed by PFW, this farm equipment dealer group is utilizing a "Walk Around Sheet" that requires its service managers to regularly check in with their technicians to stay on top of work in progress. What makes it unique is, rather than waiting for their techs to come to them, service managers go to the techs.
Essentially, this approach involves three tasks:
Assigning work to individual technicians
Facilitating conversation between the service supervisor and technicians
Updating work orders with the most current information available
---
Koenig Equipment Service Operations
Founded: 1904 by John C. Koenig as a hardware store and farm equipment dealership in Botkins, Ohio
Locations: 11 - 7 John Deere stores in Ohio, 4 Case IH locations in Indiana with administration facilities in Botkins, Ohio
Service Department: 120 employees including 93 technicians plus managers and support staff
Current absorption rate: 85%
---
After more than 2 years since adopting the walk around method, Matt McConnell, director of service operations for Koenig, says the results have been encouraging. "Our labor performance has gone from 78% to 84%, which means we've sold 6% more hours than we had previously. Our target is 85%, so we're almost there."
At the same time, he says, the dealership's work in progress has decreased in both dollar value and in time. "Our total transaction time frankly has been reduced by about 40% from start to finish. This not only improves workflow but cash flow, as well. We've also seen customer satisfaction scores go up. I'm not saying they're going up just because of the walk around program, but it is a factor. It forces us to communicate better with each other as well as with our customers, so everyone seems to be happier."
Sharpening Service Operations
Koenig Equipment may be among the rarest of U.S. farm equipment dealers as its counts both John Deere and Case IH as its major suppliers. Altogether, it has 11 retail locations - 7 John Deere stores in western Ohio and 4 Case IH locations in northern Indiana - and a headquarters facility in Botkins, Ohio. With 93 technicians on the payroll, any improvement in efficiency can produce significant bottom-line results.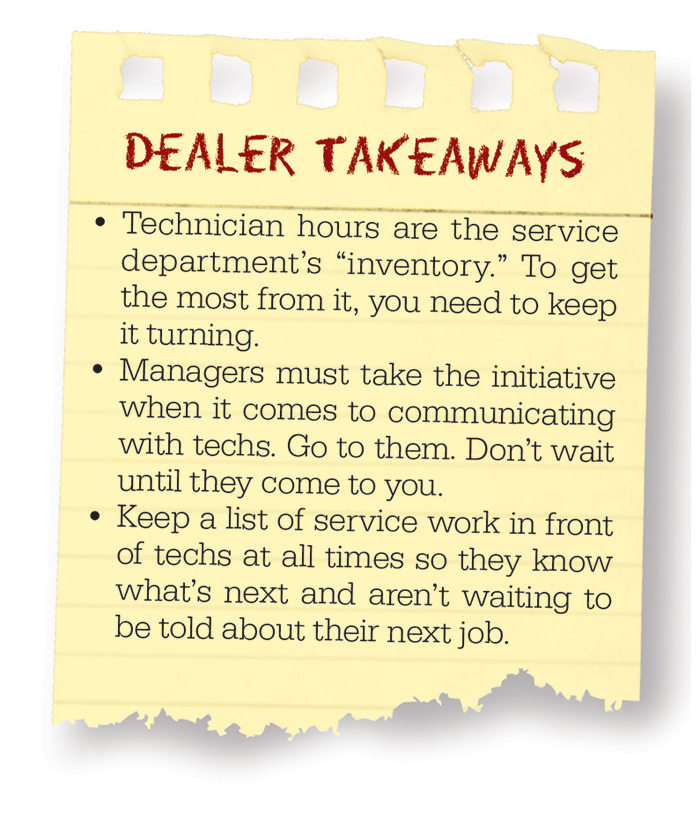 As a result, improving service operations at each of its locations is a high priority for the dealership group.
While absorption rate is often a major metric when measuring the performance of the parts and service business, with the rapid run up of new wholegoods sales during the past few years, it's been more challenging than ever to reach the 100%-plus absorption milestone.
"As the wholegoods side has seen exponential growth over the last 5 years, producing crazy numbers, it has been difficult for us in service to catch up," McConnell says. "To put all our stores together, we're running about 85% parts and service absorption combined right now, but we know that 100%-plus is doable and that's what we're aiming for."
To move it to this level, he adds, "You don't manage absorption, you manage the things that drive absorption. We don't put 'absorption' as such on our service metric sheet."
He says the four metrics that the dealer group stresses when it comes to service include quality, efficiency, work in progress and customer delivery, and sales and profitability.
McConnell says they measure service quality through rework or first time quality. "In other words, we did X amount of repairs and ended up doing X amount of them over again."
Efficiency, he says, is measured through labor performance. How many hours of technician time was available and how many did the dealership sell.
Work in progress as it impacts customer delivery is another important measure that McConnell scrutinizes closely. "We look at WIP in terms of total completion time from start to finish, and then we look at what our customers tell us through our survey process. These are our two delivery metrics that we watch closely."
He says the financial metrics include sales and profitability. "Have we hit our budget? If not, what are we doing about it?"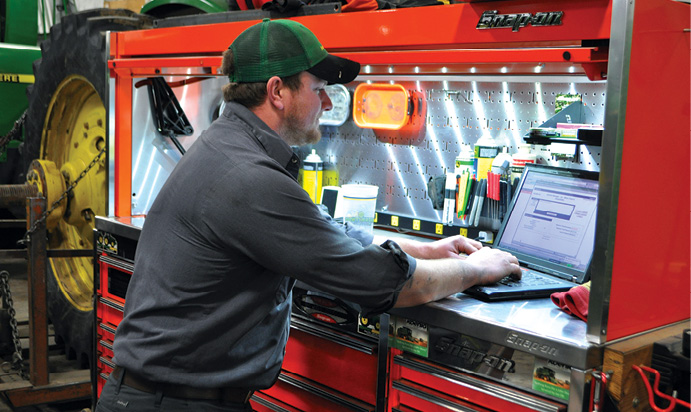 Each tech has a list of upcoming jobs on their computer that matches the walk around sheet so everyone knows what job they're working on next.
McConnell says it's these metrics that his managers pay closest attention to and equally important are the actions needed to improve them. "A lot of our service management training focuses on the activities, responses and action plans of what to do and what to change when we're not hitting our targets. It's a lot like football," he says. "When you're behind and time is running out, you don't keep running the ball and gaining a yard and a half. You need to do something different if you're going to win."
Something Different
In large part, this is what led McConnell into looking at PFW's walk around sheet. He says it was about 2 years ago when a couple of Koenig's service managers, who weren't hitting labor performance targets, asked for help. "They wanted to figure out how to better assign and review work orders with techs, and things like that without adding to their administrative load."
The answer appeared to be available in the dealership's business management system. "The walk around sheet is a tool that puts the things they were looking for in one place without running reports, without taking 20 minutes to get something ready. It's just a function that's in their software that gives you that information with a couple of mouse clicks and you can print it off. It was just a matter of configuring it to the way we wanted it as far as how we were going sort the work."
He calls the walk around sheet a tool for an activity. "The activity is what's important and this tool just makes it easier. You could actually do what it does on a legal pad, but most of us would rather hit a button than get out a pen."
Assigning & Prioritizing
The first step, prioritizing work assignments, lays the foundation for the other tasks required with the walk around process. In Koenig Equipment's case, service work is prioritized first by technician to match the work to the individual's strengths and experience. It is then ranked by priority under the individual technician.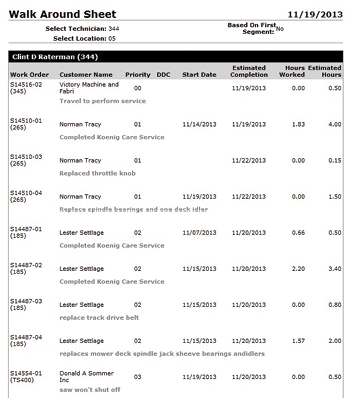 The walk around sheet is a tool for an activity. Activity is what's important and this makes it easier.
"We have a depth chart for all of our technicians based on what product group they support. For example, one guy might be our best on balers and another is our best guy on engines, then this guy is next best on engines. They're ranked that way," says McConnell. "So not only can our service managers manage work assignments within their own shop, but if one of our stores doesn't sell hay equipment and we don't have a hay guy in that location, but one comes in, we can either send the work to where they have a good hay guy or have the tech go to the other store. In this way, we can offer the best solution for the customer."
Koenig maintains a central document with the technician depth chart on it for all the managers to see. A side benefit is that the service managers from the various stores need to communicate with each other and aren't totally isolated in their store. As work demands fluctuate from store to store, they check with others to see if they need a tech or request additional help from the other locations.
According to McConnell, each tech has a list of his or her jobs on their computer screen and it matches the walk around sheet that the service manager has with him so everyone knows what's next.
If one job is held up for parts or some other reason, the tech knows what's next on his list, and can then get after that job while whatever is hanging up the other job is resolved. There's no waiting around for the service manager to assign the next work order.
Besides being posted in the dealership management system and available to each tech on their laptop computers, each work order is also posted to a white board near the service manager's office to be viewed by anyone in the dealership.
The advantage here, McConnell explains, is anyone in management, sales and parts can see the status of each job in the shop, including those coming up. "If one of the salespeople get a call from a customer asking how the service work on their equipment is going, which isn't unusual, they can see it on the board and don't have to interrupt the service manager or technicians to check."
It also serves another purpose, says McConnell. "Technicians want to know that there's 2 weeks' worth of work because if there isn't, they really don't want to sweep the floor or paint door jams to get them through until quitting time." Without knowing what's next, some techs have been known to slow down a little to stretch out the job they're working on. "They don't really want to push a broom or shovel snow," McConnell says. "In the winter, they don't want to work in the wash bay cleaning up a trade that's just come in, either. They're not trying to be subversive or anything like that. They just want to do their job. That's why we try to have a couple of weeks work on each of their lists."
He believes this allows the service managers and techs to plan things better, too. Because they know what jobs are coming, they can order parts for equipment repairs that might be third or fourth on the list.
"One of the biggest reasons we've seen improvement in labor performance is because of our ability to look ahead a little bit and try to reduce or eliminate delays before they happen," he says.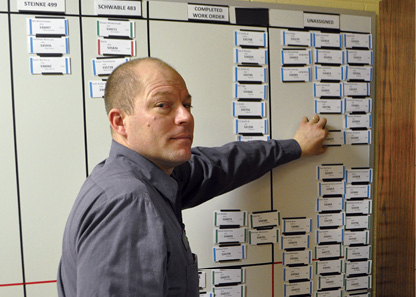 At the Botkins, Ohio, store, Chad Huelskamp maintains the board that shows each job the techs are working on and how each job is prioritized.
McConnell adds, "In a couple of our shops we've been able to eliminate the paper walk around sheet. Managers take a tablet with them while making their rounds. They're able to adjust completion dates, times or whatever as a result of their conversation with the tech and never pick up a pen or piece of paper."
Two-Way Communications
Facilitating two-way communications is the next function of the walk around process. "If we're going to maintain or improve the efficiency of our technicians, we can't have them do the walking to talk to their managers. Every minute that tech is walking to the service office he's not doing something that we can charge for. To be fair to him and to our customers, we need to go to them. In other words, the managers walk around the shop."
The process puts the onus on the service managers to take the initiative in talking with each tech to determine the status of each job they're working on. This is required at least twice a day, usually first thing in the morning and after lunch.
While the discipline and responsibility to follow the walk around procedure falls on managers, McConnell says it has improved communications all the way around.
"Some techs communicate very well, some over communicate and some under communicate. So what we've done is to say, 'Twice a day we're going to visit with each tech at their workstation and have a conversation about the jobs they're working on.' We should never be more than 4 hours away from our next communication," says McConnell.
"If something needs to be escalated, that can happen at any time. Sometimes the manager needs information from the technician. Sometimes the tech needs information from the manager. At least twice a day there's interaction, but they happen in the shop instead of a constant flow of technicians to and from the service manager's office. In other words, we're saying, 'Go out to where the action is. That's where you're going to find out the most information.'"
Working Through Work Segments
McConnell says the dealership has also experienced some backside advantages from the new approach. For example, after each walk around, the service manager should be able to modify and close segments of the work order throughout the process.
"If I have a 30 segment work order, do I want to wait until all 30 are done or can I start closing these things as I go? So, it's become a batch process. We want to flow each repair through the system in the shortest amount of time possible. If you wait and do them all at the end, that's no fun for anybody. So after each walk around, twice a day, we should be closing segments. When the last repair segment is complete, the whole thing can be processed as opposed to having to do 30 at the same time."
Why It's Working
McConnell says the walk around sheet has helped Koenig Equipment improve its service operations because it benefits everyone involved by requiring regular communication between managers and technicians.
"Everybody like to know what's coming," he says. "The technician benefits because he knows what to expect, he knows what is coming next and what his workflow is going to be. This is the single biggest benefit."
He says the benefit to the company is by having the jobs list prioritized and in front of the techs at all times, they've reduced lost time because techs can move from job one to job two to whatever's next on the list and not be waiting around for the boss to give him his next assignment. And he's not wasting time walking to the manager's office to ask a question. The tech knows the boss will be by to speak with him and when he's coming by.
The tech's time is the service department's inventory, McConnell says. Just as in its other departments, whenever a dealership can maximize its inventory, efficiency improves and everyone benefits.
"Really the whole thing is that it facilitates communication," McConnell says. "It benefits everyone involved, the service supervisor and the techs, the company and most importantly the customer."