Hoober Inc., a farm equipment dealer with locations in Pennsylvania, Delaware, Maryland and Virginia, was recently recognized by Kuhn North America Inc. with a Top 100 Sales Award for 2013.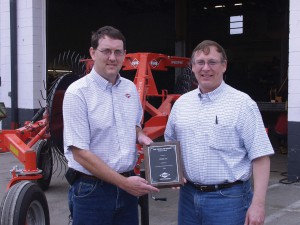 John Hartman From Kuhn North America Presents Chuck Hoober With The Platinum Club Sales Award.
Hoober Inc. was among the top 10 dealers in North America. According to Chuck Hoober, the award reflects a strong relationship between Kuhn and the family-owned dealership.
"We're very pleased our dealership has been recognized with this award," said Hoober. "Earning this award comes from a combination of hard work by the Hoober team and also Kuhn North America for offering productive equipment that meets the needs of our customers."
"Hoober offers end-to-end support for the product," said John Hartman, territory manager for Kuhn North America Inc. "They do an excellent job in everything from sales, to proper initial field setup, and then parts service support for the end user."
Hoober Inc. carries Kuhn Hay Tools, Kuhn Knight Mixers & Spreaders, and Kuhn Krause Tillage Tools. According to Hoober, the diverse range of products Kuhn North America offers is particularly appealing to dairy farmers, although there is a sizeable market among non-dairy farmers as well.
About Hoober
Founded in 1941, Hoober Inc. has nine locations (Intercourse, Pa., McAlisterville, Pa., Chambersburg, Pa., Middletown, Del., Seaford, Del., Pocomoke, Md., Frederick, Md., Ashland, Va., and Wakefield, Va.) and serves agricultural customers throughout the Mid-Atlantic region.