Like all good relationships, partnerships between shortline farm equipment manufacturers and dealers are a two-way street.
As a manufacturer, you have every right to expect your dealers to act with integrity, to make every effort to represent your product successfully, to be available to you, and to communicate with you.
As a dealer, we fully expect that the product will perform as advertised, that when it doesn't you'll enable us to stand behind the product, and that our shortline manufacturer partners will equip us to address the customer's needs for product knowledge, parts availability, and competent service.
The Success in Shortline Machinery series highlights the best practice strategies employed by top farm equipment dealers to promote and sell shortline equipment. It is brought to you courtesy of Art's Way Manufacturing.
Art's Way Manufacturing is a proud Iowa manufacturer of specialized ag equipment including grinder mixers, hay/forage equipment, bale processors, manure spreaders, and land engaging products.  Built on a 60 year tradition of quality, we have recently implemented our Continuous Improvement program.  If you are seeking to grow in 2018 with Art's Way's quality products and service, please contact our Customer Service Center for your area representative at 712.864.3131 ext. 1 or via email at marketing@artsway-mfg.com.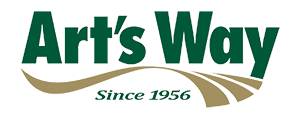 Different degrees of partnership and integration
When it comes to relationships with shortline manufacturers, there are different levels of business integration.  Like other relationships, they're not created equal.
As a long-line dealership, we are stoutly committed to our long-line manufacturer, and we are deep in each-others' businesses.  We tell them what we need in their products.  They recommend ways for us to improve in the retail business.  We cannot be this deeply integrated with our shortline partners, but our goal is to achieve a level of integration that is appropriate for the amount and type of business we do together.
For example, when our dealership held an in-field hay equipment event, we planned and partnered financially with our long-line supplier, but unhesitatingly included our shortline partners in the event.  We wanted them to provide training and education about their products alongside our long-line offerings.  We want our sales staff and customers to be knowledgeable about all the products we sell, because we only represent products we believe bring value to our customers.
By contrast, we recently initiated a relationship with a shortline manufacturer who sent me a dealer information template that was almost 250 lines in Excel!  The e-mail accompanying the form indicated that I must complete the form if I was a dealer.  This manufacturer asked for all manner of data and information about our dealership.  Based on where we were in the relationship with this supplier, I didn't believe they had any need of most of the information they were requesting.  I further judged they could never invest the resources to digest such detailed information even if I sent it.  I ignored the survey and have heard nothing since, thereby proving my point!
Like all of life, if you'll keep the requests appropriate to the relationship, everything will go better.
Nine actionable recommendations for shortline manufacturers
In my family we tell our children, "If you want a friend, be a friend."  Dealers aren't necessarily looking for friends – mostly they want to make money – but if you recognize their challenges and help them solve their problems, you'll be miles ahead in the relationship.
First, talk to dealers about something besides your order program!  Ask us how the product is performing for customers, whether we have inventory aging problems, and whether we're making money with your product.  Ask us whether we're able to easily look up parts.  Always leading with your need for orders would be like a husband who….well, never mind that analogy.  It would be like a friend from high school who only called when he wanted to borrow your trailer.
Second, make sure you have support resources available.  These should include initial training for parts, sales, and service employees, and ongoing availability by phone and e-mail for questions and problems as they occur.
Third, have a parts stocking program that works for everybody.  Some vendors seem to view the establishment of a new dealer as an opportunity to sell $50,000 worth of parts we'll never need.  Provide a small stocking list you are confident will sell based on your data.  Then you have a warehouse of parts that can be delivered quickly when needed.  As your dealer gains sales history with you, refine and increase stocking levels based on sales history and turns.  Don't ask your dealer partner to place the parts stocking order until they have sold the first machine.  If your parts program is well-designed, you will be comfortable offering a parts buyback or at least an exchange at the end of twelve and twenty-four months of working together.
Fourth, make sure your terms and discounts are competitive in the industry.  Let your dealers choose between longer due dates and cash discounts.  Set these up with input from your banker in such a way that you are happy whichever way the dealership decides to go.  Consider offering freight or container programs to your large dealers.  This can help you drive volume, and help them reduce costs.
Fifth, make sure each dealer can earn reasonable profits with the product.  Every shortline brand adds complexity to our operation.  We are always asking, "Is the juice worth the squeeze?"  Don't debase your trade areas.  For Pete's sake, if the product doesn't need to be in a dealership (doesn't need training, support, parts availability, etc.), then cancel your dealers and go direct.  It has never been easier.  But if your product belongs in a dealership make sure the business is viable at the retail level.  Otherwise your dealers will never do what you want.  Alternately, they'll be weak players and may soon be out of business.
Sixth, be flexible.  You're not the cable company, and you can be proud of that.  Like our customers, we have options in our vendor relationships.  By all means, have good policies and processes, but don't hide behind them.  At some point in our relationship we're going to need real help with something.  And you're going to need to bring your checkbook.  Somewhere in your business, preferably at the Division Manager level, there must be a decision maker available to us who can commit your company to, for example, buy back an extraordinarily defective machine.  Or offer help on a just-out-of-warranty repair.  Or assist with a freight charge for hauling on-the-ground inventory from another dealer across the country to our store.  These events are where loyalty and long-term success are cultivated.
Seventh, if you're looking to sign up new dealers, or to part ways with underperformers and trade-up to  high-performing dealer organizations, come to your prospective dealer with customer accounts you want to develop together.  Nothing gets a dealer's attention like saying you have several specific customers ready to sign POs for a product.  If the dealer is savvy, he will also know this is a great entrée to do business with new or competitive customers.  The most recent shortline vendor asking to partner with us arrived at the meeting with specific sales leads.  One of those sales leads bought $90,000 of the shortline vendor's products…And made a follow-on purchase of a late-model used green and yellow row-crop tractor.  And we had not previously been doing business with that customer.  That was real success in a shortline relationship.
Eighth, recruit customers the dealer already respects as your evangelists to get in the door with dealers.  This is a corollary to number seven above, but if you can get customers to tell the dealer they want the dealership to carry your product line, this will help your case very strongly.
Ninth and finally, be a partner in our inventory management efforts.  As is often noted, gross margin possibilities are better on shortline equipment than on long-line equipment.  But this is a business imperative because turns on shortline equipment are often no more than 2/3rds what we achieve on our long-line inventory.  For recommendations on how to implement this recommendation, see the sidebar nearby, "Shortline Inventory Management: Best Practices."
— This article originally appeared in the Winter 2018 issue of Ag Innovator.