Editors' Note: During the long Thanksgiving weekend, the news section of www.farm-equipment.com will feature news stories compiled by Farm Equipment editors that cover areas of agriculture business that, directly and indirectly, impact ag equipment sales.
While USDA raised its outlook for farm cash net income for 2013 by 7.4% over its August estimate, it still represents a 3.4% drop from 2012 levels.
USDA increased its 2013 U.S. farm cash net income forecast to $129.7 billion, up from $120.8 billion in its August forecast and up from $123.5 billion in its initial February forecast.
"Despite the increase, USDA still forecasts a year-over-year decline in cash net income, as the revised forecast is 3.4% below 2012 levels of $134.4 billion," said Steven Fisher, analyst for UBS, in a November 26 note to investors. "USDA raised its estimate largely on higher crop cash receipts."
The ag agency raised its forecast for 2013 crop cash receipts by 2.9% to $217.2 billion from $211.1 billion in August and $216.3 billion in February on record harvests from corn and soybeans. But according to Fisher, due to depressed crop prices, crop cash receipts are still forecast 2.8% below 2012 levels. Livestock cash receipts are forecast to increase 5.8% year-over-year to $181.5 billion.
Combined, cash receipts are now forecast to increase 0.9% year-over-year.
"While the better corn harvest has resulted in better near-term income expectations for farmers, we expected the increased corn supply to drive market prices lower," says Fisher.
"Last week Deere guided to a 2% organic decline in ag revenues in 2014, but we remain concerned that the market will be weaker than that based on our channel checks, commodity price trends and the slowing cycle. Also, while the combination of higher yields and high acreage supported cash receipts in 2013, we expect the combination of lower acreage and lower prices to pressure cash receipts next year. Deere also guided to a 4% decline in 2014 cash receipts."
In a November 26 release, USDA points out that net farm income — which reflects income from production in the current year — is calculated by subtracting farm expenses from gross income. "Whether measured in current or inflation-adjusted dollars, net farm income has been trending upward. In 2013, net farm income is forecast to reach $131 billion. When adjusted for inflation, this represents an increase of over 150% since 2000, and is the highest inflation-adjusted net farm income level since 1973." 
This chart is found in Ag and Food Statistics: Charting the Essentials on the ERS website.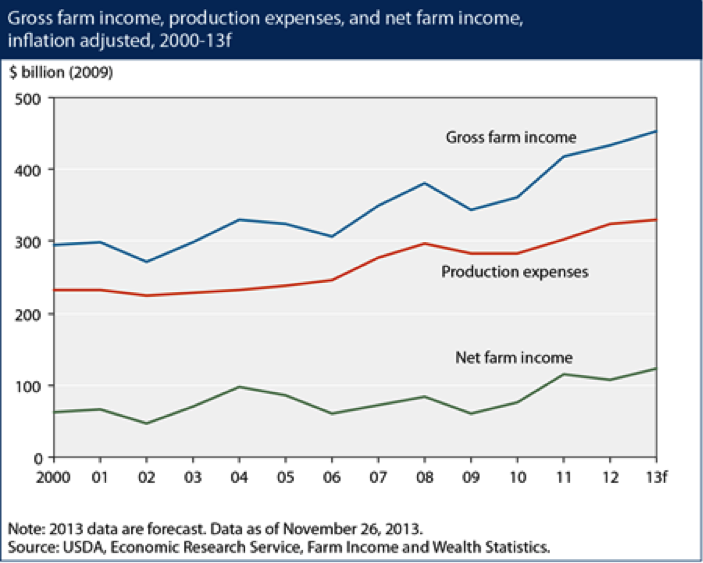 Related Pages: