Lessiter Publications is excited to announce its latest investment in multi-media technologies. The company has just completed an optimized Digital Edition complement of our 2013 edition of PRECISION FARMING DEALER.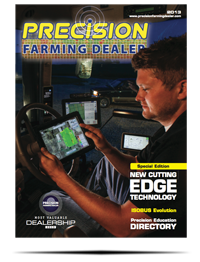 This electronic content marks the first application of this technology which will be deployed in Lessiter Ag Media's various publications.

Now, for the first time, you will:
Consume content on ALL your devices (including Apple iOS AND Android-based smart phones and tablet devices) as well as your desktop
Realize a more dynamic interactive experience (easier and better access to consume video presentations, audio and sharper photo galleries)
Gain real-time knowledge of content updates
Find many entry points to access additional and supplemental content
Enjoy a simpler and more intuitive navigation, scrolling and zooming to connect to other embedded sources
Experience the NEW and re-launched PRECISION FARMING DEALER Digital Edition now!

As always, please let us know your thoughts about our content offering and also how we can best deliver this information - when and how you want it.