Cutting productivity climbs when a New Holland Speedrower self-propelled windrower is paired with a new DuraSwath draper header with the power and durability to swath faster than ever before.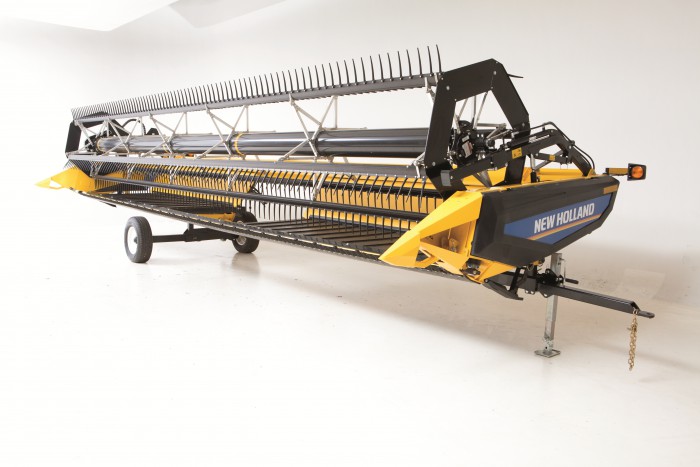 "These new draper headers match the capability of New Holland Speedrowers to cut big acreage down to size fast. They're designed for high-capacity swathing in small grains, canola, forage and specialty crops," says Michael Cornman, Dairy and Livestock Segment Marketing Manager.
Up to 40-Foot Width
The new DuraSwath headers are available in 25-, 30-, 35- and 40-foot widths. The new 40-foot DuraSwath 440HB header, which can be used on the six-cylinder Speedrower 200 and Speedrower 240, features an optional integral four-wheel transport system. The two-piece hitch stores right on the draper header, and has a flip-up rear axle to easily go from field to transport.
Built for Durability
The rugged New Holland cutterbar system works well in all crop conditions, including in muddy, down and wet crops. The Schumacher cutterbar system provides excellent cutting in all crops. An upgraded, low-profile cutterbar allows close-to-the-ground cutting and a new, efficient knife drive motor handles the increased torque resulting from tough conditions.
The 6"x10" tube frame and fabricated end struts provide increased frame strength and excellent visibility to the cutterbar so operators can see the crop as it is cut. Reel tubing is thicker for increased strength, and the Sprocket and chain reel drive system provides faster reel speeds, increased reel speed range, and more power. The reel drive coupler now features a heavy spiral spring pin to provide increased shear protection.
Thick, durable, center-driven Raptor draper belts are pulled—not pushed—for improved feeding efficiency.
Upgraded Hydraulic System
A new hydraulic system allows the DuraSwath draper header to handle increased power to the knife, draper and reel circuits. A split hydraulic system features two oversized 40-gallon-per-minute (gpm) piston pumps, allowing the knife to run on one dedicated circuit and the draper and reel to run on another. This keeps the entire system running more smoothly and increases the available hydraulic horsepower when it is needed most.