John Deere announces the addition of the new W235 Windrower to its hay and forage product line-up for 2014.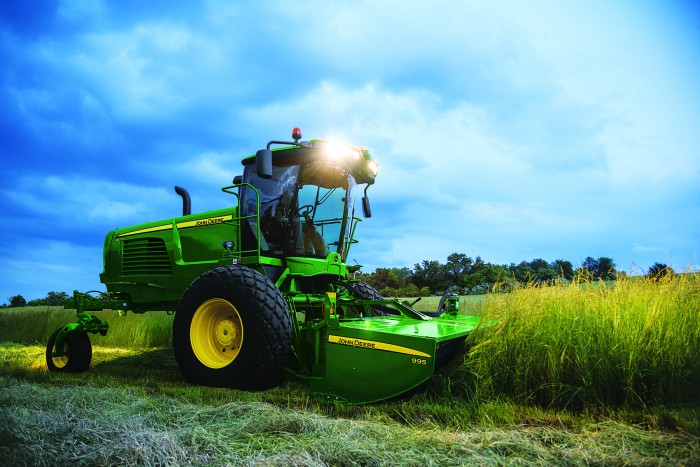 This self-propelled windrower features more horsepower to handle tough field conditions, a larger cab for operator comfort, Integrated AutoTrac and CommandCenter display for improved operational efficiency and other improvements that make long days in the field more productive.
 "We've designed the W235 to maximize the operator's ease of use and productivity," says Jeremy Unruh, product line manager for John Deere Ottumwa Works. "The CommandCenter display provides fingertip access to all controls that are critical in optimizing machine operation and performance, and Integrated AutoTrac provides steering assistance that enables faster cutting speeds while maintaining accuracy."
The W235 Windrowers will be offered in two configurations, a Rotary and a Draper. The Rotary will be compatible with 994 and 995 heads and the Draper will be compatible with the 600D head.
In addition, the W235 features a 6.8L Final Tier 4 engine, rated at 235 horsepower, which is an increase of 17.5 percent over the previous model. It features easier fueling and a more effective cooling system. Ground level filling and a larger 160-gallon fuel tank provide more than a full day of operating time between fill-ups. The clean air intake is located high on the machine and an 8-blade cooling fan with a 19 percent larger fan screen reduces debris intake and improves machine efficiency in dusty conditions.
These new machines also include the JDLink™ telematics system. Managers, owners, and operators can monitor and track machines from remote locations, are notified when preventative maintenance is required and can download the machines performance data at the end of every day.
"No matter the mowing or windrowing conditions, the W235 windrower is built to meet customer needs," concludes Unruh. "There is a larger cab that provides more comfort and better visibility for long days in the field and a new CommandCenter display with Integrated AutoTrac to gain more productivity while mowing and windrowing crops in the field."
For more information on the new W235 Series Windrower, visit www.JohnDeere.com.