To meet evolving application needs of customers and Final Tier 4 emissions requirements, John Deere introduces the R4030 and R4038 Self-Propelled Sprayers.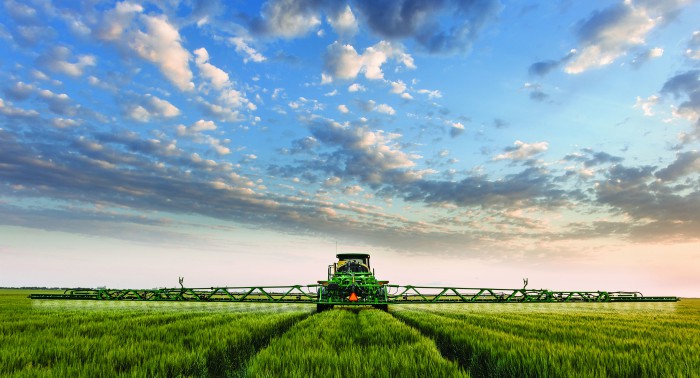 These new, completely redesigned John Deere 4 Series Sprayers offer greater productivity, more uptime, and reduced cost of operation while delivering faster, easier and more precise product application.
The 800-gallon R4030 Sprayer replaces the 4730 model. It features a 280 horsepower 6.8L PowerTech Plus PSS Final Tier 4 engine with a four-wheel hydrostatic drive that can operate up to 20 MPH in the field and 30 MPH in transport.
The 1,000-gallon R4038 Sprayer replaces the 4830 Sprayer.  It features a 310 horsepower 9.0L PowerTech Plus PSS Final Tier 4 engine with a four-wheel hydrostatic drive that can operate up to 25 MPH in the field and 35 MPH in transport.
Both sprayers have redesigned flat-fold booms in widths up to 120 feet, improved weight distribution, the CommandView II cab with the fully integrated GreenStar3 2630 display, and the latest in tire technologies. Cruise control, new on these models, allows the system to automatically control the vehicle to the operator's target speed when the operator sets the engine speed and hydro handle at maximum positions. These new sprayers can be converted to dry nutrient applicators by installing the 200 cu. ft. New Leader dry spinner spreader, which increases machine versatility. 
Brea Harms, product line manager for John Deere application equipment, says both new sprayers have been redesigned from the ground up with new features to help operators focus on the job at hand – accurate, timely application.
"We've added the Solution Command System for push-button automated loading and a new front-fill option that makes loading easier and faster with 3-inch Quick Fill couplings at the front of the machine," says Harms. "On the redesigned flat-fold booms, we've incorporated the swing link suspension to improve in-field stability for more precise application. The new tri-directional breakaway design and full-boom breakaway features help protect the booms and we've increased the number of boom sections to improve spray resolution by up to 33 percent."
In addition, the new John Deere R4030 and R4038 Sprayers come with the CommandView II cab designed with operator comfort and control in mind. It offers a wider side door opening for easier access, integrated machine controls, and more glass for greater visibility. The chassis sits on the dual strut independent wheel air-ride suspension that provides a smooth, stable ride at higher speeds, and auto air spring leveling keeps the chassis level at all times, including on uneven terrain and as the spray tank empties.
The R4030 and R4038 Sprayers also come Direct Injection Ready.  This option provides the flexibility to change products between crops and manage chemical risk by allowing the operator to carry up to 135 gallons of up to two raw chemicals outside of the primary solution tank. Integrated technologies that further enhance productivity that are available include AutoTrac, BoomTrac Pro, John Deere Section Control, JDLink (enabling Remote Display Access and Service ADVISOR™ Remote), John Deere Mobile Weather and AgLogic.
"From front to back, we've made these new sprayers more durable, productive and comfortable, enabling producers and ag service providers to cover more acres quickly," Harms adds. "The latest application technologies have been built into these sprayers, further enabling accurate, timely application."
The R4030 and R4038 join the current 600-gallon John Deere 4630 and the 1200-gallon 4940 model to complete the self-propelled sprayer product line.
For more information on the new John Deere 4 Series Sprayers, visit www.JohnDeere.com.