The S-Series Combines are the most productive harvesting machines ever designed and built by John Deere. For model year 2014, new features will be offered to optimize performance and provide more comfort and control for the operator.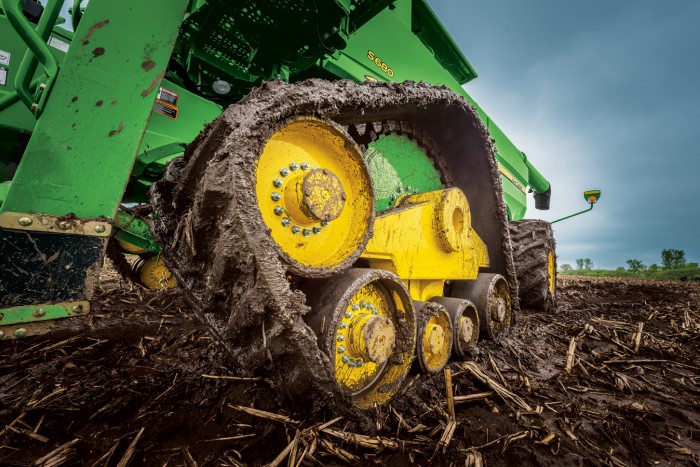 "We continuously look at our harvesting line-up, gain feedback from our customers, and test new features to bring more productivity to our machines and headers," says Katie Dierker, division marketing manager, John Deere Harvester Works. "For the first time ever, John Deere will be offering 36" tracks that will provide better flotation with reduced compaction and fuel use in challenging field conditions."
Because of a large footprint, the tracks allow reduced ground pressure and the ability to harvest in a variety of conditions. They are designed with a high-idler configuration for enhanced performance and easy changeability between tracks and tires.
"When harvesting in tough conditions, operators will be able to get in the fields earlier and harvest longer with the new track option," emphasizes Dierker. "The tracks can be ordered as a factory-installed option or ordered separately for our Model Year 2014 S-Series machines."
Other enhancements to the S-Series line-up include a new Interactive Combine Adjustment (ICA) in base equipment which automates combine settings while harvesting on-the-go. This simplifies overall operator adjustment and brings more consistency and accuracy when harvesting in varying field conditions.
"We also added a new heated and ventilated leather seat with lumbar support," says Dierker. "A leather wrapped steering wheel and leather instructor seat completes the new comfort package. Operators spend many hours in their machines during harvest and with our large cab, increased visibility, improved heating and cooling systems, and integrated AutoTrac, the S-Series combines provide a comfortable and productive operator environment."
Some other feature enhancements include the new Engine Speed Management system which will reduce overall cost of operation with increased fuel efficiency, especially at transport speeds. There is a new Dual Adjust Chaffer to provide an additional adjustment for improved grain tank cleanliness and an 8 Wing Feed Accelerator to improve material flow in tough harvest conditions for customers with the Variable Stream Rotor.
"We've also added a new S650 model, matched with a six row corn head, to support Class 5 productivity needs in the field," adds Dierker.
"Not only that, we increased the overall horsepower on the S660 and S670 combines to give customers more capacity and power in tough conditions."
For more information on the new feature enhancements of the S-Series Combines, visit our web site at www.JohnDeere.com.