The outlook for equipment dealers catering to the livestock segment of U.S. agriculture will gradually improve as 2013 progresses with projected prices for cattle, hogs, broilers and milk continuing to rise and, in some cases, hit record highs. But many dealers expect that sales of hay tools will lag until input costs show some semblance of balance.
Typically, during periods of a rapid run-up of input costs, producers tend to delay major equipment purchases and it appears this is the case with the sale of hay tools. According to the latest Ag Equipment Intelligence "Dealer Sentiment & Business Conditions Update" report, since June 2012 the sale of hay tools has shown no discernible increase in retail sales. More recently, sales have fallen behind the slow pace recorded a year ago. Most dealers say it's a reflection of the difficult livestock and dairy markets of the past year, together with the rising cost of feed.
Higher Feed Costs. For the third time since 2007, live- stock, dairy and poultry producers are experiencing sharply higher feed costs this year combined with poor pasture conditions and with limited safety net programs on which to fall back, according to Joseph Glauber, USDA's chief economist.
While the rising price of corn is given most of the blame for the rising cost of livestock feed, Glauber notes that the same drought that devastated crop yields in 2012, took a major toll on hay and alfalfa crops, as well, further exacerbating producers' problems. Almost two-thirds of U.S. pasture and hay crops were in drought conditions with almost 60% of pasture conditions rated poor or very poor for most of July, August and September 2012.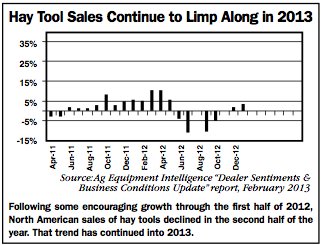 The price of hay and alfalfa has more than doubled in the past decade. According to USDA, in January of this year, the per-ton all-hay price was $192, up 11% vs. a year earlier. It's also up from less than $81 a decade ago. During that same 10-year span, the per-ton price of alfalfa rose to $217 from $87 in 2003-04. Compared to January 2012, the price of alfalfa was up 12.4%.
This, combined with a reduction in acres planted to hay, placed further stress on an already difficult market for livestock producers.
Overall, alfalfa and dry hay production during 2012 was down 20% compared to 2011. According to USDA statistics, this was the lowest production level since 1953. Harvested acres also declined by 10% last year vs. the previous year. This was the smallest harvested acreage since 1948.Yield (tons/acre) also fell from 2.43 in 2010 to 2.36 in 2011 to 2.13 in 2012.
To assist livestock producers affected by last year's drought, a record 2.8 million acres of Conservation Reserve Program (CRP) land was opened to haying and grazing. By comparison, just over 1 million acres of CRP land was made available for emergency haying and grazing in 2011. In 2005, 1.7 million acres of CRP land was made available under similar circumstances.
Better Pricing, But. Speaking at the USDA Agricultural Outlook Forum in February, Glauber said he expects prices for livestock, dairy and poultry products to be up in 2013. "Nonetheless, the livestock, dairy and poultry sectors face continued tight margins in 2013, at least until new crop feed grains and soybeans reach the market in the late summer and fall. Another year of below trend yields and high prices would likely result in further liquidation [of herds]. The U.S. cattle and calf herd is at its lowest level since 1952."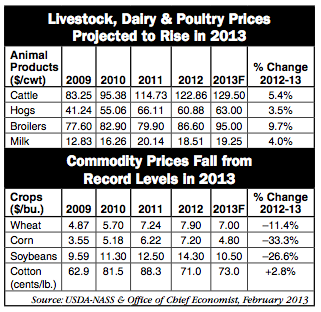 Glauber adds that high prices ahead of planting should encourage large corn and soybean acreages, and "assuming normal yields, stock levels should rebuild and prices should moderate in 2013-14. Lower feed costs will bring relief to livestock, dairy and poultry producers and allow modest expansion over the next 12 months." Equipment dealers and manufacturers Ag Equipment Intelligence spoke with during the Ag Connect Expo and National Farm Machinery Show say that producers are replacing equipment on an as-needed basis, and don't expect a significant increase in hay tool sales for 2013.
At the same time, they say pent-up demand for new equipment is building. If USDA's projections for rising prices for animal products and declining costs for feed grains materialize, the sales of hay tools should improve somewhat. But as producers have culled their herds, it could take more than a couple of years to get them back to 2011 levels.
— Ag Equipment Intelligence, March 2013
---
To subscribe to Ag Equipment Intelligence click here.