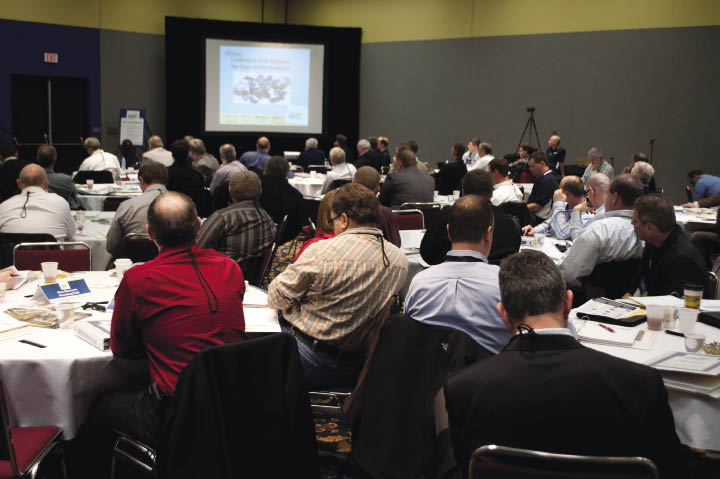 A total of 108 gathered in Kansas City for Farm Equipment's inaugural Dealership Minds Summit.
On Jan. 30, 108 industry leaders gathered in a ballroom in the Kansas City Convention Center (where the Ag Connect show was being held) for a unique learning forum that lived up to its "color-blind" billing.
As mentioned in the opening remarks by Editor/Publisher Mike Lessiter, Farm Equipment's Dealership Minds Summit (a dealer-only event for leaders of all sizes and brands), evolved from the annual Dealership of the Year program, launched 9 years ago. The "Alumni" of this recognition program soon became a mini-community of influencers that the industry wanted to learn more from, he says.
With the exception of one industry consultant, all 14 speakers were Dealership of the Year recipients ("Alumni"). Their open sharing, along with the impressive class of participating dealers in the audience, created what has been regarded as perhaps the dealer industry's finest braintrust ever assembled in one room. While networking ruled the format, here is a sampling of ideas shared from the podium.
• Adapting to a Changing Industry — George Russell
• Succession Planning: Start Early, Stay Flexible
• Family Affair: Passing It to the Next Generation — Tim Young
• Acquisition Growth Can be Done Without Seeking Additional Capital — Mike Hedge
• Transitioning the Lead at a Multi-Owner Dealership — Mark Foster
• Taking Your Dealership Public — David Meyer
• More Locations Doesn't Equal More Profits — Gord Thompson
• Home-Grown Grooming of Talent — Keith Kreps
• Employee Ownerships (ESOPs) — Clint Schnoor
• It's All in the Execution — Boyd Hofmann
• The Myth of Absorption Rate: Johnson Tractor's Not Buying It — Eric Johnson
• Dealers Shed Light on Mystery of Marketing
• Build Marketing Basics First — Tim Young
• Marketing's Role in Enterprise Culture — Laird Munro
• A Case for Shortline Equipment — Todd Kunau