.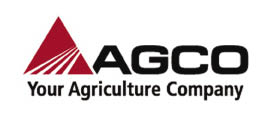 1991 - AGCO purchases the Hesston hay and forage line from Fiat GeoTech S.p.A of Italy and a 50% participation in the manufacturing joint venture with Case International knows as Hay and Forage Industries (HFI). Mid-year the company purchased the White tractor business from Allied Products, expanding its dealer network.
1992 - AGCO goes public, offering one-half of its stock and is listed on NASDAQ. It was listed on the New York Stock Exchange.
1993 - AGCO purchases the North American distribution rights to Massey Ferguson products - expanding its dealer network in North America by over 1,000 dealers - and the White-New Idea business of planters, hay tools and spreaders as well as the Coldwater, Ohio manufacturing facility.
1994 - AGCO purchases the worldwide holdings of Massey Ferguson, the remaining 50% joint interest in Agricredit Acceptance Corp., and McConnell tractors, leading to the development of the AGCOSTAR articulated tractor line and Black Machine.
1995 - AGCO acquires AgEquipment Group, makers of Glencoe, Tye and Farmhand ag implements and tillage equipment.
1996 - AGCO acquires the Brazilian company Iochpe-Maxion, the number one market leader in tractors with the Massey Ferguson brand. The company also purchases Deutz Argentina S.A., the market share leader in tractors in Argentina. AGCO expands the Massey Ferguson combine business with the purchase of Western Combine Corp. and Portage Manufacturing Inc. in Canada. The company also adds Raboband Nederland as its joint venture partner in Agricredit, its finance subsidiary in North America.
1997 - AGCO makes the major acquisition of Fendt GmbH and also acquires Dronningborg Industries, a leader in European precision farming technology.
1998 - AGCO enters into a joint venture with Deutz AG producing engines in Argentina. The company also purchases Spra-Coupe and Willmar, two leaders in the agricultural sprayer market, and merges them into one manufacturing facility in Willmar, Minn.
1999 - AGCO announces the creation of AGCO Finance, a dedicated financing organization, formed in association with De Lage Landen (DLL), a subsidiary or Raboank.
2000 - AGCO completes purchase of Hay and Forage Industries in Hesston, Kan. and consolidates major operations in North America.
2001 - AGCO acquires Ag-Chem Equipment Co. Inc., a manufacturer and distributor of specialized off-road heavy equipment for agricultural and industrial applications.
2002 - AGCO acquires Challenger brand, Caterpillar's agricultural equipment business and the assets of Sunflower Manufacturing Co. Inc.
2004 - AGCO completes the purchase of Valtra, a global manufacturer of Valtra tractors and Sisu Diesel brand engines for off-road applications.