Rabo AgriFinance has launched a new interactive mobile application for the iPad, to provide valuable financing information and enable growers to make informed seed purchasing decisions.  The app is targeted to vendor finance customers of Rabo AgriFinance, which includes input manufacturers, ag retailers and producers, and can be downloaded from the iTunes store.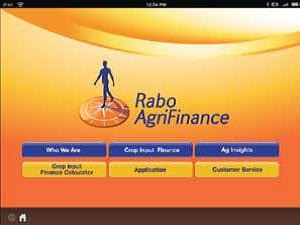 "Rabo AgriFinance is still a relatively new financing option for progressive row crop producers, and we want growers to be more familiar with the fact that we were founded by farmers, for farmers," said Tom Owen, Rabo AgriFinance Senior Relationship Manager. "We want to give prospective customers more background on our cooperative structure, our dedication to agriculture, the insights Rabobank Food & Agribusiness Research (FAR) group of analysts provide to our clients, and an interactive crop input calculator that allows users to run different financing scenarios on their seed investments to help grow their business."
There is also a function that allows users to save the calculator financing scenarios for future credit application submittal.
The application has two interactive videos providing more information on Rabo AgriFinance and the Rabobank Group, and a number of Food & Agribusiness Research (FAR) reports.  Once downloaded to the iPad, the application is fully functional even without the availability of an internet connection.
"Our goal is to support our customers as they work to achieve their goals and ambitions," said John Zeloski, Rabo AgriFinance Vice President, Marketing. "We have over four hundred employees and nearly forty offices that are dedicated to working alongside our customers.   This tool is a great resource for producers who are looking to grow."
The Rabo AgriFinance Vendor Finance team will be sharing this tool with allied partners this season. The "app" is free of charge, and can be downloaded anytime to an iPad through the iTunes store.