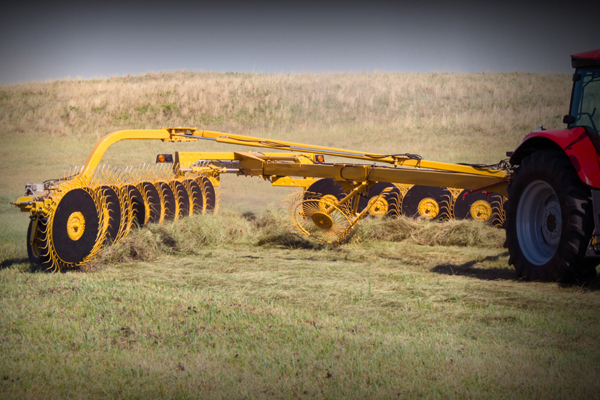 Forage producers can now harness the power and innovation of the Vermeer high-capacity wheel rake in an even larger package with the VR2040 High Capacity Wheel Rake. With a 40-foot (12.19m) raking width and 20 rake wheels each equipped with individual wheel suspension, the VR2040 High-Capacity Wheel Rake helps maximize raking efficiency.
"When we announced our high-capacity wheel rake line with the VR1428 last year, we introduced some unique features to the wheel rake. With the VR2040, we're offering those features to producers in an even larger capacity," says Phil Egging, Vermeer product manager. "The VR2040 has the individual cylinders on each wheel, the same solid rake arm design — those things that have made the VR1428 able to cover ground and rake effectively are now available in a 40-foot (12.19m) raking width."
The VR2040 features a dual-purpose lift and suspension cylinder on each rake wheel, coupled with a nitrogen-charged accumulator, for easily changing rake wheel settings and pressure. By properly setting the pressure, the down force on each wheel then remains consistent through the entire range of motion, improving tooth life and hay pick up, and reducing dirt content in the windrow.
In addition, the unique design of the VR2040 features rugged construction with one-piece rake arms and a three-pivot rear toolbar. This, in conjunction with hydraulic suspension on each rake wheel, provides superior rake flexibility and less maintenance than similar-sized rakes that require a pivot joint and additional caster wheel in the middle of the rake arm. These design features allow the rake to flex 40 inches (101.6cm) down or 66 inches (167.6cm) up to float over the contours of the terrain, equating to over 8 feet (2.4m) of vertical range for maximum raking coverage.
"Everything about this rake design contributes to maximum raking coverage. There's a misconception that a rake of this size needs a pivot joint in the arms in order to flex and cover contours, but between the cylinders on each individual wheel and the rear toolbar pivots, the VR2040 has superior vertical travel and ground contour following," says Egging.