Birkey's Farm Store, Inc., Rantoul, Ill., with 11 farm equipment dealerships in Illinois and Indiana, will be acquiring a new Case IH dealership in Henry, Ill.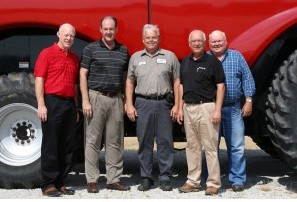 (From left to right) Mike Hedge, CFO; Ron Birkey, CEO; Jerry Read, Bob Read, and Bill Read
As part of its 2012 growth plans, Birkey's FarmStore, Inc., a full-line Case IH dealer, announces the signing of an agreement with Bill, Bob and Jerry Read, to acquire Read Bros. Inc., in Henry, Ill. The acquisition is expected to close on August 10, 2012. Birkey's will reopen on Monday, August 13.
"This is a great opportunity for the company to continue the dealership operations at Henry, Ill. We look forward to working to develop relationships and serving customers in this area," said Birkey's president and CEO Ron Birkey. "We believe that our success has always been centered on our ability to recognize the needs of our customer. The Henry location will be a great fit to our organization. We are also very pleased that Jerry Read will be continuing on with us in a key leadership role at the store."