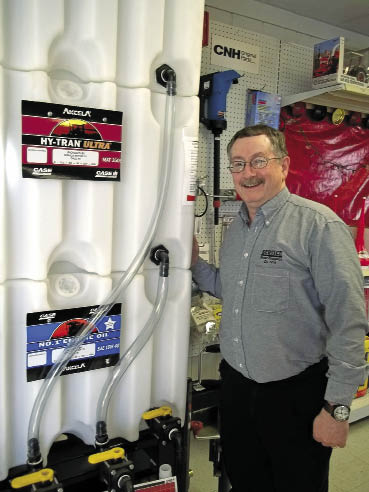 In bulk, Service Motor offers Case IH lubricants, several grades of engine oil and hydraulic fluids. It recently started handling diesel exhaust fluid (DEF) in bulk. The dealership started out with a 600 gallon capacity tanker truck, but outgrew it very quickly. They now utilize a 1,300 gallon capacity truck for delivery.
According to Charlie Truesdale, corporate parts manager, "We designed our own truck and it has a big flatbed area with a lift gate on it so, besides oil, we can deliver disc blades, barrel products such as gear lube, other kinds of lubricants and repair parts ordered by customers. He also carries on board some common shop maintenance products, aerosols, WD-40 lubricants and common filters.
"Our bulk oil operation is centered at our main store in Dale, Wis. This is where the delivery truck is housed, that's where the main storage tanks are, and each day the truck is designated to deliver to a different store's customers. For example, our Green Bay store knows that Monday is their delivery day. So it's up to that parts department to schedule deliveries to their customers on Monday. Then when he comes up there on Monday, he'll check in at the store — unless there happens to be a customer between here and there — and get a list of his deliveries for that day. He'll then go out and deliver to those customers.
"Also, we package our own 5 gallon pails for sale in the stores because our margins are much higher on those we package ourselves than it would be otherwise. Consequently, we can sell those pails for less than the suggested list and still have a healthy margin, so we're very competitive."