Since Peter Lacey and his brother in law John Donald acquired their first John Deere farm equipment dealership in 1982, the company has continued to expand and is today one of John Deere's largest dealership networks in North America. But to maintain its growth rate, Cervus has diversified into construction and commercial equipment and, more recently, into trucks.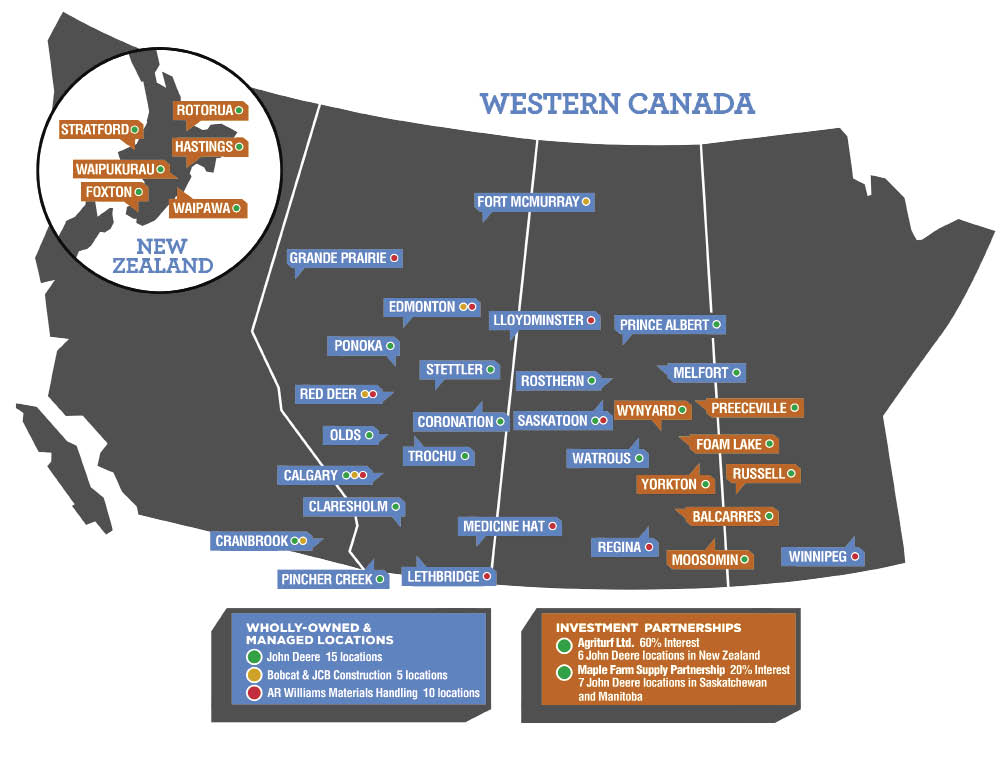 Cervus describes its business as "acquiring and operating authorized agricultural, industrial and construction equipment dealerships by facilitating dealership succession. With the full endorsement of our product manufacturers — John Deere, JCB Construction, Bobcat, Clark, Sellick, Nissan and Doosan — we offer support to dealership owners and help them realize their full potential."
Today, Cervus Equipment operates 30 company-owned and managed locations in British Columbia, Alberta, Saskatchewan and Manitoba. They've also established partnerships with Agriturf Ltd.,a New Zealand based company with five John Deere locations, and Maple Farm Supply Partnership, a Canadian business with seven John Deere locations in Saskatchewan and Manitoba.
Need for Diversity
In December 2011, Cervus made news by branching out into the retail trucking business with the signing of a letter of intent to acquire certain assets of Frontier Peterbilt Sales Ltd., a group of truck dealerships in Western Canada.
Acquiring the truck dealerships is another step in the company's evolving strategy to diversify its business. "We look at Cervus as a solution to the problem of dealer succession, so it applies to basically any kind of dealership," says Peter Lacey, executive chairman of Cervus Equipment.
He says one of the fears Cervus' OEMs expressed prior to the dealer group going public was their ability to feed its growth requirements as a public company.
"This is a major aim behind diversifying the business," says Lacey. "The Peterbilt dealerships are completely non-competitive with our other products and manufacturers. It's in the same geographic footprint we're already operating in. By having different product lines, we can grow at the pace our manufacturers are comfortable with. If one of them says, 'For now you're as big as we want you to be,' we've got other opportunities for growth. Part of the strategy is to try and relieve that fear the we're going to get too big."
Lacey adds that analysts have asked if the acquisition of the Peterbilt dealerships indicate Cervus will not be able to consolidate any more John Deere stores. "No, it doesn't," Lacey says.
With that, Lacey says Cervus looked at the opportunity for facilitating dealer succession in a lot of industries. "We asked ourselves, 'Why don't we look at being an equipment consolidator of a multitude of top brands?' This way we're not putting pressure on any one of our OEMs for our future growth or limiting our growth by being dependent on only one brand," he says.
"It's really a diversification of products, but the business model of running dealerships is essentially the same," Lacey explains. "You sell equipment on behalf of an OEM, you take in trade-ins, you do the reconditioning and repair work for your customers, you sell parts, you do some rentals. Essentially the business model is identical, you just have different products and different customers."