No-till planter attachment sales pros find crop residue is the hot button for making sales.
Trash talk has gone from the playing field to the cornfield, at least when it comes to selling no-till planter attachments.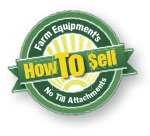 it's not the kind of trash talk you'll hear on the television on Sunday afternoons. Instead, it's an earnest conversation about getting crop residue out of the way so the planter can place seed at the right depth and with the proper soil contact so the crop gets up and out of the ground quickly.
Successful no-tillers — and some farmers who use conventional tillage — find no-till planter attachments are just the ticket for this job.
From row cleaners to row closers to fertilizer applicators, these dealers find it takes a very prescriptive approach to sell the no-till attachments that solve the problems no-tillers face with residue from today's tough-stalk hybrids.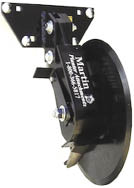 Martin Industries planter unit
- Mounts directly to the planting unit and is compact enough to be mounted within 1360 Series Floating Row Cleaners
- Fertilizer is precisely the same distance from the seed, even when planting on the contour
- Consistently places fertilizer in the ground without splattering it on the planter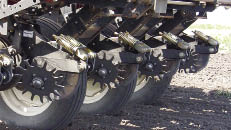 AgFocus Pro Planter
- Fits any tractor with 3-pt. hitch
- Accepts Cat. 1-3 or quick-hitch attachments
- Standard cutting-edge replacements can be purchased locally
- Skid shoes reversible,
interchangeable, replaceable.
- Carbide patches on 4 corners
minimize wear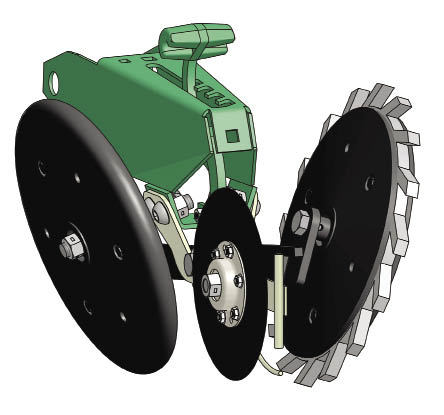 Schaffert G2 Fertilizer Disc
- Unique one piece design keeps down pressure even on both press wheels as they move in unison
- Arm is mounted on a greaseable pivot point and attaches to tail section with 4 bolts
- Disc mounting arm provides 1/2-2 in. depth placement
- 2.5 mm, 8 in. disc allows for improved depth control and beveled edge improves cutting in tough soils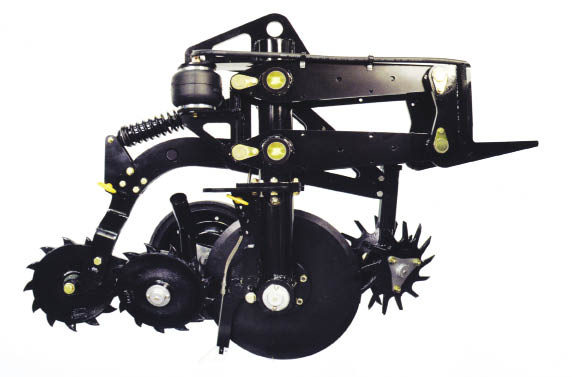 Dawn 6000 Anhydra Fertilizer Coulter
- Easy-to-reach adjustments for depth of application, angle of the blade and aggressiveness of row cleaning and closing systems
- Can be fine-tuned for different conditions and allows the ability to choose the level of soil disturbance from "hardly visible" to "clear and black"
- 8-13 hp at 5-10 mph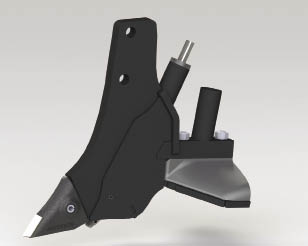 Anderson Industries Razor Opener
- Replaceable wear parts and carbide reinforced leading edges
- Patent seed wing design results in precise paired rowed seeding
- Narrow design allows for low soil disturbance and reduction in horsepower requirements

Sunco Nutri Mate 3
- Precisely places fertilizer at planting to get the best use of nutrients, especially nitrogen
- Will not plug, even in heavy trash
- Unlike other "True V" openers, unique design doesn't distort seedbed
- Works on Deere, Kinze, White and most Case IH planters

Poly Tech Poly Last Ripper Covers & Shins
- Give crops a head start with a better seedbed
- Poly Last ripper covers and shins reduce or eliminate soil blowout for a better seedbed in vertical tillage
- Slick poly also reduces drag and buildup
- Covers and shins are available for KMC, Unverferth, Orthman and Redball
- Proper seed placement is also the foundation of a good crop

Yetter Screw-Adjust Row Cleaner
- 2962-005 combination unit lets producers clear residue, plant and fertilize in one trip through field
- Residue moved away from the front of both the planter's true-V opener and combo unit's double-disc opener
- The screw-adjust feature allows for depth adjustment in 1/16-in. increments
- The double-disc opener available with 13.5-in. dia. notched and 12.5 dia. smooth variations

Copperhead Ag Products Furrow Cruiser
- Provides a unique combination of sidewall crumbling and soil firming, allowing young roots to penetrate sidewalls and improving seed-to-soil contact
- Not as aggressive as many other spiked wheels on the market and is effective in virtually all soil and tillage conditions
- Unique tooth geometry prevents clogging
- UHMW Poly material provides excellent abrasion resistance and is guaranteed against tooth breakage

Schlagel Mfg. Posi-Close Wheels
- Posi-Close planter wheels leaves soft mulch on top of the seedbed to prevent crusting and baking
- Will not leave any smearing or extreme compaction, which is always coupled with use of regular rubber wheels
- No need to worry about the seed-trench wheels because there will be no seed trench<
- With the patented "horizontal rod" design and wide ground path, Posi-Close wheels will literally destroy the seed trench

Groff Row Flex Placer Fertilizer Attachment
- Mounting bracket pre-drilled to fit variety of planters
- Fertilizer standard made from high tensile 3/8 in. steel plate that attaches to left or right side of mounting bracket
- Narrow double disc 13-1/2 in. fertilizer blades
- Spring tension inside scraper
- Standard boxed furrower receptacle
- Use with Groff Finger Row Cleaner for minimum soil disturbance
"The planter is the most important tool in the shed and if it's not working right, you might as well leave the combine in the shed during harvest season," says Gary Fennig, owner of Fennig Equipment of Coldwater, Ohio. In addition to selling a variety of shortline equipment brands, he also sells crop insurance, which often provides a side-door entrance into talking about no-till practices and challenges. His family also farms, so he can share first-hand experience about planter attachments and other tools for no-till.
"The number one issue farmers have is managing corn residue. The stalks on newer corn varieties don't break down easily and cause problems with seed placement. Yields are hurt if the residue is not taken care of properly," Fennig says.
Mattern, salesman for CFC Distributors, which is based in Roann, Ind., has been successfully selling no-till attachments for a wide variety of soil types and topographies. He agrees corn residue is the greatest challenge facing no-till planters.
"I have been selling no-till attachments for 15 years and the market has changed considerably over that time. We're seeing more farmers plant corn-on-corn, and with the adoption of Bt-modified corn, the stalks are harder to deal with, creating a growing demand for these attachments.
"It's created a need for residue management to get rid of the stalks so the planter can run smoothly over the field. The attachments can also help manage clods, root balls and even rocks. It helps the planter ride smoothly across the field to maintain a constant depth for consistent seed placement," he says.
He's also found that some conventional-till farmers are looking to no-till row cleaners to help manage residue. "While we've seen some increase in no-till acres over the years, the conventional-till farmers are looking for row cleaners and coulters that cut through the tough stalks."
Reach Out to Farmers
Fennig aggressively reaches out to customers in a variety of ways. "If you wait for customers to show up, they never will. You need to reach out to them. To increase awareness, we've developed several web pages and have posted videos on our site [www.fennigequipment.com]. We send out e-mails regularly. We do a broad range of advertising. We're fairly new to the market and it's important to get our name out there, establish our credibility and then stand behind the equipment we sell.
"I also talk with farmers one-on-one in their barns and machine sheds. Our biggest obstacle is working with older farmers who have a set way of doing things. Convincing them to make the jump is the biggest hurdle. I suggest they try it one year, and we've never had anyone regret purchasing the equipment. We promote our customer service and how we stand behind our equipment. I reassure them that we'll have the parts when they need them and will help them if they get into a tough spot during planting season," he says.
A Complete System
Mattern prefers to have customers think about the attachments as part of a complete system, not just something that gets residue out of the way or just firms soil around the seed.
"I take and make calls about no-till attachments, and each time I work to get the farmer to think about the whole system. I'll talk about what they have and what they think they need. Some know exactly what they want, but I ask the hard questions about how they plan to accomplish what they want to achieve. I've found you can't create a blanket way to improve farming operations; every farmer is different. You must deal with them one at a time.
"I've built a reputation around here and several farmers have told me that they tell others if they can't figure out their no-till system, they should call me. My experience and the contacts I have in the industry means I can surely get it figured out," Mattern says.
Fennig agrees. "It's important that you have confidence in the attachments you sell. Rely on your experience with others and how the attachment works on certain soil types and terrains."
Mattern finds the trend to narrower row spacing and the increasing width of planters makes mounting no-till attachments more challenging. "Twelve-row planters are very common, but they're quickly being replaced with 16- and 24-row units and we're seeing more 32- and 48-row planters. As row units on planters increase, the harder it is to adapt them to handle the add-on equipment. They have less clearance, heavier frames and less room for attachments. Shortline manufacturers are attempting to address these issues, but some of the designs have not been tested on a wide variety of soil conditions. That's why it's important to work with a manufacturer that will stand behind its equipment if there are any glitches," Mattern says.
Dollars & 'Sense' Motivation
For many customers, the no-till attachment is purely a numbers proposition because they're looking at how the equipment will reduce operating costs and increase crop yields. For others, it's can be more of a cultural or common sense motivation.
"We've had our best success in showing farmers what the equipment will do. It can put more bushels in the bin and increase dollars in their pocket. The last three or four years market prices have helped out, and if we can show a yield improvement with relatively little investment, it makes sense. It takes a couple of years for payback, but it's not like buying a tractor or a planter," Fennig says. "I am not afraid to claim that 8-10 bushel per acre yield increases are possible if the farmer does a good job of managing residue with the attachments."
Fennig has one caveat about attachments: "You can buy these attachments, but getting them to work can be another issue. You can't just mount and run them. It's a very hands-on process and will require adjustments, even from field-to-field, as conditions change," he says.
Cliff Steffen, a salesman for Northeast Equipment, a dealership in Bloomfield, Neb., that handles John Deere and various shortline equipment, agrees that selling no-till attachments takes a prescriptive approach.
"Even though we have only 60 miles separating our four stores in northeast Nebraska, we have a wide variety of soil types, so I sell four different kinds of row cleaners. In one area, 75% of the row cleaners are one brand, but in another area with different soil conditions, you'll find 75% of the planters there will have a different brand of row cleaners," Steffen says.
"I tend to concentrate on the no-till planter attachment brands that I hear least about after they're sold. Many farmers will fine-tune the attachments because they're capable of making the changes. They aren't afraid to burn the new paint with a welder or torch.
"The greatest obstacle to switching to no-till is mental. You can't do a hard sell with no-till attachments. The farmer has to want to do it, and must realize that no-till may not perform as well the first few years while the field adjusts to the new approach to farming. Farmers need a long-term outlook on this to see the benefits, and your customer must be patient and have enough foresight to see the process through. The benefits show up in future years, but you must always revisit that and remind them of that," he says.
Steffen's greatest sales tool is walking fields where the attachments have been used with potential customers to look at how the tool handled residue and how the crop looks. "We get customers mainly by word of mouth. If I know they are interested in a different attachment, we will take them to fields where those attachments were used to see how it worked. We drive and walk quite a few miles to see how the units worked," he says.
"I first see what the farmer is now using because I find different combinations on every farm. I talk to them and listen to what they are striving for. You need to keep your biases out of the conversation. For example, I have my favorites in planters but I won't share that, especially at first.
"Don't get stuck on one product, and remember that new and improved isn't always so. We have found some older products work better than the new models. We're finding row cleaners that float are gaining popularity because they can handle the uneven contour of no-till fields and prepare a better surface for a more consistent planting slot," Steffen adds.
Selling no-till planter attachments gets increasingly complex depending on soil types, says Mattern, who works with farmers on soils ranging from flat black, clay, sand, heavy clay and heavy sand. "Some farmers work all of these types of ground and their planters must be able to handle them. The buying process differs from farmer to farmer. Some are very payback-oriented, while others want to update their planter just because the neighbor has added the attachments. Working with the different farmers is not black and white. Getting what the customer wants at a reasonable price, in some situations, is just not possible. That's where your experience is helpful," he says.
Pre- & Post-Planting Opportunities
Dealers can find additional sales opportunities for residue management tools outside of the traditional planting season. No-tillers are searching for ways to better manage residue starting with harvest and also finding ways to sidedress anhydrous with little soil disturbance.
"The next three years will see tremendous growth for anything that can help address tough, woody cornstalks that must be managed," says Fennig. "We've seen lots of interest in anything that can help manage residue at harvest. Rolling baskets under the corn head are very popular because they help the residue break down over winter and also helps with tire life."
Steffen also sees additional sales opportunities for residue management at harvest. "Farmers are handling residue at harvest or right after harvest. They're using stalk stompers on row heads, which help prevent tire wear and tear. They're also using chopper heads that size the residue; but we also have farmers who are taking the choppers off their combines and spreading the residue, especially in wheat, because it helps prevent a fine matt of residue from building up that traps and keeps soil temperatures cool," Steffen says.
Fennig has seen additional equipment sales to no-till farmers who want to side-dress anhydrous ammonia. "One model we sell uses rolling coulters to place the nitrogen with little soil disturbance and can be pulled across the field as fast as 10 miles per hour. It's gaining acceptance with no-tillers as well as conventional tillers. It's a good way for no-tillers to realize the benefits of anhydrous while maintaining their no-till practices."
Dealer Takeaways
Take a prescriptive approach to selling no-till attachments; no two farmers are alike and their soils and typographies vary enough to prevent a one-size-fits-all approach.
Tough, woody corn residue is your customer's biggest chalenge — and your biggest sales opportunity.
Work with manufacturers that stand behind their equipment and offer support when challenges arise.
Look for sales opportunities outside the planting season, including at harvest and sidedressing.