While the "bigger is better" trend continues in the farm equipment industry, just what that means for the value of used tillage equipment can be difficult to ascertain. As this equipment gets wider, what effect that trend will have on the market and the value of smaller used tillage tools will become increasingly valuable information.
Regional Differences Create Challenge
It's not as easy to develop consistency in the reported data for tillage equipment as it might be with a combine or a tractor.
One of the challenges comes in the regional nature of tillage practices, which not only affect what implements are bought and sold, but also how dealers refer to the equipment itself. Certain brands may also have a regional following, raising the sale price for "Brand A" vs. "Brand B."
Exactly what constitutes a base model field cultivator, for example, can also be hard to pinpoint. There is such a variety of add-ons (does it have a rear-mounted harrow or a rolling basket?) and configurations available for this equipment that the sale price may also vary widely.
Used tillage equipment values can change quickly from one state to another, as well. In one region, a particular implement may have a strong following and be worth a lot on the used market, while a few hundred miles away it's worth whatever the value of scrap metal is at the time. It's rare that dealers will haul tillage equipment across the country in order to sell it at a higher price.
Report All Used Sales
A few years ago, IRON Guides, provided by IRON Solutions, began requesting that farm equipment dealers report all of the used equipment they sell.
Prior to that, dealers typically only reported the equipment that was in the Official Guide, such as tractors, combines, self-propelled sprayers, skid steers, hay and forage tools.
There's now a greater emphasis being placed on recording the sale prices of all used farm equipment. The IRON Guides' database of tillage tool trends has become more complete over the past several years for this reason. Under tillage, the data structure for this equipment is divided into categories that include rippers, chisel plows, field cultivators, mulch tillers, finishers and discs.
However, used prices for tillage equipment is not yet available in the Official Guide, although IRON Solutions is building its database by manufacturer, model, price and size.
Tools Getting Wider
Figure 1. Average Prices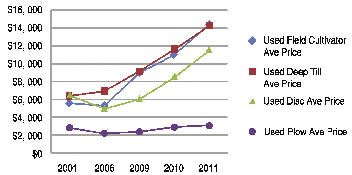 In order to get a sense of the trends in used tillage equipment, the IRON Guides' research analysts looked at the reported data for 5 different years going back to 2001.
Figure 1 looks at the overall value of 4 different types of tillage implements. For field cultivators, 10 years ago the average used price was $5,558, then dropped to $5,302 in 2006. In 2009, 2010, and 2011, the average price increased from $8,987 to $11,031 and $14,452, respectively. This look at average price takes into account every field cultivator reported to the IRON Guides database, and isn't broken down by age or size.
IRON Solutions is developing and automating data collecting, analysis and reporting, which will standardize future IRON Guides data services.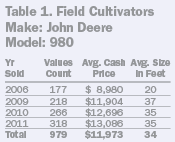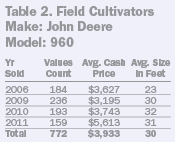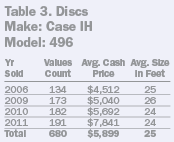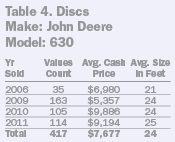 In Tables 1-4, the data gives a more detailed picture when it's narrowed down in order to compare sale prices and sizes for certain models. Organized by the highest number of models that were reported sold in 2006, 2009, 2010 and 2011, the top 3 for field cultivators and discs are shown.
In Tables 1-2, the top two field cultivator models reported sold to the IRON Guide are highlighted, showing a trend not only of higher prices, but wider implements, as well.
The most popular tillage equipment in the database is the John Deere 980 field cultivator, which averaged 20 feet in 2006. By 2011, the average width for the 980 was 35 feet. The average sale prices for used equipment are also going up, but higher prices could be expected with bigger implements.
Data is shown the same way for discs, in Tables 3-4. Here, average width doesn't change as much from 2006 to 2011.
Tools Getting Wider
Dealers who are taking tillage tools in trade should have a good understanding of local usage trends for that particular equipment.
However, while the trend favors wider tools, smaller machinery still has a market. Farmers who don't want larger field cultivators may opt to buy several smaller implements.
In her article, "What Will Agriculture Look Like in 2021?" published in the September 2011 issue of Farm Equipment, contributing editor Martha Mintz writes that for vertical tillage equipment specifically, increasing the width may not be the best option. "Bigger can mean more complexity and more weight, causing some farmers to chose to buy two smaller units and two matching tractors."