Made from high tensile steel, the 3 point mounted loaders from Gnuse Mfg. are designed for long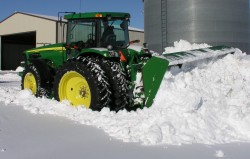 life under heavy use. The loaders are fully hydraulic with heavy-duty cylinders and wire braid hose. The unique dumping design of the loader allows the H Model bucket to dump to the center of an 8 foot box. The L Model's design can pile snow 8 feet high.
Maximum traction (because of the weight on the rear tractor wheels), good visibility and speed of operation are some of the advantages of a rear end loader.  Gnuse loaders are used in snow, dirt, manure, ensilage, etc.
For more information, contact Verdell Gnuse or Eugene Gnuse at tgnuse@huntel.net.