Kubota Tractor Corporation recently awarded the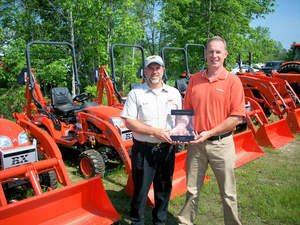 Ken Keiran, Union Farm Equipment, Inc. (left) recieves the Kaizen Award from Larry Curran, Kubota Tractor Corp. (right).
President's Kaizen Award to Union Farm Equipment, Inc. for 2010. The Kaizen Award is presented to elite dealers who demonstrate a commitment to continuous improvement.
The concept of Kaizen originated in Japan as a model for improving the manufacturing process. Kubota has adapted the concept to all levels of their business, from the corporate offices to individual dealerships.
Kubota believes it is vital that current and future customers understand their commitment to continuous improvements in the quality of their products.