Ag Equipment Intelligence
Some of John Deere's biggest dealers have been asking for a big square hay baler for years. It appears the company is now ready to give it to them. While they're not initially slated for the North American market, in all likelihood, it won't be long before they find their way to U.S. and Canadian dealer lots.
According to a press release from the Kuhn Group, a division of Bucher Industries, the company has agreed on a strategic cooperation with Deere for large square balers.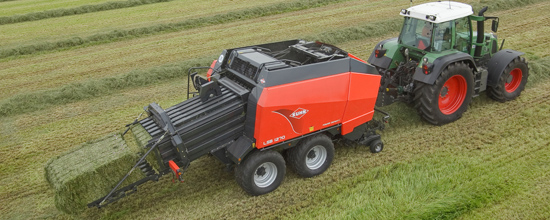 The cooperation covers a manufacturing and licensing agreement. For Deere, Kuhn Group will manufacture John Deere-branded large square balers for sale in the selected regions of Europe, the CIS, North Africa and the Middle East. The Kuhn-Geldrop plant expects the first orders for balers in autumn 2011 for delivery in 2012. In addition, Deere has licensed from Kuhn Group the intellectual property rights to Kuhn's large square balers, as they exist today, for unrestricted use outside these selected regions. Further enhancements and improvements will be made by both parties independently and are not part of the cooperation. This also applies to Kuhn-branded large square balers, which will continue to be supplied to all Kuhn dealers worldwide without restriction as in the past.
Following an in-depth evaluation and analysis of the large square baler marketplace and its customers' needs, Deere chose to approach Kuhn with ideas for cooperation. The resulting agreement represents one more step in the successful relationship Kuhn Group and Deere have enjoyed since they began working together in the 1970s. The parties have agreed not to disclose the financial details of the cooperation.
Kuhn Group is the world's leading manufacturer of specialized agricultural machinery, with its focus on hay and forage harvesting, livestock feeding and bedding, tillage, seeding, fertilization, spraying and landscape maintenance. It has manufacturing facilities located in France, the Netherlands, the USA and Brazil. Kuhn Group markets its products on all five continents. The division generated CHF 851 (Swiss francs) million in sales for 2010 and employed 3,600 people at the end of the year.
— Ag Equipment Intelligence