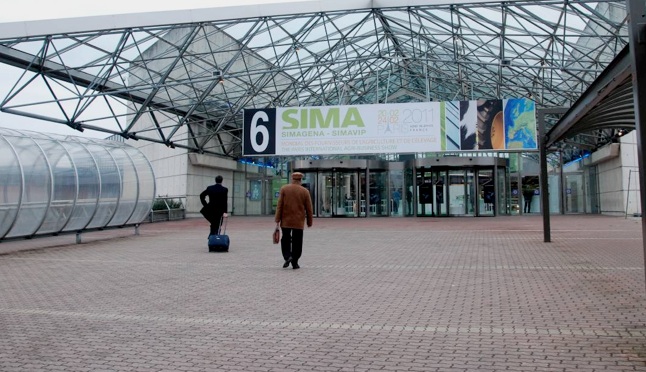 February brought hoards of international equipment manufacturers to rainy Paris, France, to network and display their latest innovations at the 2011 SIMA show.
In total there were 1,300 exhibitors from 41 different countries representing more than 1,500 brands. Farm Equipment also made the trek to see what the world's manufacturers had to offer for 2011 and determine who is looking for contacts to help them bring those products to the North American market.
According to many exhibitors, the struggling dollar makes exporting to the U.S. a somewhat less desirable option for companies just looking to get into the export game. That doesn't mean there isn't money to be made exporting to the U.S. and companies looking to make it.
There is still plenty of interest in exporting equipment to the U.S. market. While companies with products that would have to compete with the big, established players may be cool to the idea of exporting, those with unique products are stepping up to the plate. And many that already have their foot in the door in the U.S. are looking to expand their business.
For one, the European market is starting to rebound, and so are the European manufacturers that were struggling with limited demand. For example, after two years of consolidation, the 230-year-old German manufacturer Lemken is expecting an increase in sales in 2011. While they're already established in Canada, they're also looking hard at the U.S. market, possibly even establishing a central hub in the U.S. for distributing their product line.
LEMKEN isn't alone. Farm Equipment found several companies expanding their U.S. sales teams and looking for dealer and distributor partners in the U.S. Below is a collection of the information we gathered from those companies with a vested interest in the U.S. market.
Rabaud had some big news at SIMA. The forest and agricultural machinery company received a SIMA innovation award for their three-in-one branch shredder, the Xylomix.
"The new rotor can accept any kind of tool. You can change out knives for hammers or mix knives and hammers so the single machine can serve as a wood chipper or a wood shredder," says Xavier Orieux, Rabaud's export manager. "It's the only tool of its kind."
Changing tools takes a matter of 15 minutes, Oreiux reports, and comes in two sizes. The Xylomix 125 has a 200 x 125 mm opening while the Xylomix 175 has a 270 x 175 mm opening. It's available for sale now and Rabaud is looking for some capable hands to help them move more units.
Rabaud recently hired an extra person for export sales and are looking to build their U.S. sales team. They are in the market for good distributor partners.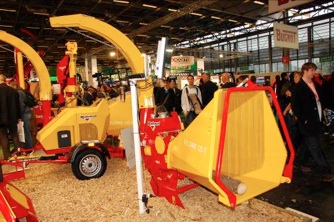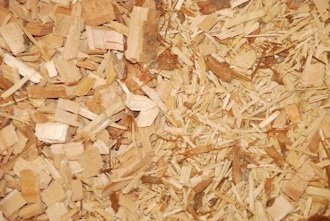 Also looking to do more business in the North American forestry and nursery market is Italian company Seppi. M. Luciano Seppi has passed the reins of the company to the next generation, naming his son, Lorenz Seppi, as the new president of the company.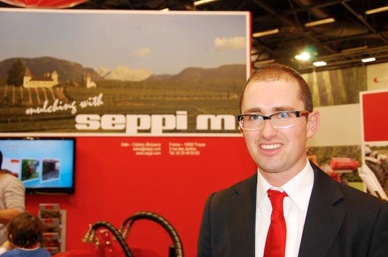 The manufacturers of agricultural, forestry and industrial mowers are looking to build their business in the U.S. One product made with the U.S. market in mind is their new OLS California flail mower.
"This mower is designed for fruit growers," Seppi says. "It's heavy duty and has a very low profile which allows it to operate under low hanging fruit. It's also made for use by novice operators."
Their new Superforst adds to their line of powerful forestry products. This professional-grade forestry mower is designed for felling trees and clearing the ground after wood harvest. It features a new rotor that minimizes wearing on the teeth. It also bumps power to 350 horsepower for mechanical drive and 700 horsepower for hydraulic drive.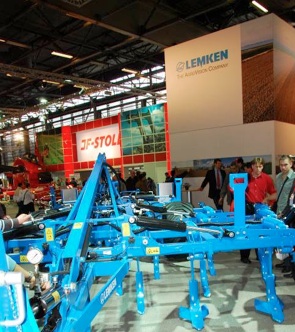 Lemken has developed a significant presence in Canada with three distributors and more than 20 dealers for their cultivation, seeding and crop protection equipment. Christian Jungmann, export manager, says they're looking to extend that success across the border into the U.S.
"We've been in Canada for 7 years now and we're actively looking at the U.S. market," Jungmann says. He reports that they're in the process of evaluating strategic locations for a central hub in the U.S. The company is expecting an upswing in overall sales, and has two new plants that went online in India and China in 2011.
AGRISEM International, a company that already racks up 50% of its sales to exports, is looking for a good partner to bring their subsoilers and minimum tillage implements to the North American market. They are actively searching for distributors.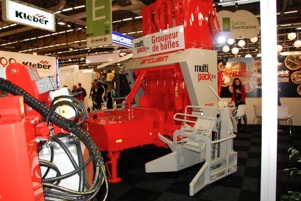 Arcusin, a Spain-based harvesting and processing equipment manufacturer, is expressing growing interest in wading deeper into the U.S. marketplace. They currently have direct customers and a limited number of dealer contacts in the U.S. and are considering expanding those contacts in the next few years.
The product they would likely first bring to the U.S. is their Multipack Small Bales Grouper. This machine takes 14 small square bales and compacts and ties them into one large bale.
"This makes smaller bales easier to handle," says Maria Ortiz, export department. "The larger bale can be picked up with a front-end loader and the compact bale requires less room for storage. Then, a hay-buying customer can break the bale and still have the smaller manageable bales to work with."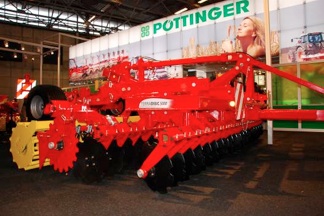 Pottinger is amping up their presence in the U.S. market. New to their North American market is the TerraDisc 5000 tillage tool. It features two rows of individually suspended, angled discs. Roland Hauzinger, overseas sales manager for Pottinger, says the independent suspension is ideal for hard soils and rocks. It allows some discs to skim over those areas while the rest remain engaged in the soil. Another benefit is that operating speeds are 12-14 miles per hour.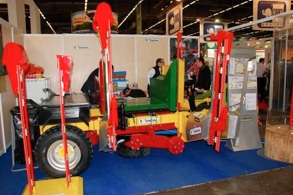 Cheval Equipment is currently in the market for U.S. importers and distributors. They manufacture combine header trailers for all makes of combines.
Those handling Kverneland implements will have a new offering this fall. Their new Qualidisc vertical tillage tool can be used for shallow mixing to deeper cultivation. It has two gangs of discs followed up by a packer roller for finishing.
The discs themselves offer some new innovations. The large, 565 mm discs have a conical shape. According to David Palmer, senior account manager, Kverneland Group USA, the large size allows for better cutting at shallow working depths, especially for high-volume residue. The conical shape means that the cutting angle stays the same as the disc wears, allowing for a longer disc life. This product will be available in the U.S. fall of 2011.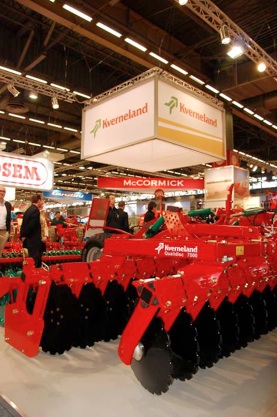 Another SIMA Innovation Award winner was Caffini for their plant protection treatments traceability system. The sprayer company is currently working with some U.S. dealers and may be in the U.S. market yet this year.
Alliance Tire Group is making big moves to climb to the top of the off-highway tire industry. They've recently opened a new plant in India that Angelo Noronha, vice president Europe after-market sales and marketing, Alliance Tire Group, says doubles the production capacity of the company, allowing them to produce more sizes in existing product families and more product lines.
At SIMA they announced new sizes for their Forestry 345, 550 Multiuse, and A-350 Row-Crop tires. New products include the Radial Forestry 342, F-344 Forestry series, Flotation series 381, Flotation series 388, A-380 Heavy Duty, A-390 Heavy Duty and the FarmPRO series.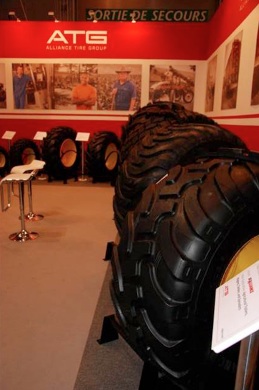 All come with unique design aspects. The FarmPRO series, for example, comes with a soil-friendly tread design with a wide, flat contact area to reduce soil compaction. Low ground pressure enables work on grass-covered terrains without plant damage and strong, all-fabric construction means a smoother ride and longer tire life.
Noronha reports that business in the U.S. has grown from 20% of ATG's revenues to 40%.
Perfect Van Wamel showed their new Mow-Load Combination mower. The mower mows, chops wood up to 8 cm in diameter and picks up grass, leaves, prunings and more in one pass. The Dutch manufacturer is looking to work more in the agricultural market and is open to making contacts in the U.S. 
Teagle already has a strong presence in the U.S. market. The British company manufacturers a wide range of agricultural equipment, including fertilizer spreaders, mowers, cultivation equipment and more. They are, however, ramping up their activity in the U.S. They recently added a new U.S. salesperson and will add another soon.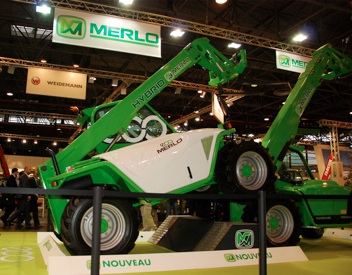 Dealers who handle forklifts and telehandlers have the opportunity to "go green" with the new electric and diesel hybrid introduced by Merlo Telehandlers. The Panoramic P 41.7 hybrid can be powered by a combination of the diesel engine and the electric drive or run solely on electricity with no loss of performance, says Paolo Peretti, brand communication manager for Merlo. He says that tests have shown that the hybrid uses 70% less fuel during an 8-hour job than a standard machine. It will be available in the U.S. either late 2011 or early 2012.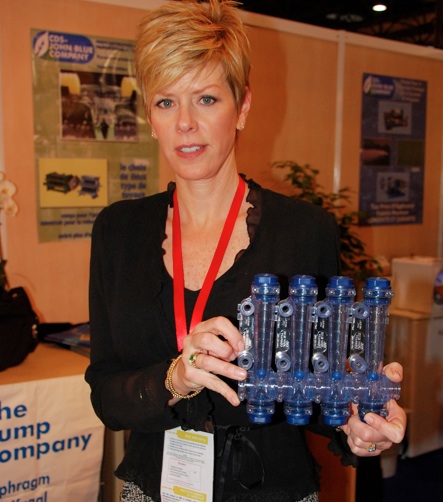 CDS-John Blue had the most recent addition to their product line available for us to take a look at. Their new VisaGage II Flow Monitor. The ball-flow monitors can be used for spraying or fertilizer applications allowing producers to easily monitor flow rates. The clear PVC body with UV protection means the body won't fog over time, allowing operators to always monitor flow clearly, says Diana Stubbs, vice president of marketing and dealer services, CDS-John Blue Co.
For current Kuhn dealers there's some new and updated equipment on the market for 2011. With the acquisition of a Netherlands baling company, Kuhn has entered the baler market. They will be offering their variable chamber round baler in the U.S. This is primarily used for baling wet hay/silage. But, it has to be tough to manage wet hay, says Vincent Audet, product manager for Kuhn, so it's great for dry hay, too.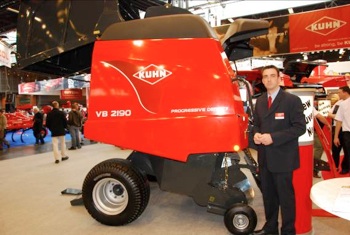 Features include ribbed roller that scrapes hay from second roller to keep clean, usually an issue with wet hay. And a drop floor that allows the operator to deal with large masses of hay that would otherwise cause a clog that required manual removal. Instead, floor drops to widen gap and the clump moves through.