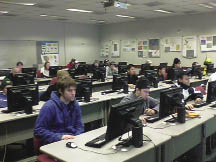 As farm equipment dealers look to create or expand precision ag departments, specialists are in demand. Terry Brase knows first-hand that there are positions to be filled: Brase instructs some of the best and brightest ag electronic experts as associate professor of the Agricultural Geospatial Program.
The 2-year program at Kirkwood Community College in Cedar Rapids, Iowa, is one of only a handful in the country that allows students to pick a career pathway into dealership or agronomy careers.
"Several dealers call me on a regular basis asking if we have anybody to hire," says Brase, who developed the program. "In many cases I have to tell them 'no' because so many of the students get jobs quickly. I simply can't fill all of the job opportunities available out there."
But there is one way for a dealership to ensure it can fill a position after graduation day: If a dealer knows of a young person who wants to enter this field and work for the dealership, send them to Kirkwood.
"Many dealers have enrolled students and paid for all or part of their tuition, as that's the best way to lock someone in," says Brase. Because students are hired right after graduation, placing a new hire in the program may "be quicker than waiting years before a specialist happens to come along."