$370.3 Billion 2011 Net Receipts: The projected value of the U.S. agricultural sector production in 2011, led by crop production up +6% vs. 2010 ($206.5 billion) and livestock production up +19% vs. 2010 ($163.8 billion). 
$103.6 Billion 2011 Net Farm Income: Up +31% vs. USDA's revised 2010 forecast. Net farm income and net cash income are both projected to exceed $100 billion for the first time ever in 2011! And the second highest inflation-adjusted value recorded since 1973!
— USDA August 30, 2011
$86.3 Billion: The total economic impact of the U.S. farm equipment industry.
— Assn. of Equipment Manufacturers

"These projections continue to support strong farm income expectations for the year and continued equipment demand."
— JP Morgan North American Equity Research

"We see the strength in farm profitability as likely to drive strong farm equipment demand through 2012."
— UBS Investment Research
The fundamentals and financial trends for the North American agricultural industry remain strong with no let up in sight! As it has demonstrated in recent years, America's ag industry remains one of the most vital, most resilient industry segments that exists in today's economy. 
Buoyed by rising farmland values, solid commodity prices, record levels of farm income and low farm debt, the ag sector remains very well positioned to weather whatever challenges the economy faces. And agriculture's outlook only continues to deliver opportunities for active participants.
In its Farm Income and Costs: 2011 Farm Sector Income Forecast, USDA notes, "The 2011 forecast is the second highest inflation-adjusted value for net farm income recorded in the past 35 years. The top five earnings years for the past three decades have occurred since 2004, attesting to the profitability of farming this decade."
A "perfect storm" continues to align for a strong North American agriculture market … things like global population trends and income growth, low interest rates, ample land availability and protein-based diets increasing in developing nations. In fact, the United Nations projects worldwide food demand to double in the next 40 years, with the U.S. playing a major role in feeding the world. 
Plus, an insatiable hunger for biofuels — from across the globe — will keep agricultural products in high demand for years to come.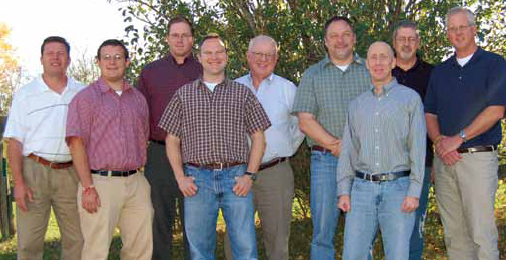 YOUR AG EDITORS. From left, Darrell Bruggink, Cole Vandermause, Chad Elmore, Alan Stenum, Frank Lessiter, John Dobberstein, Michael Ellis, Dave Kanicki and Mike Lessiter.
About Lessiter Publications: Through our work reporting for 6 print publications and 4 e-newsletter properties, our ag editors benefit from a rare, inside look at the most progressive farmers on the continent — as well as the dealers that bring the technology to them and the suppliers working on the next game-changing innovation. Seeing the market's quest for efficiency and "a better way" to yield more profit on more acres and with less labor, we've never been more excited about the prospects of American agriculture. And the consumer's desire for country living continues to breathe new life into rural communities.
With farm blood in our veins, we're simply a hardworking team focused on a mission of helping our customers succeed. Our commitment to you is equally as simple: You'll see us out in the field with our readers, and at shows and events. We aim to share solutions to what keeps our readers awake at night; not regurgitating fluff or PR pieces. We'll always take your calls on what you see or how we're doing, and we invite your suggestions on benchmark-worthy farmers, dealers and manufacturers. These editorial principles are all part of the company's DNA, consistent with our belief that content is the way to deliver an engaged, interested buying audience for you.
We've rallied around this "editorial-first" mission since our doors opened in 1981. Since the day he left his six-generation farmstead, Founder and Editorial Director Frank Lessiter never forgot what matters most to our customers. Trusted, practical and actionable information is what our readers need, and what will keep them coming back. That's our commitment to you, and one you can bank on.
Here's to a successful 2012!