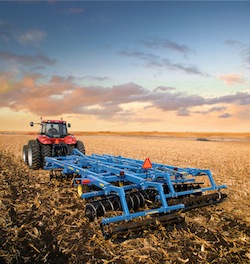 Available in eight models with working widths that range from 10' to 20', the Weatherproofer III is a primary tillage tool designed to disc and deep till in one pass, uniformly mixing residue, while penetrating the compaction zone with four to eight shanks for enhanced water intake and root growth. However, as the third generation of Weatherproofer units, the Series 2310 machines are built heavier and require even less maintenance than their predecessors.
It starts with a new frame built from 4 X 8-inch steel tubing for greater strength and additional weight. Following the lead of other machines in the Landoll product line, the Weatherproofer III also features maintenance-free bearings made from UHMW polymer on the rockshaft and disc gang pivot points, eliminating all metal-to-metal contact and the need for greasing.
"Like the Landoll tandem discs and disc-chisel-disc machines, the Weatherproofer III now features 1 3/4-inch shafts on the disc gangs, as well," explains Jamie Meier, Landoll Ag Sales Manager. "In addition, we've mounted the gangs on self-aligning trunnion bearings that are triple lip sealed and carry a three-year warranty."
According to Meier, disc gangs also feature 24-inch blades in place of the 22-inch blades that were standard on the Weatherproofer II. In the meantime, the auto-reset parabolic shanks, which have a working depth of 16 inches, are available on 24- or 30-inch spacings and feature an increased trip height of 16 inches for better clearance of field obstacles. Customers continue to have a choice of 7-inch wing points, shark fin points, V-Cap points, or 2" Plain Points on all models.
"Last, but certainly not least, we added single-point depth control that allows the operator to set the working depth of the entire machine from one convenient location," Meier adds.  "Naturally, front and rear disc gangs can still be adjusted hydraulically to leave the desired amount of residue," he concludes. "Front gangs can be adjusted from 18 to 14 degrees, while the rear gangs are adjustable from 16 to 12 degrees."
For more information, contact jamie.meier@landoll.com