World demand for agricultural equipment is forecast to rise 4.5 percent per year through 2014 to $124 billion.
Gains will be paced by the accelerating mechanization of the agricultural sectors in developing countries, especially in heavily populated China and India.
Farm sectors in these countries are still significantly unmechanized and inefficient in comparison to those found in more developed markets.  Moreover, robust economic growth in both China and India is resulting in ever increasing per capita consumption of all kinds of food products.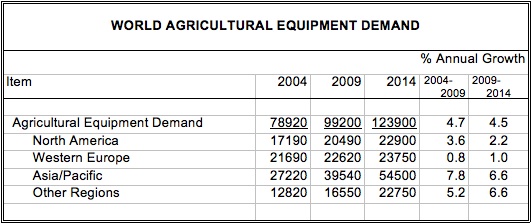 As a result, the governments of both countries are focusing on policies that aid their respective farm sectors and improve crop yields in order to ensure national food security. These and other trends are presented in "World Agricultural Equipment", a new study from The Freedonia Group, Inc., a Cleveland-based industry market research firm.

The global farm machinery market posted rapid gains of around seven percent per year between 2004 and 2008.  However, demand for farm machinery declined by around 15 percent in 2009, when much of the developed world was mired in recession.
Growth through 2014 will benefit from recovery in some markets, although most developed countries will not see the high sales levels registered in 2007 and 2008.
In addition to China and India, other large developing nations with sizable agricultural sectors, such as Brazil, Indonesia, Russia and Thailand, will also post healthy gains as a result of increasing mechanization that will be bolstered by rising farmer incomes.  Moreover, further urbanization in developing countries will necessitate the replacement of human capital with fixed capital.

The U.S. will experience gains that lag the world average due to decelerating growth in its heavily mechanized agricultural sector.  Western Europe will post even weaker growth, with regional agricultural output expected to decline through 2014.
Moreover, population growth in the region will be minimal through 2014, while the European Union's next budget (the current one ends in 2013) will almost certainly result in less funding for the Common Agricultural Policy (CAP).
Farmers in both the U.S. and Western Europe will be adversely impacted by continuing trends in favor of free trade and against protectionist measures such as subsidies for domestic farmers and tariffs on agricultural product imports.  Brazil and Russia stand to benefit the most from increasing export opportunities for agricultural products.