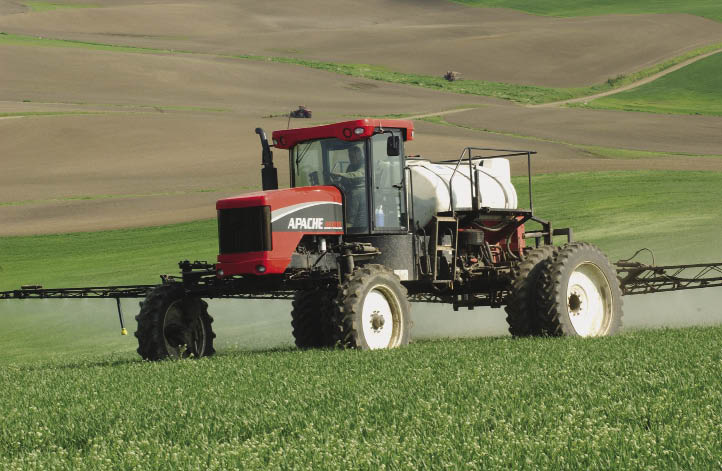 Innovations in guidance, nozzle design and boom controls are boosting the ROI and helping farmers justify the purchase of a sprayer.
Jennifer Reibel, Contributing Editor
Sweeping changes in spraying technology have set the stage for rapid adoption of sprayers by farmers. So for those dealers looking to capitalize on new opportunities to sell high-ticket equipment, it's more important than ever to stay on top of the recent advancements.
According to the Assn. of Equipment Manufacturer's (AEM) annual Ag Equipment Business Outlook survey, retail unit sales of self-propelled sprayers were forecasted to increase by 6.3% from 2008 to 2009.
Sales data for used sprayers further confirms the overall market strength of the sprayer segment. A recent study by Iron Solutions revealed that sales of used self-propelled sprayers grew by more than 65% from 2007 to 2009. That analysis, which appeared in the April/May 2010 issue of Farm Equipment, attributed the strength in resale value of high-clearance, self-propelled sprayers to farmers viewing the equipment as essential tools rather than luxury items.
By all accounts, today's farmers increasingly view sprayers as vital for preventing crop damage. Sprayers are no longer a niche product for custom applicators, but a necessity for farm operators who need to spray when conditions are optimal. These farmers cannot — and will not — wait for the custom sprayer.
"The market as a whole is continuing to grow because of farmer-based ownership," notes Charlie May, marketing manager of Equipment Technologies, the Mooresville, Ind.-based manufacturer of Apache self-propelled sprayers.
"Even a farmer in the 1,500-to-3,000-acre range can justify that investment and get a payback pretty quick.
"These are customers who wouldn't have even looked at a sprayer a couple of years ago, and that's encouraging. It all gets back to the adoption of new technology."
From electronically controlled nozzles and booms to advancements in nozzle tips, the latest technologies support one simple goal — to make it easier for operators to apply their chemicals right where they're needed in the exact amounts. Best of all, these innovations are helping growers increase their efficiencies and achieve far better cost ratios compared with even 2 years ago.
GPS Advancements Hit the Target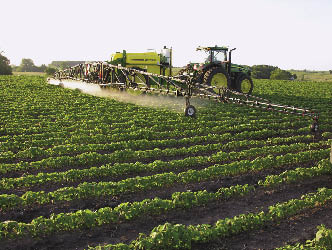 New technology, like automatic boom control, uses GPS to shut off sections of the
sprayer boom automatically, eliminating skips and overlaps. Proponents say this
technology pays for itself relatively quickly by cutting down on chemical use.
Recent advancements in global positioning systems (GPS), the technology behind many of the innovations in sprayers, now allow farmers to apply chemicals with unprecedented accuracy — less than 1 inch.
The latest technology is supported by real-time kinematic (RTK) correction, which adjusts the signal to account for the curvature of the earth. RTK runs on the bandwidth of a cell phone, and uses cell towers to transmit data, resulting in a 5-fold increase in coverage and no line-of-sight requirement.
"Precision technology went from an accuracy level of 3 meters to 1 meter to 1 inch to less than 1 inch," May says. "Farmers can now justify an increase in their investment because they're seeing how these changes affect output. It's moved to a level that is pretty darned close to perfect. That's huge. There's almost no risk now in making that investment."
In fact, investing in precision options on a sprayer is very much the norm today.
"The ROI on many precision options is quite reasonable, given the advances in the technology, competition and price efficiency," says Tim Criddle, marketing director for Miller St. Nazianz, Inc., the St. Nazianz, Wis.-based manufacturer of Miller self-propelled sprayers. "The question that still plagues many sprayer operators is, 'What precision options do I really need?' It's an easy trap to simply buy a fully loaded sprayer without understanding what each option is going to do for you."
Of course, a differential global positioning system (DGPS) receiver is required. For most areas, a Wide Area Augmentation System (WAAS) is fine; however, an OmniStar Virtual Base Station (VBS) is a good option for more consistent signal and accuracy.
Criddle says Raven's latest acquisition, Slingshot, is a cell phone-based RTK system that appears to have mainstream benefits. Both Apache and Miller offer Raven's line of DGPS receivers with sub-meter to sub-inch accuracy options.
Precision options that make the most sense, according to Criddle, are based on ease of use, increased productivity, return on investment and price competitiveness. These include precision controllers, automatic boom section controllers, boom height controllers and assisted steering.
Controllers Run Multiple Features
Precision controllers like the Raven Envizio Pro and Viper Pro are the platforms for expanding into multiple product control features like full mapping and data logging.
When it comes to precision controller monitors, the larger the screen the better. Operators want to see what they're looking for at a glance, so they can quickly refocus their attention back on operating the sprayer.
"The industry buzz right now is with the ISOBUS connection in tractors," according to Mike Krouse of Alliance Product Group, the Kalida, Ohio-based manufacturer of Top Air pull-type sprayers. "Instead of having multiple monitors in the cab, the industry is moving toward a single connection, so whatever you hook your tractor to, you can plug it in and run the electronics through that tractor cab.
"They just started with auto leveling. A cable plugs into the tractor's monitor and will recognize the sprayer and run that Raven application."
Control Where You Spray
Automatic boom section controllers, such as Raven's AccuBoom, are also proving to be practical investments for many farmers. The controllers automatically turn boom sections on and off when the spray rig crosses headlands or areas it has already passed. Operators may spray around trees, rock piles or other obstacles without worrying about double spraying.
The controllers attach easily to most spray-rate controllers, GPS receivers and guidance systems with plug-and-play cables, they work with both pull-behind and self-propelled sprayers.
"With an auto-boom shutoff system, if you have a 90-foot boom and a lot of headlands, a 10% savings is not unheard of," says Pat Meenen, president of Bestway Sprayers in Hiawatha, Kan. "The auto-boom shutoff eliminates a lot of overlap, so growers are really going toward that technology fast and furious. The cost-per-acre for chemicals isn't cheap, so it doesn't take long to see a return on the investment in that equipment."
Meenen adds that Bestway pull-type sprayers are equipped with lightweight "fiberworks" booms that give operators added control in challenging conditions and at faster field speeds when combined with Bestway's V-Ride Suspension System.
Adds Criddle: "To have sections turn on and off automatically to prevent over-spraying generates a significant chemical savings and the corresponding ROI is quickly recovered."
Controlling Boom Height
Automated boom height controllers, like the Raven AutoBoom UltraGlide, automatically keep the boom level when working uneven terrain. While the technology has been available for a few years now, Criddle views it as a significant advancement.
"Gone are the days of attempting to spray rolling land at 16 or 18 mph with the operator wearing out the wing tilt buttons on the joystick, and wearing out his neck from snapping his head back and forth to keep track of the booms," he says.
"A lot of farmers want to go as wide as possible on their sprayers, and the wider they go, the harder it is to stabilize," May adds. "So height control is tied to stabilization of the boom, and reduced wear and tear."
Kevin Wagner, who runs a farm with his brother near Farmington, Wash., depends on these automated leveling features when spraying the farm's hilly fields with their Apache self-propelled sprayer.
"It's done an excellent job spraying up, down and across the hills, wherever I need to go," he says. "I can cover from 600 to 800 acres per day. This is more than twice the amount I was able to spray using my pull sprayer."
Assisted steering used to be far less beneficial in terms of return on investment, especially in broad-acre applications, due to its high cost. Today, with the combination of a lower cost and an increase in DGPS accuracy, assisted-steering products are commonplace on many sprayers. They, too, will reduce an operator's fatigue and contribute to higher productivity.
"One of the most fatiguing spraying operations has been greatly eased through boom-height control or assist technologies," Criddle says. "Not only can the operator spend more time monitoring the rest of the sprayer functions, but a constant boom height will ensure more accurate tip-to-target spray applications, increased coverage and a decreased chance of drift.
"Going with an ultrasonic height control would be my recommendation, so that it can be used for pre- and post-emergence applications, as well as in a standing crop, to maximize the system's overall productivity."
But Criddle also cautions against over-reliance on precision products.
"I would encourage anyone buying a self-propelled sprayer with assisted steering to install a foam marker as a backup," he says. "Electronic systems can fail, you can and will lose the DGPS signal from time to time and weeds, disease spores and insect pests don't really care. They will attack your crop while you wait for a technician to find a software glitch or wiring problem in your precision system."
No-Tillers a Prime Target for Sales
Self-propelled and pull-type sprayers were among the top three equipment items owned by no-tillers this cropping season, according to a recent No-Till Operational Benchmark Study conducted by No-Till Farmer newsletter.
Among 471 survey respondents, 66% reported that they operate their own sprayer, which trailed only planters and combines. Among the operators of sprayers, 59 % use a pull-type model, while 41% use self-propelled sprayers.
The Great Lakes region, composed of Michigan, Wisconsin and Minnesota, topped the list of sprayer owners with 76% of respondents reporting that they operate their own sprayer.
The survey was mailed to 2,500 subscribers from 22 states in and around the Midwest. Nearly 19% of the surveys were completed and returned.
Pay Attention to Nozzles
Nozzle-control systems that allow operators to control droplet size are also recent key advancements in spraying technology. Flow rates, pressure and ground speed can contribute to droplet size changes. One of the latest breakthroughs involves low-drift nozzles that can significantly reduce the proportion of fine spray droplets that are susceptible to drift.
The key is in new spray-nozzle designs that create droplets closer to the desired droplet size by reducing the internal operating pressure of the sprayer nozzle and mixing air into the spray as it's applied. The new nozzles feature precise control of droplet size through various forms of air injection.
"These low-drift nozzles are really having a revolutionary impact," says Dr. Tom Wolf, a research scientist with Agriculture and Agri-Food Canada and a member of the Weed Science Society of America (WSSA). "Research shows we can reduce the spray that drifts away from its target to less than 0.5% of the applied amount. That's a decrease of more than 80% compared to conventional sprays."
Another nozzle-control system by Capstan Ag Systems uses a solenoid valve that produces up to 10 pulses of spray per second to change the application rate without having to change the pressure or droplet size. When operators want to change the flow, they simply change the frequency of the pulses, so they can maintain a consistent droplet size and pressure regardless of their speed.
"You just can't beat this system for reducing drift," says Bob Klein, Univ. of Nebraska extension cropping systems specialist. "And it helps with efficacy because you can dial in the droplet size you want and maintain it even while varying speed in the field."
Another important benefit is that farmers can use the same set of nozzle tips for an entire season.
"You can put on a No. 8 nozzle and then adjust the system to make it spray like a No. 1, 3 or 5. You basically select the nozzle that meets your needs for highest rate and speed and lowest pressure," Klein says.
The VarioSelect nozzle body system from Lechler USA also helps operators prod their nozzles to achieve even better, more efficient applications. Two or four different nozzle types are all clustered together on the nozzle body. A rate controller picks the best combination of nozzles depending on the chassis speed and programmed pressure range.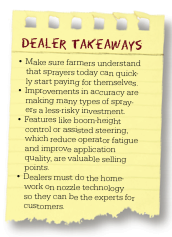 Another air-nozzle spray system from Miller allows the operator to control droplet size, spray pattern and the speed of the air blast.
"When coverage is critical, you need deep-canopy penetration to kill the target pest, be it weeds diseases or insects," says Criddle of the firm's Spray-Air system. "Our Dial-A-Drop Technology allows for instantaneous control over the spray pattern, enabling the operator to spray with the full range of droplet sizes from very fine to coarse, maximizing coverage and controlling drift when necessary, and with the lowest application rates possible."
Nozzle tip advancements offer even more opportunities for farmers looking to get the most out of their chemical investment, but they need to carefully select nozzle tips and manage their spray operations.
"If we select the right nozzle tip and operate it correctly with the appropriate boom pressure, we can manage spray drift and still get the efficacy we need," Klein notes.
A newer Turbo TeeJet nozzle features two orifices — one for measurement and one to determine spray pattern. The two orifices produce larger spray droplets and can achieve a range of droplet sizes with pressure changes.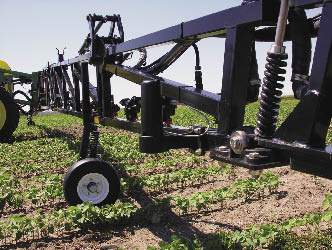 Advanced systems let operators program in a specific boom height on their spray-
er. An ultrasonic sensor and hydraulics help the boom adjust up or down with the
terrain. A selling point to consider for this technology would be more accurate
tip-to-target spray application.
The nozzles operate at 15-90 pounds per square inch (PSI) of pressure. Another new innovation is air induction (AI) nozzles that feature two orifices, along with holes to bring in air, to produce large air-filled droplets through the use of an air aspirator.
"AI nozzles have an outlet orifice that can be up to twice the size of the inlet orifice, which drops the pressure quite a bit," Klein says. "But sucking the air in reduces the pressure loss. These nozzles create a larger particle that can significantly reduce drift."
This is a particularly helpful feature for operators of self-propelled sprayers, which operate at higher speeds. With these higher speeds, drift is more of an issue — when speeds double, pressure will quadruple and the droplets become very fine.
Other newer nozzle types include air inducted extended range nozzles, which don't differ as much in orifice size and are designed for use at lower pressures. Extended range refers to the fact that they can be used at a wider range of pressures. At lower spray pressures, extended-range, flat-fan nozzles work well.
Help Customers Reduce Drift
For farmers who routinely spray their fields, the need to minimize drift has never been more important. As the cost of crop protection products increases, so does the need for more precise applications. And now, the U.S. EPA is considering a zero-tolerance ban altogether on pesticide applications.
Fortunately, today's farmers have more options than ever for controlling drift, thanks to several recent technological improvements. Robert Klein, a sprayer specialist at the Univ. of Nebraska, has a number of suggestions you can share with your sprayer operators for reducing drift.
Increase Spray Coarseness. There's a fine line between smaller droplets, which provide thorough coverage but may cause excessive drift, and droplets that are too large, resulting in insufficient coverage. Switching to low-drift nozzles can have a huge impact on controlling drift. For traditional nozzles, lowering pressure can also increase droplet size and reduce drift. Look to the nozzle manufacturer for guidance on the recommended pressure. Low-drift nozzles typically require a higher pressure to operate properly.
Keep an Eye on the Weather. Knowing weather conditions is critical to controlling spray drift. Ultrasonic weather sensors that measure air temperature, humidity, dew point, barometric pressure, wind chill, wind direction and wind speed can help. The units can be mounted inside a sprayer cab so operators have continuous, up-to-date weather data and can apply herbicides when they're least likely to drift.
Control the Flow. Modulated flow controls reduce drift by rapidly pulsing each spray nozzle on and off. This allows pressure and droplet size to remain constant as the sprayer moves across the field at various speeds.
Rev Up the Air Speed. Air-assisted sprayers emit a high-velocity, downward air stream that pushes spray droplets directly onto the targeted weeds or treatment area. As a result, they can reduce drift when used properly.
Create a Buffer. Untreated zones around fields can serve as buffers that keep drift away from off-target sites.
Add Drift Retardants. Special additives can be used with traditional sprayers to reduce the number of fine droplets. It's important, however, to select an additive that's especially designed for the nozzle type and herbicide. Certain additives can create problems when used with the wrong nozzle tip.
Hood the Sprayer. By mounting hoods around the nozzles on a sprayer boom, farm operators can create a physical barrier that reduces spray drift.
Monitor the Boom Height. Keep booms closer to the ground to reduce the potential for drift. Follow the manufacturer's instructions to maintain the uniform spray pattern and coverage needed for effective weed control. Automatic boom height controllers can help you maintain proper boom heights in uneven terrain.
Room to Grow Sprayer Sales
Make no mistake, technology is having a huge impact on sprayers and the farmers who use them. The sprayer market is growing as farmers increasingly adopt new spraying practices — and technology is driving that growth.
New precision tools combined with the latest spraying techniques are making it possible — even easy — for operators to apply precise amounts of chemicals exactly where they belong. As a result, farmers are able to optimize the performance of inputs and minimize the small amounts that may drift off target during spraying.
Farmers are also much more accepting of the idea of owning a high-clearance, self-propelled sprayer — no longer dismissing them as a high-priced luxury item but realizing they can quickly earn back the investment. The strong demand for self-propelled sprayers means they are holding their resale value better than ever.
The bottom line for both growers and equipment dealers is that a new self-propelled sprayer can now pay for itself within 1.5-2 years.
"Each time you have to hire a custom applicator, you're talking about a quarter of the cost of the annual payment on an Apache," May notes. "So if a guy understands his operation and the dealer has the right sales tools at his disposal, he can usually demonstrate an 18-month return. That's pretty darned quick."
For dealers who truly understand today's sprayer technology — and how it can benefit farmers — the market presents an excellent opportunity to sell equipment.