Walker Manufacturing celebrated an important milestone in the summer of 2018: building its 150,000th lawn mower. Around 2,500 people were there to celebrate, including some of Walker Manufacturing's 49 distributors and 1,200 dealers. It's a big step up from the first riding mower Chairman Bob Walker built by hand with his brother and father — Walker's Founder, Max Walker — in the mid-1970s. 
Walker says his dad was always tinkering and keeping an eye out for the potential to innovate on the farm. His father followed a format that was popular at the time for farmers getting into the manufacturing space: build something new and innovative, then sell it to your neighbors until you get enough demand to start a company. Max Walker's fateful day of innovation, however, had nothing to do with agriculture. 
"In the mid 1950s, a friend of his said, 'I think there'd be a market for a gasoline-powered golf car.' My dad never played golf, but he took that as a challenge," says Walker.
For a few years, his father farmed during the day and made golf carts at night. Eventually enough interest built to begin manufacturing Walker golf carts in a small building 50 yards from their home.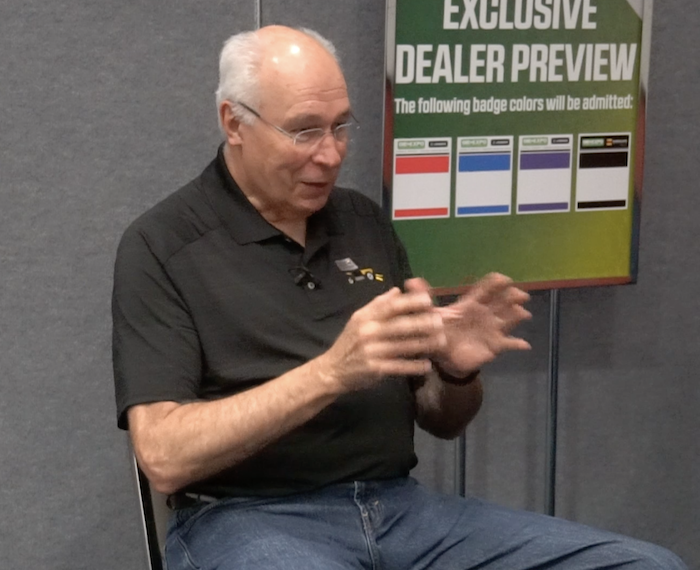 Current Walker Manufacturing Chairman Bob Walker.
After that Max Walker got into the off-road truck manufacturing business (the forerunners of today's UTVs). The need for capital necessitated bringing in outside investors. These businessmen moved the company to Casper, Wy., and took control of production, ultimately leading the company to bankruptcy in 1970.
"The whole thing was closed up by the bank," says Walker. "My dad lost everything. I remember him saying to me, 'I lost everything except our family and our faith in God.'"
Eventually, after working construction to pay the bills, Walker's father got an opportunity to design Byco tractor cab coolers in Colorado, which he did for 11 years. 
It wasn't until 1975 when Walker and his father built their own prototype mowers out of necessity — and the urge to innovate — when a pair of riding mowers they purchased weren't meeting expectations.
"We had a little slogan, 'If you can't buy it — build it,'" he says. 
A few years of tinkering and improving saw the Walker mower brand launch in 1980 with 25 mowers built on speculation.
"We had no dealers or distributors. Nobody's ever heard of the Walker mower," he says. "We went to a farm show in Kansas, and an editor of Yard & Garden magazine snapped a picture of the mower. Dad didn't remember even talking to this fellow. He put the picture and a few notes about the machine in the new product section. Suddenly, we begin to get inquiries from all over the country."
Without dealers, the family ended up driving the mowers around the U.S. to interested homeowners. On one trip to Florida, Walker's father sold a mower in one day to a contractor, and the family realized the machine was attractive to more than just homeowners. 
"We met a man who had a contracting company, who was mowing a lot of these retirement villages," he says. "There are millions of units with little patches of grass in front of each one, and they were mowing those with push mowers. When they saw our little machine, they said, 'This is the perfect machine we've been looking for.' In that initial meaning, they ordered 48 of them."
Only a few years later in 1983, Walker Manufacturing would lose its contract to manufacture Byco tractor cab coolers, forcing the family to commit full-time to their mower business. 
"There was nothing left for us to do," says Walker. "That's the point I can tell you when we really went broke again. On paper, we should have failed again. We built 450 machines that year, and we sold every one of them and got paid for it."
---
Visit
www.farm-equipment.com/innovators-docuseries
to view this and the other episodes in the series.