David Graden from
MICHELIN AGRICULTURE
says,
Per Axle Tire Replacement
When it comes to replacing your Ag tires, we highly recommend replacing all tires across the axle with the same brand. Unfortunately, you will find slightly different overall diameter, and even section width, measurements between manufacturers. This is due to the allowable variance in standard tire sizing. Some manufactures will even play this to their advantage to help reduce costs or even make a tire sound narrower than it truly is. Beware of this when matching different brands of tires.
Chris Niedert from
TRELLEBORG WHEEL SYSTEMS
says,
ONE Tire Needs Replacement
 due to Field Hazard
Our example below shows that the LEFT TIRE HAS BEEN REPLACED (the drawing is exaggerated for discussion purposes).
If the tractor is going to stay in the field, you may be able to get away leaving the set up as is, due to the soft soil not affecting steering or any other mechanical items. If you are going to road the tractor a lot, more than 50%, we recommend right tire replacement.  If not replaced, this tread depth difference will affect the steering and tire wear especially if this is a front axle setup.
Although this drawing is exaggerated, we recommend that 
if the tread depth difference between the left tire and the right tire is 50% or more, we recommend replacing the right-side tire.
  You can use that right side tire for a spare or transfer it to another vehicle. As far as replacing with the same brand, as long as you stay within a certain percentage between the brands, any brand replacement will be acceptable.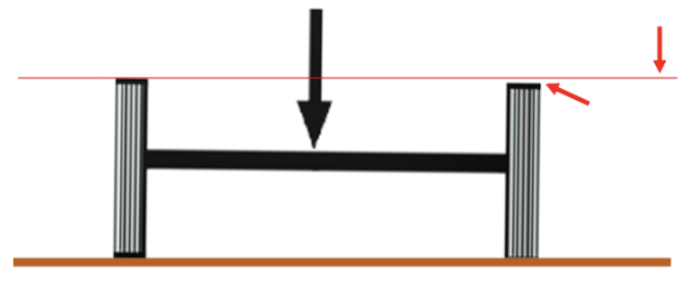 Photo Courtesy of Trelleborg Wheel Systems
Dave Paulk from
BKT USA
Inc says,
Below 20% Original Tread Depth
Worn out tread can cause excessive tire/wheel slippage, more time in the field, and excessive fuel usage. The extra slipping causes the tire to turn faster than the field speed of the tractor because there isn't enough tread to allow the tire to grip the ground properly. The industry says slippage should be in the 8-15% range with tires. Anything above that is excessive. A general rule of thumb is that when a tire gets below about 20% of its original tread depth, it may be time to start shopping for new tires depending on the use of the tractor. Soil types and the amount of moisture also play a role in how effective tires are when they start wearing down.
Blaine Cox from
YOKOHAMA OFF-HIGHWAY TIRES AMERICA, INC
. says,
Visual Inspection Reveals Damage
There are a few situations in which you absolutely need to replace an R-1 or R-1W tire immediately: if you see an oblong bulge that indicates a rupture in the casing, or if excessive wear has exposed belt wires or ply fabric. Those conditions are unsafe, and must be addressed at once. Ozone cracking, which you can spot by a network of spider-web-like cracks and the loss of elasticity, can also be a reason to replace tires.
Greg Gilland from
MAXAM
says,
Operational Requirements Dictate Replacement Cycle
In the agricultural industry, it is how the equipment is utilized or the inherent operational requirements that will affect the tire replacement cycle.

Table Courtesy of Maxam
Ken Brodbeck from
PRECISION INFLATION
summarizes,
When Do I Need New Tires?When the tire: 1. will no longer hold air. 2. will not carry and/or pull the load required. 3. the tire body has cuts or breaks into the body or belt cords. 4. has bubbles or separations in tire body. 5. is overloaded and a higher load rating or larger tire is available. 6. needs to minimize soil compaction, purchase an IF or VF tire to run at lower psi.
All information has been provided solely to provoke thought. All deductions made from information provided must be confirmed by Certified Ag Tire Dealer and tire manufacturer before use. Tire service work should only be conducted by Certified Ag Tire Dealer Professionals.
Related Content: 
Tire Difference: Comparing Sprayer vs. Tractor,
Choosing Best Tire Construction for Application,
Improving Carbon Sequestration with Tire Selection and Air Pressure