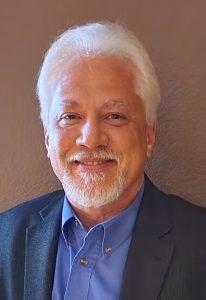 Steven K. Hathaway, photo courtesy of Farm Equipment Manufacturers Association
As many FEMA members learned during their Fall Convention in Orlando, Vernon Schmidt, Executive Vice President, informed leadership early last year of his desire to retire, after 27-plus years with the Association. Over the course of the last year, the Association's leadership has conducted a nationwide search to fill this position.
Recently, Ben Hellbusch, the 2023 President of the Association, informed the Board of Directors that Steven K. Hathaway had accepted the offer to become only the fourth Executive Vice President in the Association's 70-plus-year history. Hathaway's experience includes serving as a Controller with major corporations, and as General Manager of a large manufacturing facility for most of his career. Hellbusch called Steve a motivated and highly collaborative individual who enjoys working with people and encourages outside-the-box thinking to move organizations forward. 
Steve brings to the Association over 30 years of manufacturing experience in metal forming, fabrication, and finishing, as well as plastic molding and extrusion, and consumer packaged goods. He's held positions in Accounting, Materials, Production, and General/Operations Management. He and Amy, his wife of 24 years, have 5 children and are lifelong residents of rural northeast Missouri/west-central Illinois.
Steve has been working in the Association's office since the first of the year with Vernon and the rest of the staff and will assume his role as Executive Vice President on February 1.
"I am both thankful and humbled to have the opportunity to join this long-standing Association. The history represented by its entrepreneurial and innovative members is beyond impressive," Steve said. "I am excited to get to know each of them and to see the work they are doing in their respective facilities. Having been part of the world of agriculture for most of my life and career, I am well acquainted with the critical roles played by shortline manufacturers, suppliers, and associates."
"I am further honored to transition into this role that Vernon has so successfully held since 2009," added Steve. "The work that he and the staff have done is excellent. I look forward to working with the team, building on those accomplishments to continue the high level of services our members have come to appreciate."
Vernon will continue to assist with the transition over the next month before turning the page to his next chapter: less time at his desk, more time at "the farm" learning to use the great shortline equipment that continues to bring Choice, Value and Innovation to Agriculture, more time with young grandson Calvin and more.
---