In this episode of On the Record we review John Deere's plan for autonomy. In the Technology Corner Now Newman discuss new developments with Sabanto's autonomy system . Also in this episode, the capital investment index from Purdue University's Ag Economy Barometer drops again and highlights from the 2022 Cost of Doing Business Study.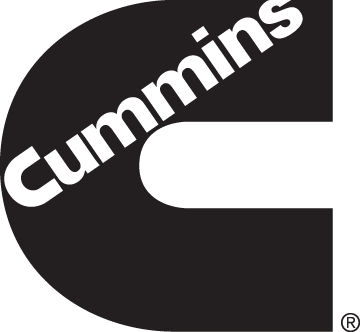 This episode of On the Record is brought to you by Cummins Inc. — Cummins Inc., a global power leader, is a corporation of complementary business segments that design, manufacture, distribute and service a broad portfolio of power solutions. The company's products range from diesel, natural gas, electric and hybrid powertrains and powertrain-related components including filtration, aftertreatment, turbochargers, fuel systems, controls systems, air handling systems, automated transmissions, electric power generation systems, batteries, electrified power systems, hydrogen generation and fuel cell products.  Learn more about Cummins by visiting cummins.com
---
TRANSCRIPT
Jump to a section or scroll for the full episode...
John Deere Highlights Autonomy Plan
In the December 4, 2022 edition of Upstream Ag Insights, Shane Thomas highlighted a couple of interesting comments in the John Deere investor call. 
Deere has emphasized that it will be equipping its new tractors and equipment with autonomy and autonomous functionality. However, the equipment upgrade cycle is only so fast. This could limit some of the growth potential and utilization of some of its new capabilities into its huge install base that it currently has. Thomas notes that during the call Brent Norwood, Deere director of investor relations said:
"I think the other thing that's really important with the rollout of Autonomy is — and this is a little bit different than what you've seen in the past. We will roll out this technology, really retrofit first or field kit first as opposed to most of our technologies have gone factory installed first."
Referencing his October 2022 analysis on AGCO and John Deere surrounding retro-fit kits, Thomas noted that as Deere moves further into new revenue models for its business, one area it needs to ensure stays top of mind is its dealer network. Today, the dealer incentives are strongly aligned with Deere's: sell more equipment, make more revenue. As Deere shifts toward a service based model for some of its "intelligent" capabilities on the tractor, that could lead to misaligned incentives for the OEM and the dealers, Thomas says, leading dealers not to invest in understanding how to sell those enhanced capabilities to the farmer and nor enabling farmers to derive the most value from them. This is being worked out currently by Deere.
During the investor CFO Josh Jepsen said: 
"We've also made a change to our dealer pay for performance. So we're including precision ag execution in that pay for performance. And that's a really important step as we think about continuing to drive the outcomes that we wanted to deliver and really a shift from adoption to utilization to make sure we're delivering on that and we're showing and demonstrating the incremental addressable unlock that we can create, which we think is differentiated for Deere."
John Deere has also reinforced a vision to have entirely autonomous soy and corn cropping systems available by 2030.
You can learn more about the future of autonomous equipment in the ag market in Ag Equipment Intelligence's just released report — Autonomy Farm Equipment: U.S. Adoption & Outlook.  
Dealers on the Move 
This week's Dealers on the Move include Apple Farm Services, Towline Equipment, Quality Equipment and Sievers Equipment.
Apple Farm Service, a New Holland dealership based in Ohio and Indiana, is expanding its West College Corner, Ind., location, doubling the size of the current facility. 
Towline Equipment, a Kubota dealership in New York, as acquired Greenville Saw Service Kubota. The dealership now has 6 locations. 
John Deere dealer Quality Equipment has acquired Southeast Farm Equipment Co. in Laurinburg, N.C.. Quality Equipment now has a total of 36 locations. 
Technology Corner: A Sneak Peek at Sabanto's Autonomy System
It didn't take long for the team at Sabanto to make their mark in the ag tech industry.
They started building their first autonomy kit from scratch in a 3-car garage in September 2019, and just 7 months later were autonomously planting in the field.
Now they're working hard to bring the Sabanto autonomy system to the marketplace.
VP of Product Cory Spaetti gives us a sneak peek at the technology and how it works. 
"Some of the componentry that we add to the vehicles would be things like the steering valve, electrohydraulic remote valves, obstacle detection cameras. On top of the vehicle we have our GPS receiver and our surveillance cameras. The 2 white colored wands are our LTE antennas. But at the heart of it all is our main control box. This control box, forgive the appearance we're in the middle of testing our first prototypes, is the brain box of the whole system. It receives mission plans from our cloud infrastructure and basically it spits out all the commands to the steering valve, the break actuators, the rear remote valves and the hitches.

"All of our systems allow the tractor to be fully humanly operatable. So with the flick of 4 switches, we can go from manual mode to autonomy mode or in this case from autonomy mode to manual mode. So, it makes it easy to do things like load the vehicle onto the trailer or pull it into a field or pull it inside of the barn, all the things that farmers do today."
We'll have much more from our visit with Cory and Sabanto next month in the Day in the Cab feature on PrecisionFarmingDealer.com.
Farm Capital Investment Index Returns to Record Low
According to the Dec. 6 update to the Purdue University Ag Economy Barometer, the Farm Capital Investment Index has dropped back to a reading of 31.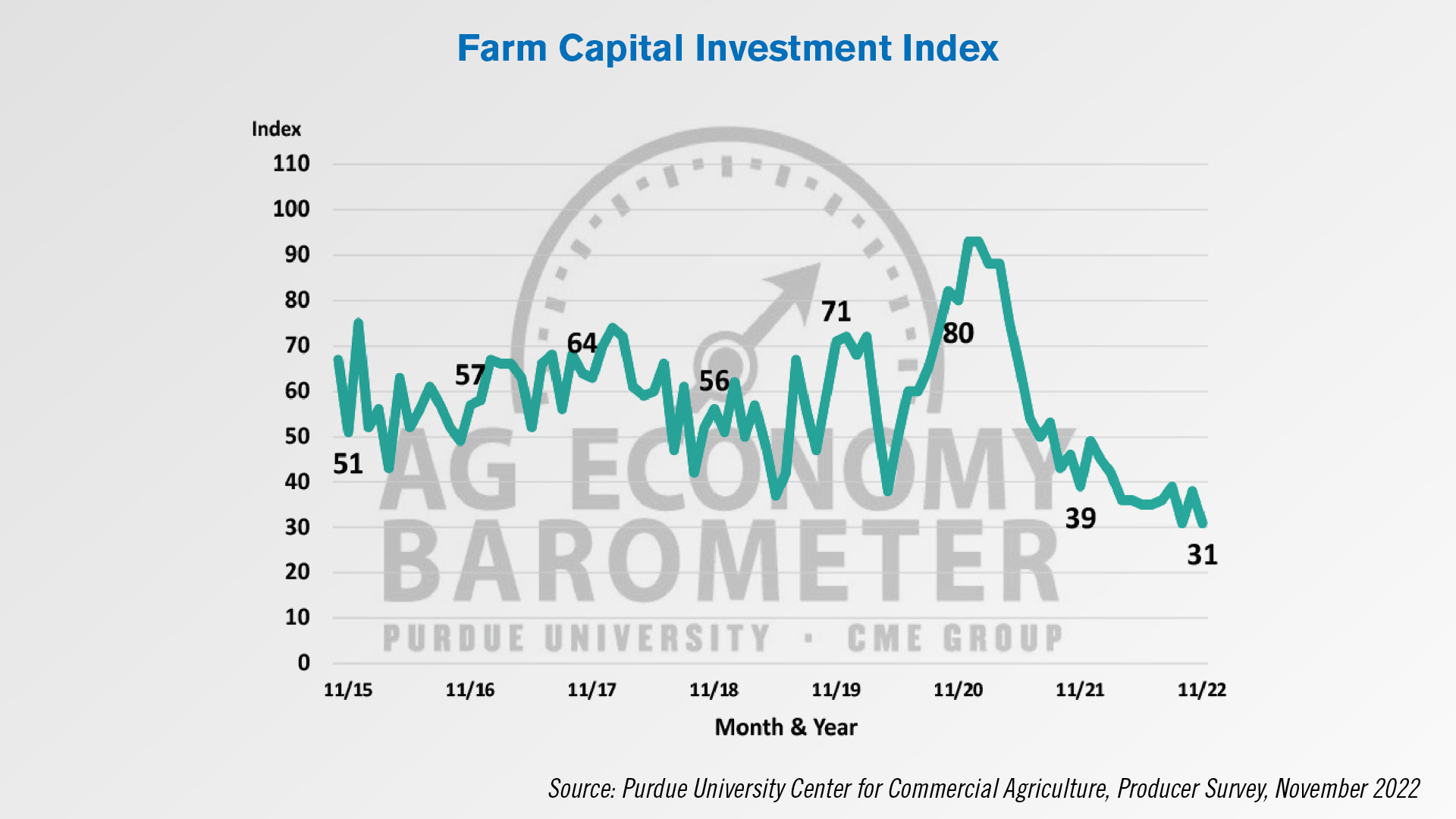 This is tied for the record low that was recorded in October. Just 10% of farmer respondents said now is a "good time" to make large investments in their farm operation and 79% said it was a bad time.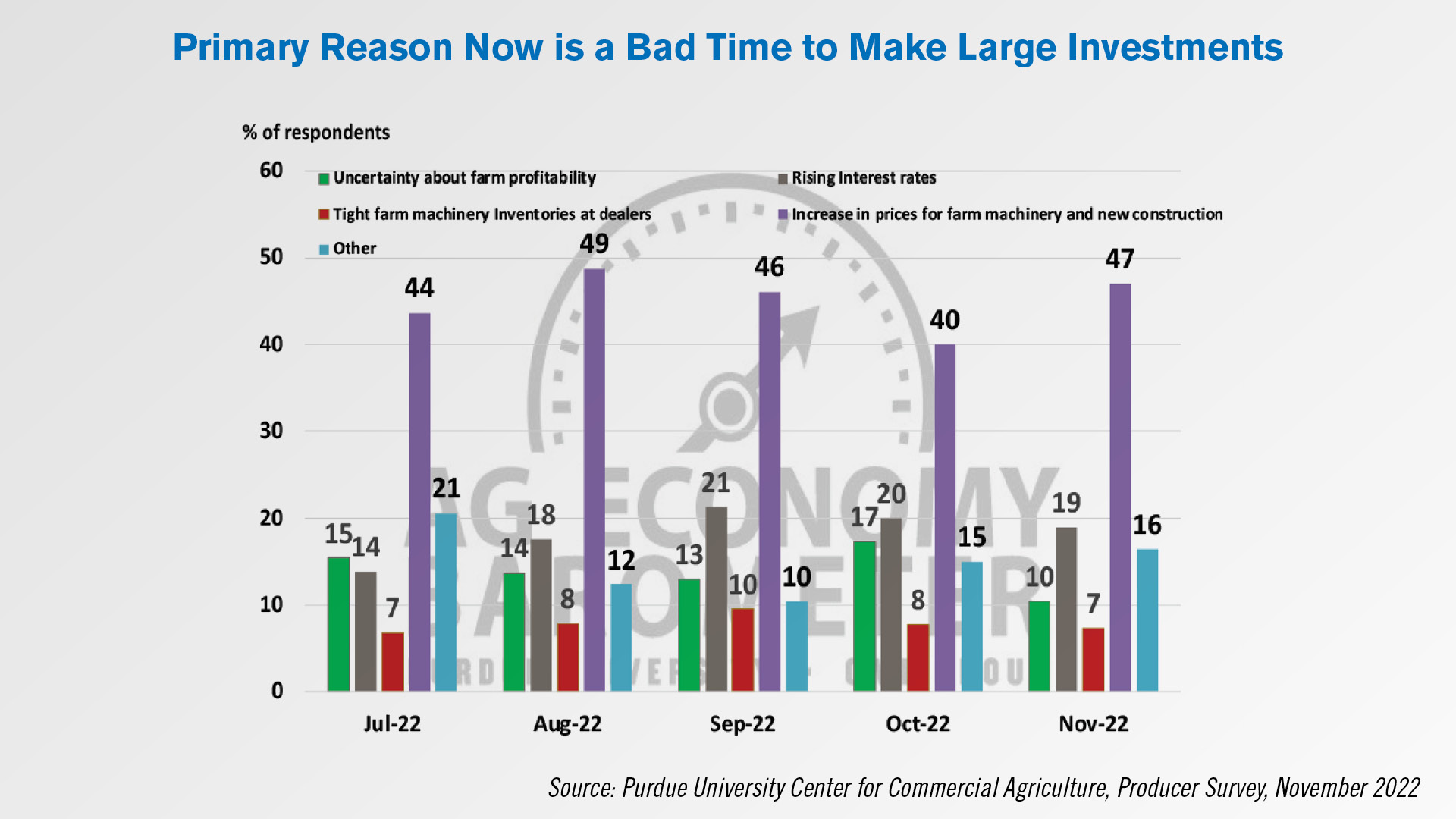 Among those who consider it a bad time to make investments, 47% chose "rising prices of farm machinery and new construction" as the primary reason for their perspective. This was an increase from the 40% who said the same in the previous update. Some 19% chose rising interest rates and 10% chose "uncertainty about farm profitability" as their primary reason, down from 17% in the previous update.
The Ag Economy Barometer remained unchanged with a reading of 102. According to the report, "there was however a slight shift in underlying sentiment as the Index of Current Conditions declined to a reading of 98 while the Index of Future Expectations rose to 104."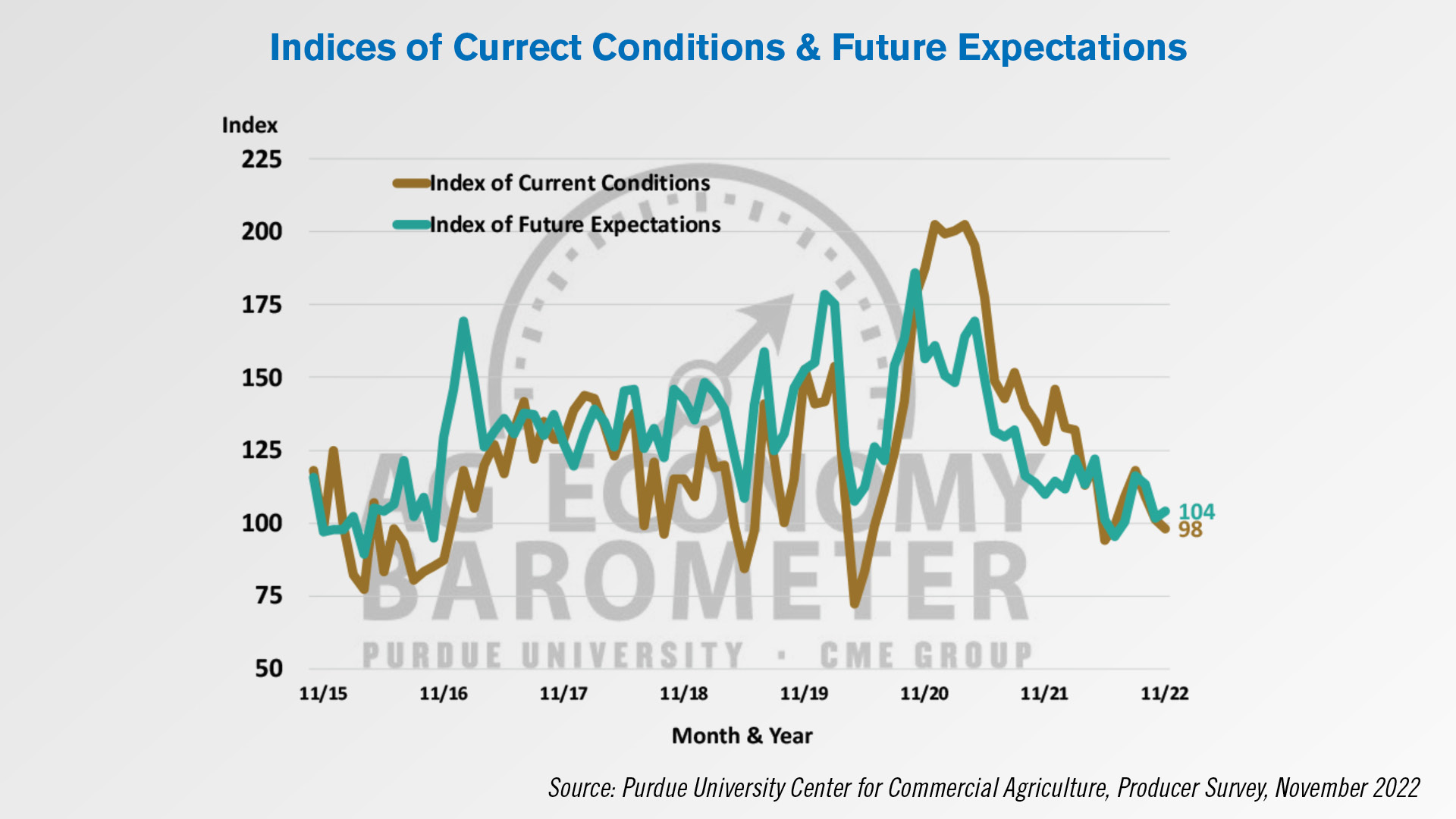 Dealers Report Strong Wholegoods Revenue
North American dealers reported strong financial results for 2021, according to the results of the 2022 Cost of Doing Business study from the North American Equipment Dealers Assn. (NAEDA). Average dealer revenues were up year-over-year for new and used wholegoods, parts and service. Margins on both new and used wholegoods sales were up but were down for parts and service.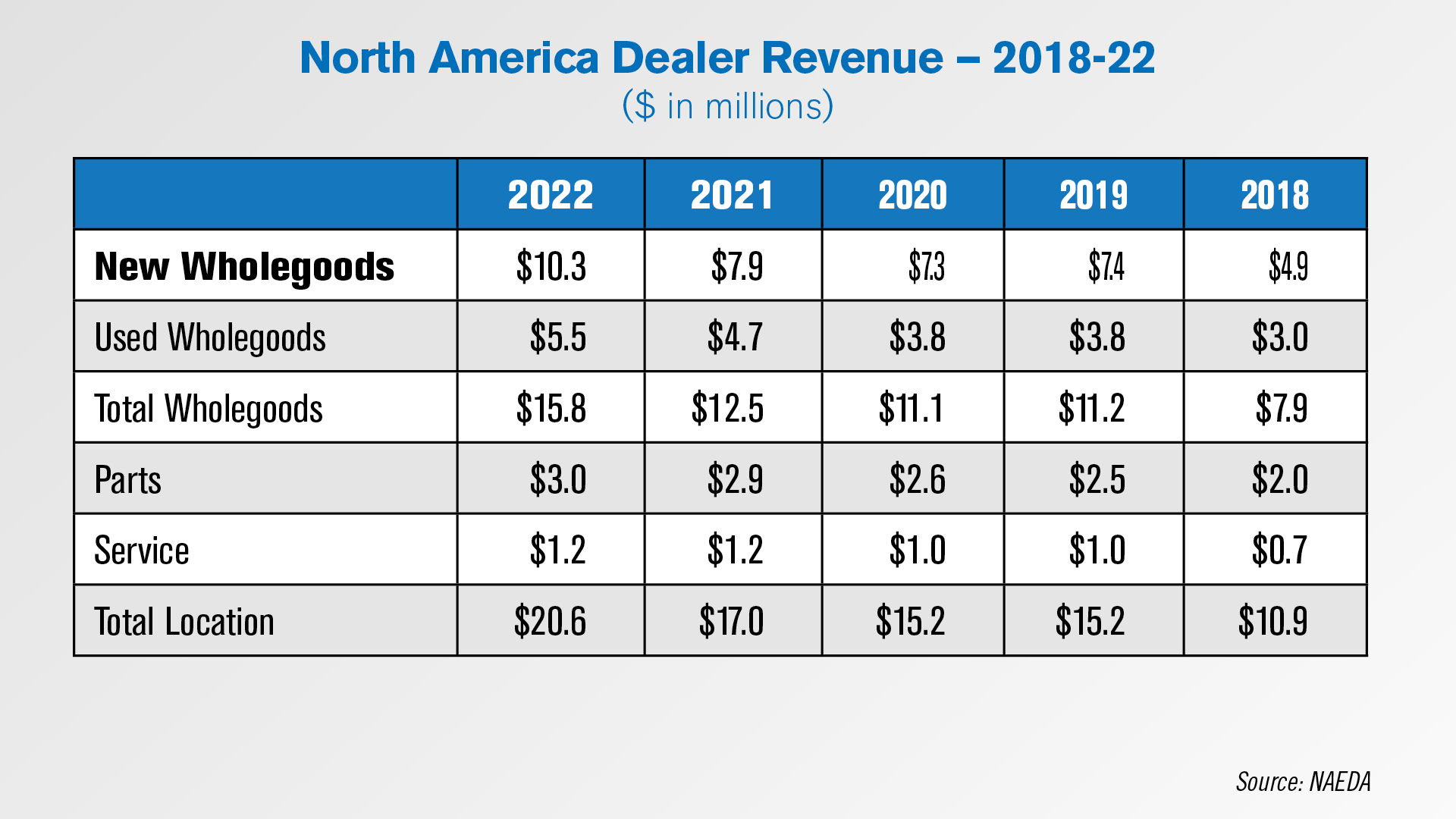 Dealers reported an average of $20.6 million in revenue per location, up 21.2% from $17 million per location in the previous report.
The revenue category with the most notable year-over-year increase was new wholegoods, which rose 30% to $10.3 million per location on average. Kelly Mathison, a former Dealer Institute trainer and dealership partner, believes rising equipment prices and strong pre-orders helped boost dealers' revenue.
"Dealers, with their customers, have worked on getting those orders in early and taking advantage of that and working with the manufacturers even though the manufacturers have struggled getting inventory too with the chip shortage and so on. And some of the increase might be because [of] price increases. We did see some pressure with price and especially some positive numbers on the used side with wholegoods items bringing really top dollars. So some of this increase could be attributed to higher prices. But I know the lots across the country are looking pretty bare. But on the other hand, dealers I've been talking to have been saying their preorder status has been relatively strong, and so that's driving the sales."
DataPoints: Top Concerns Facing Ag Lenders
This week's DataPoint is brought to you by the Precision Farming Dealer Summit.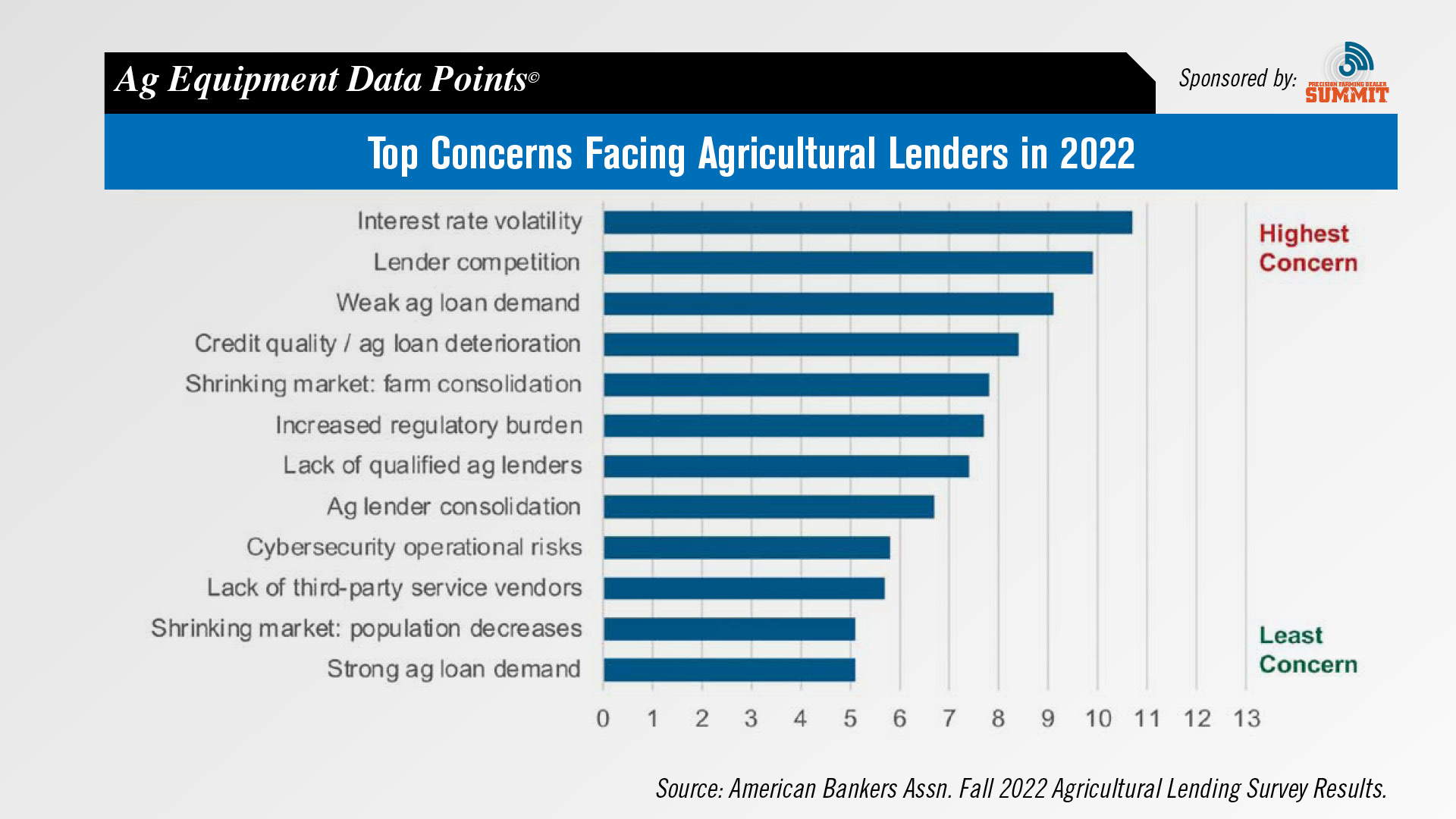 According to the American Banker Assn's Fall 2022 Agricultural Lending Survey results, the top concern facing ag lenders in 2022 was interest rate volatility. Lenders additionally expressed concern about lender competition, weak loan demand and credit quality.
---
On the Record is now available as a podcast! We encourage you to subscribe in iTunes, the Google Play Store, Soundcloud, Stitcher Radio and TuneIn Radio. Or if you have another app you use for listening to podcasts, let us know and we'll make an effort to get it listed there as well.
We're interested in getting your feedback. Please feel free to send along any suggestions or story ideas. You can send comments to kschmidt@lessitermedia.com.