In this episode we look at the top factors growers say are impacting their decisions to purchase equipment in 2023. In the Technology Corner, Noah Newman takes a closer look at Precision Planting's new sprayer technology ReClaim. Also in this episode, Kubota's 9 month U.S. sales break $5 billion and a preview of Ag Equipment Intelligence's latest research report "Autonomous Farm equipment: U.S. Farm Adoption & Outlook."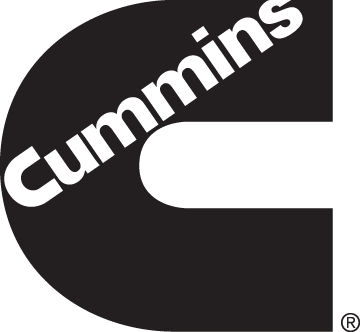 This episode of On the Record is brought to you by Cummins Inc. — Cummins Inc., a global power leader, is a corporation of complementary business segments that design, manufacture, distribute and service a broad portfolio of power solutions. The company's products range from diesel, natural gas, electric and hybrid powertrains and powertrain-related components including filtration, aftertreatment, turbochargers, fuel systems, controls systems, air handling systems, automated transmissions, electric power generation systems, batteries, electrified power systems, hydrogen generation and fuel cell products.  Learn more about Cummins by visiting cummins.com
---
TRANSCRIPT
Jump to a section or scroll for the full episode...
 Farmers Focusing on Profit & Price for Equipment Purchases
As the ag equipment industry faces a variety of challenges, such as new equipment shortages and rising interest rates, some in the industry are wondering which factors are impacting equipment purchase plans for next year.
To help answer that question, Ag Equipment Intelligence surveyed growers asking what's impacting their new production ag equipment purchasing decision for 2023.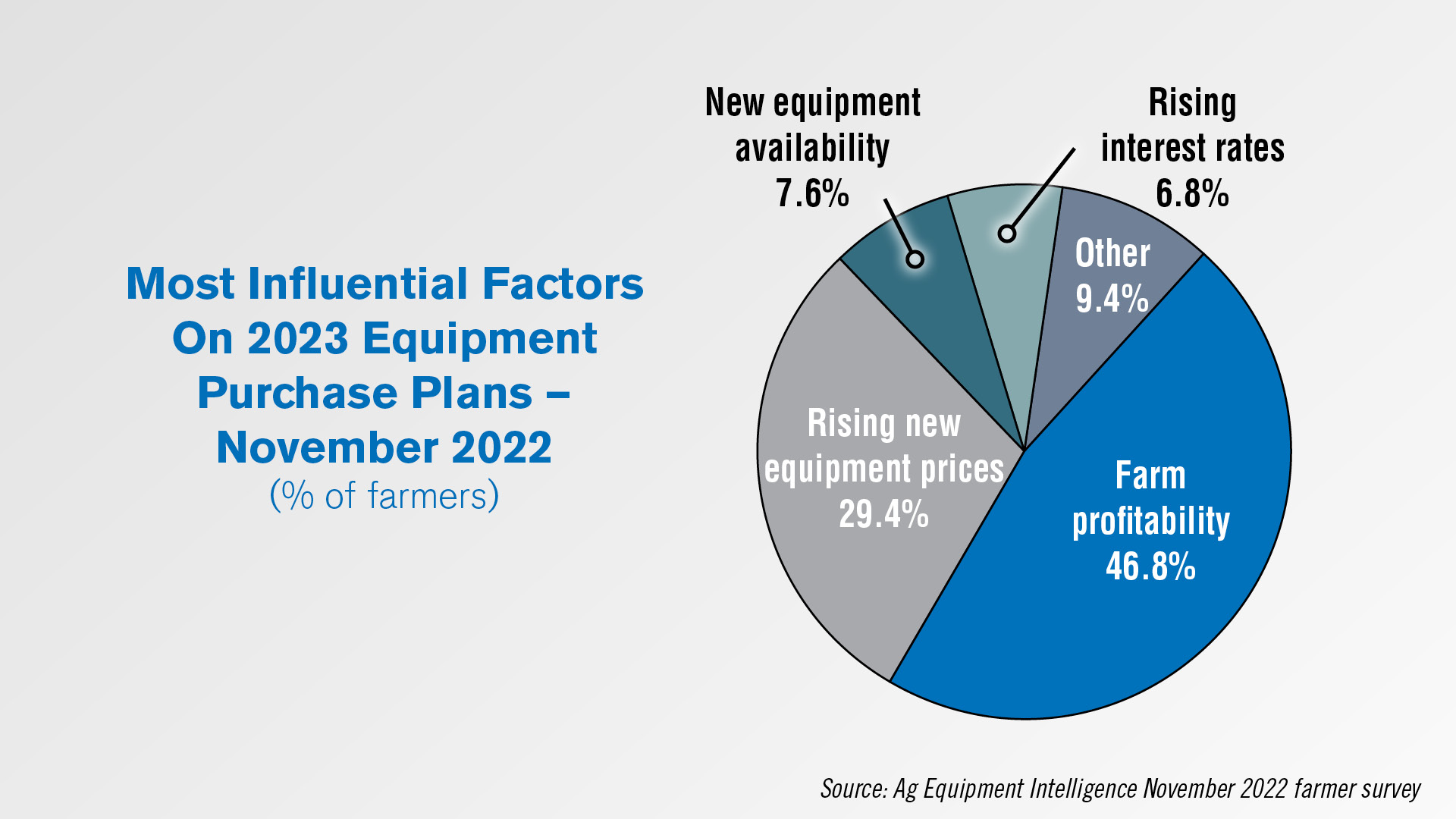 According to the survey, the most common deciding factor is farm profitability, which 47% said was their top factor. Rising new equipment prices followed at 29%. At just 6.8%, rising interest rates was the least selected category.
By brand, growers identifying their farm operation with John Deere were the most concerned about rising new equipment prices, with 38% citing it as their top factor. Some 15% of Case IH farmers were most concerned about price increases, the lowest percentage.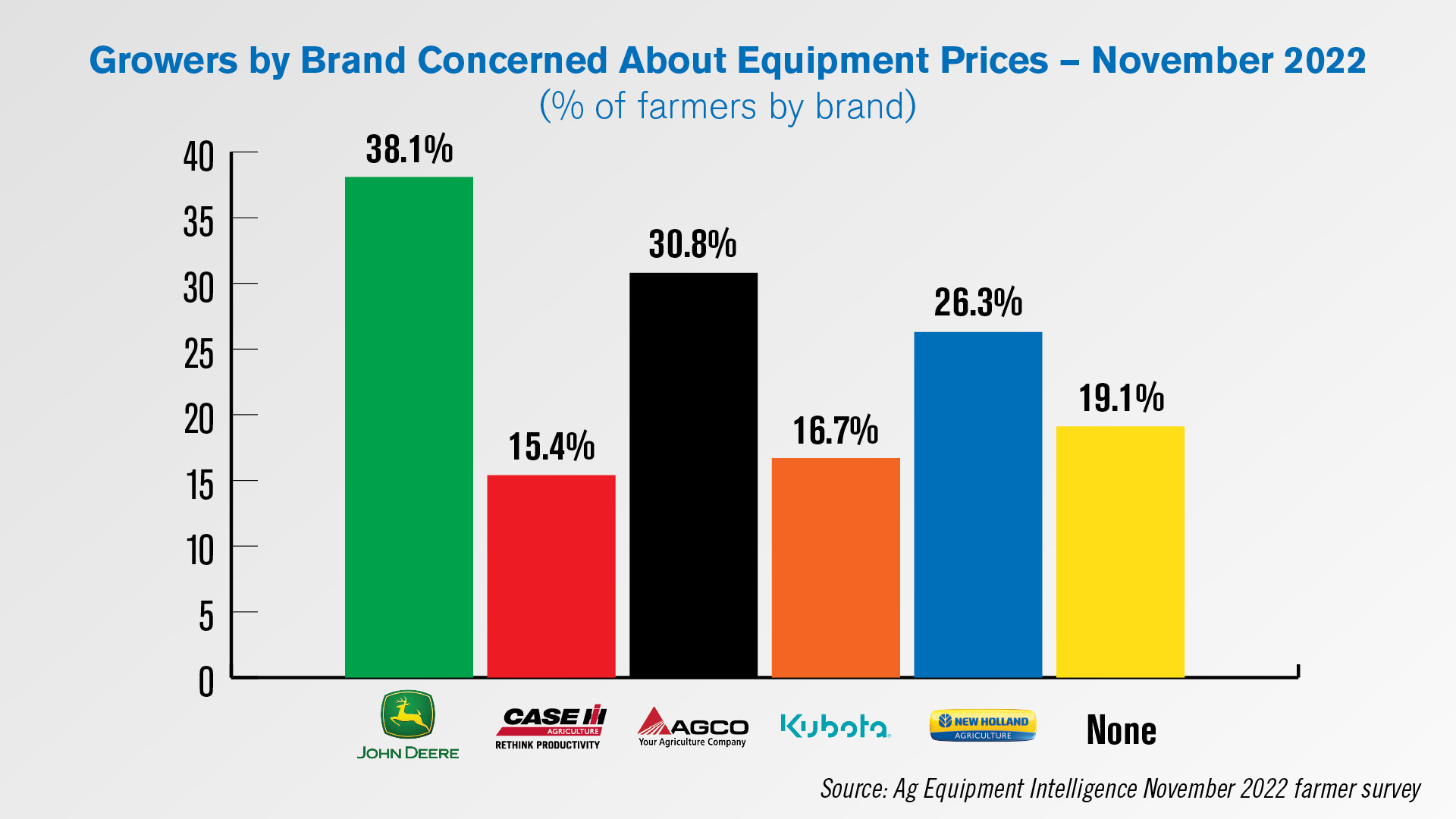 When it comes to new equipment availability, just 3.9% of AGCO farmers picked it as their top factor when planning equipment purchases, the lowest among brand groups. New Holland farmers were the most concerned when it came to new equipment availability, with 10.5% saying it was their top purchase factor.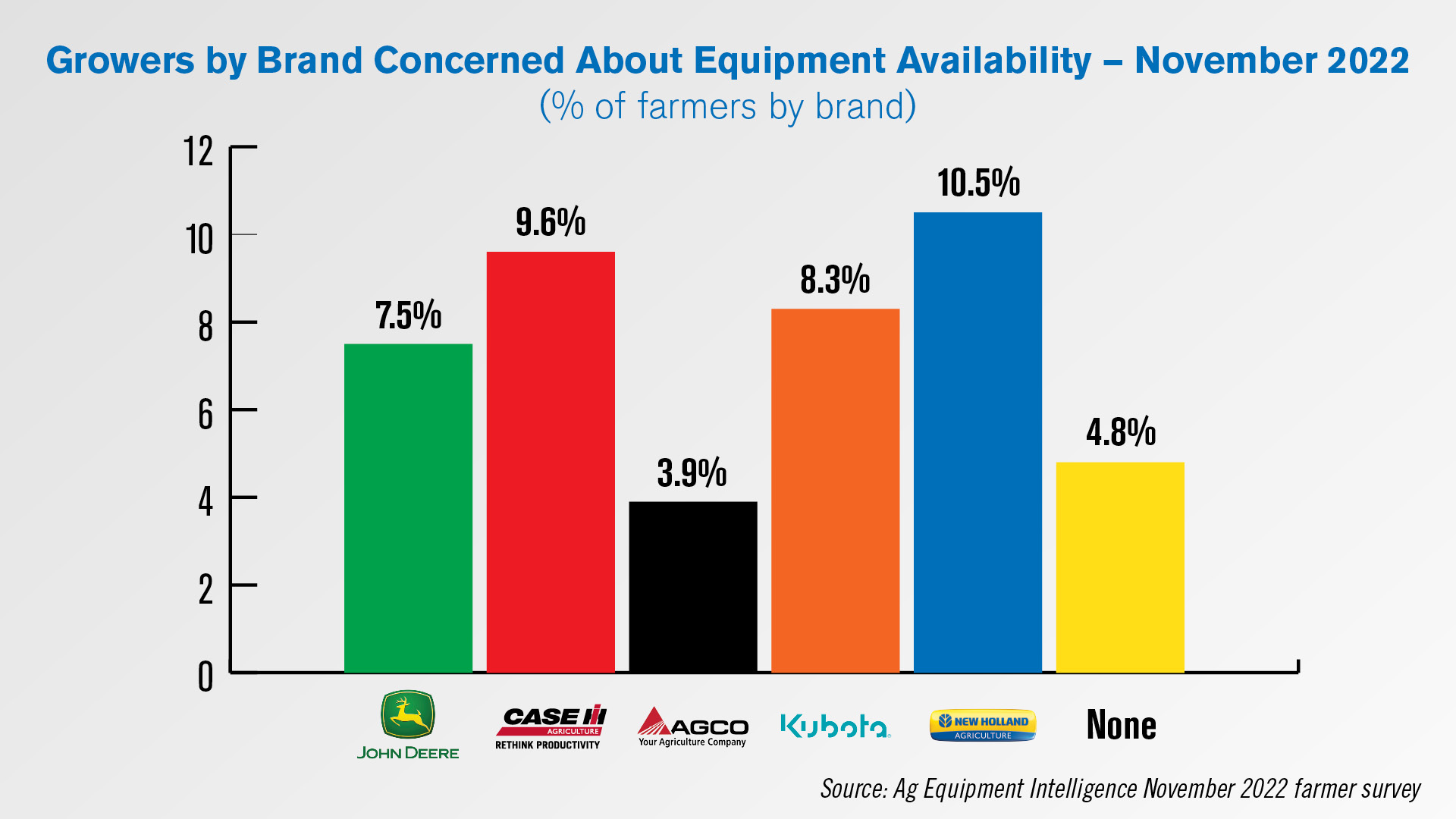 Dealers on the Move
This week's Dealers on Move include JLD-Laguë Group and Empire Southwest.
Canadian John Deere dealer JLD-Laguë Group has announced its acquisition of Atelier Genytech through its TransDiff JDH division.
Arizona-based AGCO dealer Empire Southwest has acquired Nevada-based Cat dealer Cashman Equipment Co.
Technology Corner: New Precision Planting Sprayer Technology Hits the Market
Precision Planting's new sprayer technology ReClaim is officially available to buy in the U.S. and Canada.
We first learned about the product about a year ago at the company's annual winter conference.
ReClaim is a boom recirculation system designed to make sure farmers get their boom fully primed with the right concentration of products without having to spray a drop of chemical on the ground, eliminating crop damage and hot spots at the edge of the field.
Precision Planting Marketing Specialist Andrew Feucht gives us a look at ReClaim, and two other sprayer products in the pipeline.
"This (ReClaim) is a retrofit product you can add to any sprayer. Another nice feature is you can do this with traditional nozzles you don't have to have electronic nozzles for this system.

"Another product we're showing here is Symphony. It's a PWM controlled nozzle system. The idea behind this is to maintain droplet size and pressure as you change speeds and rate so that we always get a consistent pattern on the crop.

"Finally we're looking at Vision, and this is probably the farthest product out as we look at the pipeline. What we're looking at here is adding cameras to sprayers to do anything from guidance to weed detection to crop health detection. Hopefully adding the see and spray type technology to sprayers in the future."
A limited number of ReClaim products will be available this fall at Precision Planting dealers in the U.S. and Canada.
Kubota 9 Month U.S. Sales Break $5 Billion
Kubota's earnings report for the first 9 months of 2022 highlighted the manufacturer's continued success in growing North American ag and construction revenue.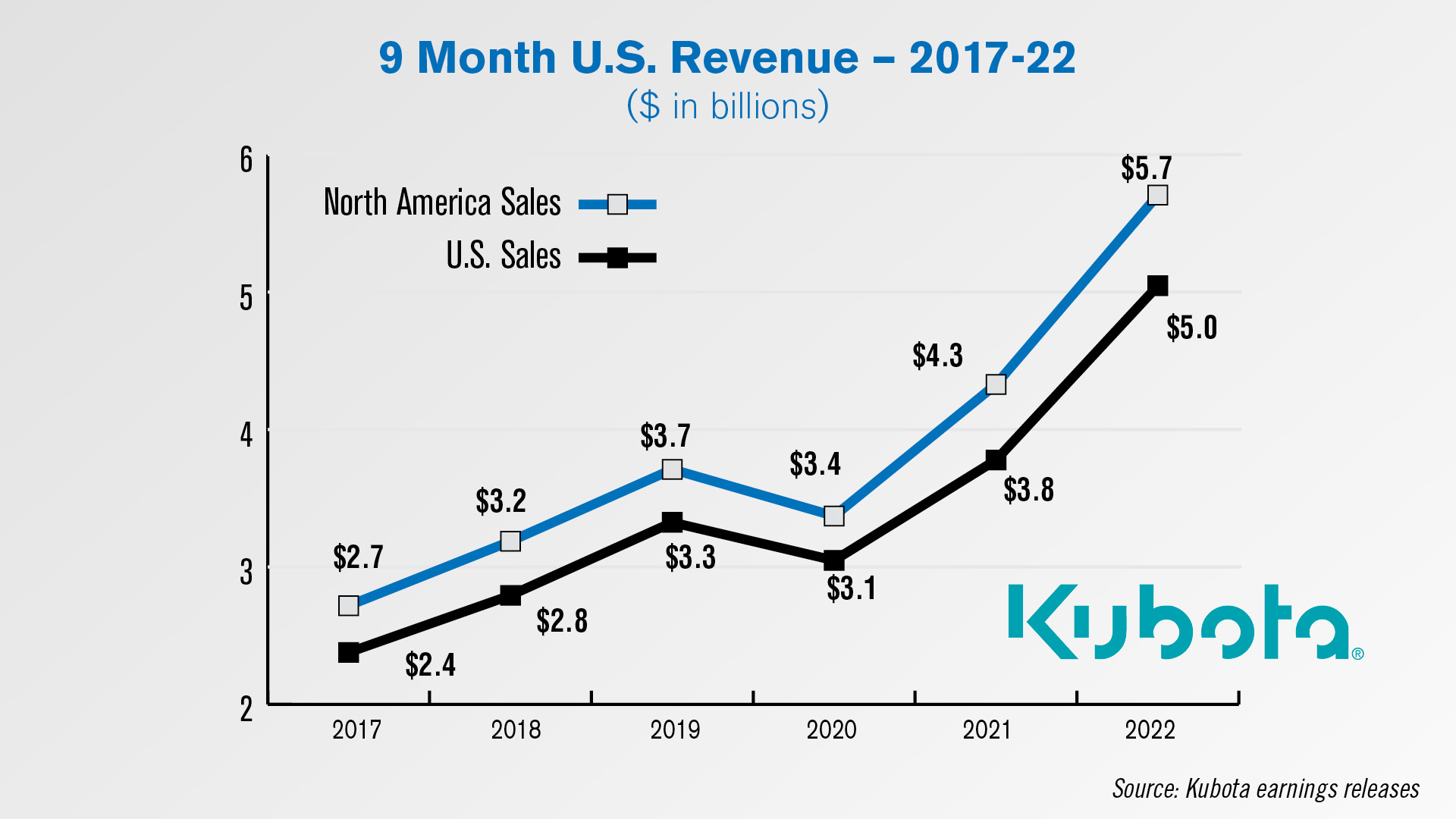 Kubota reported $5.1 billion in total U.S. sales for the first 9 months of 2022, a 34% year-over-year increase. This also represents a 112% increase from the $2.4 billion reported in the first 9 months of 2017. The percentage of North American sales coming from the U.S. rose to 88.4% vs. 87.3% in the first 9 months of 2021.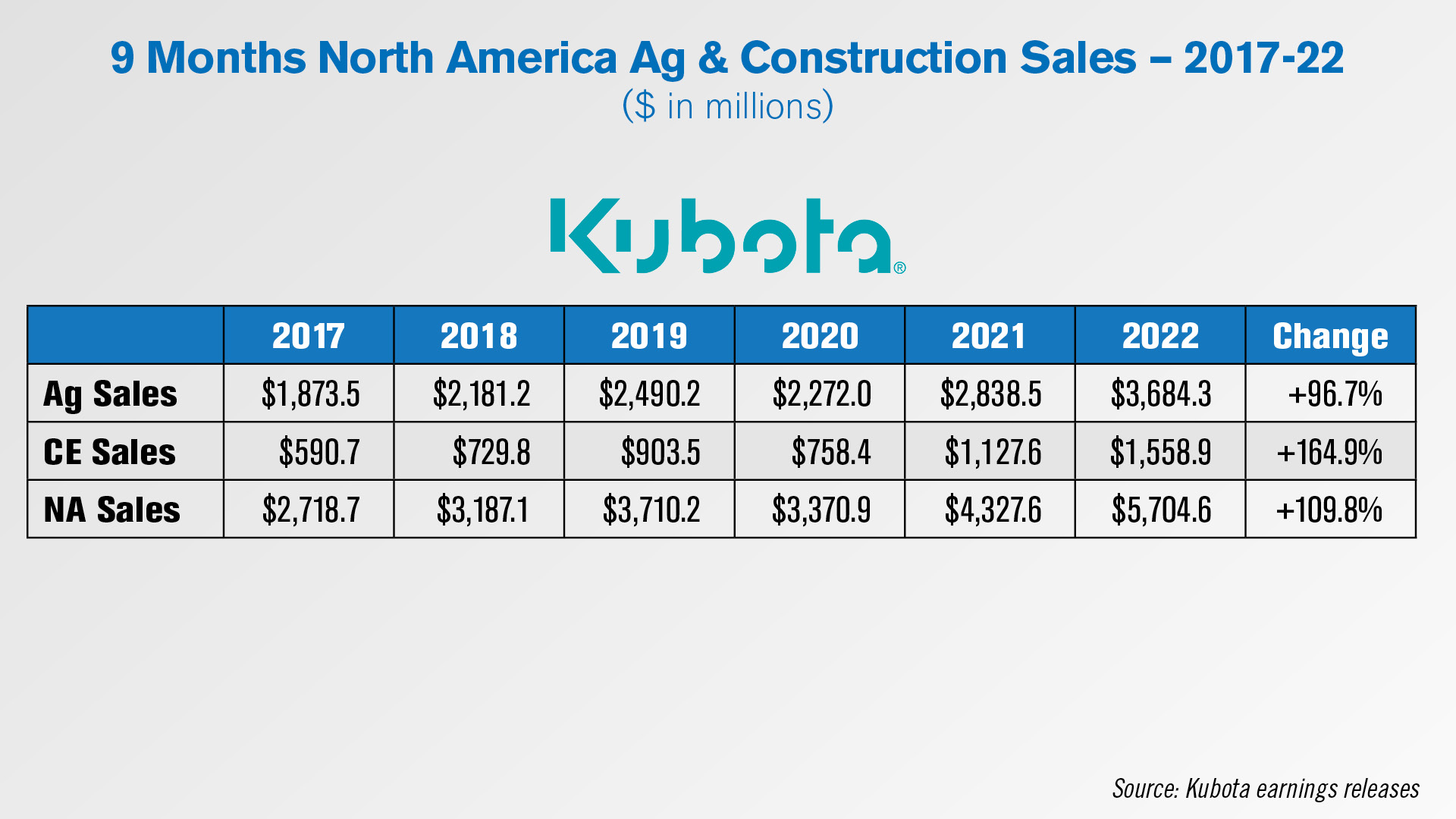 Kubota's North American Farm Equipment and Engines segment sales for the first 9 months were up 30% year-over-year to $3.7 billion. Total North American sales up 32% to $5.7 billion. Construction sales were up 38% to $1.6 billion, reinforcing Kubota's previously announced commitment to growing its North American construction market.
Autonomy's Acceptance & Emergence in the Ag Equipment Industry
According to a new custom research report from AEI, most industry watchers say the state of autonomous technology in agriculture is between Level 3 and 4 autonomy. In Level 3, the machine operates totally independently with only human observation, and in Level 4 the operator is able to automate end-to-end workflow.
Scott Shearer leads efforts at Ohio State University's Food, Agricultural and Biological Engineering department, said the labor shortage is a number one issue in agriculture and the industry is responding. He gives the example of a co-op manager he knows switching to autonomous machinery to fill gaps in his floater drivers.
"As co-ops and large farming operations begin successfully using autonomous machines, growers will be exposed to Level 4 autonomy in action and likely will become more comfortable as other applications of Level 4 capability are introduced," he explained.
When asked why they would be interested in autonomous equipment, 54% of growers said labor concerns and the ability to use lower-skilled labor were the most important. Half of those responding said they want smaller, lighter equipment to reduce compaction in their fields, and 45% say they would turn to autonomy to improve the precision use of inputs.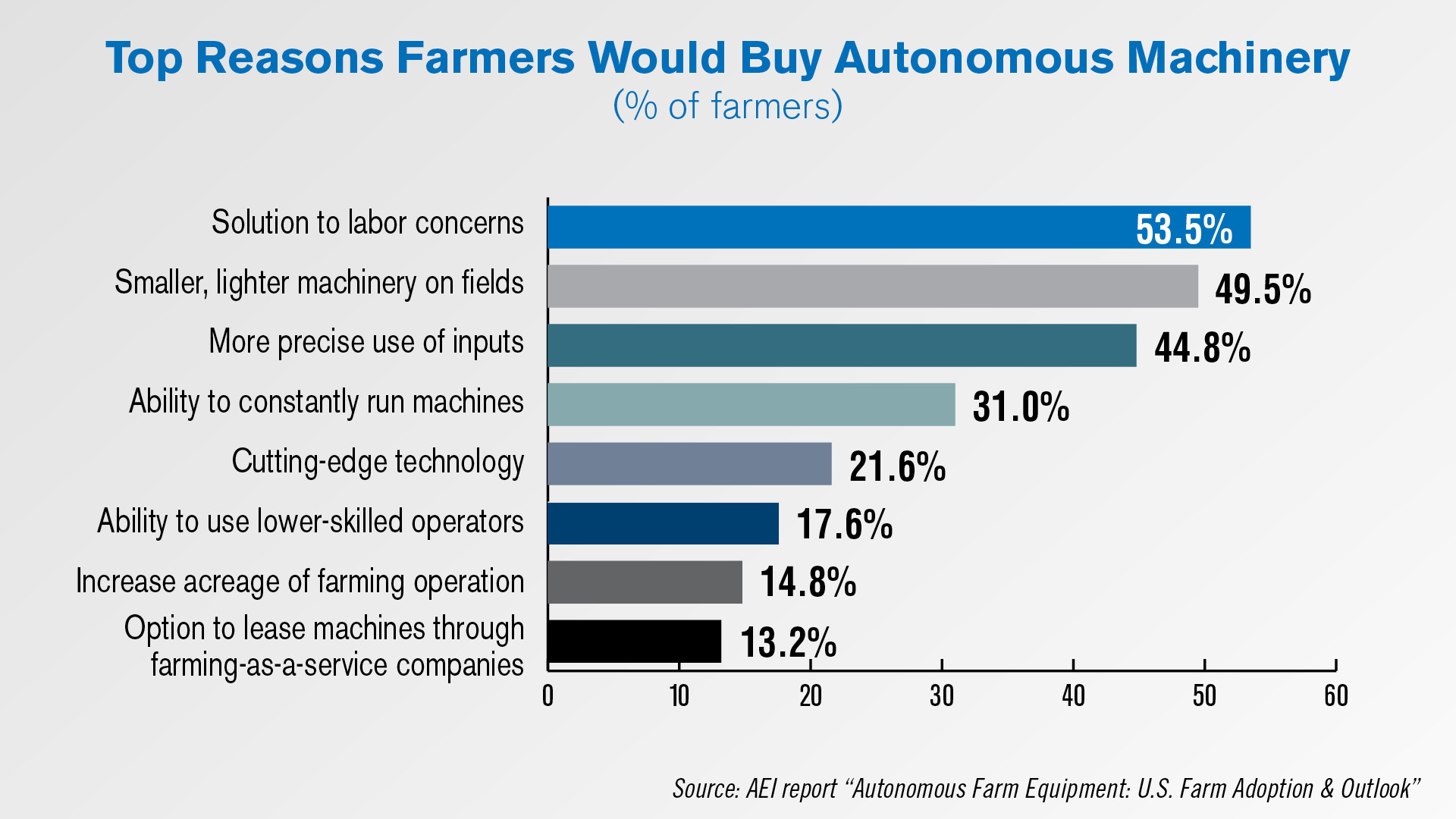 Looking at growers' top 3 reasons to buy autonomous machinery by brand, AGCO farmers were the most likely to purchase for solutions to labor problems and to have smaller and lighter machinery on their fields. New holland farmers were the most likely to purchase based on more precise use of their inputs.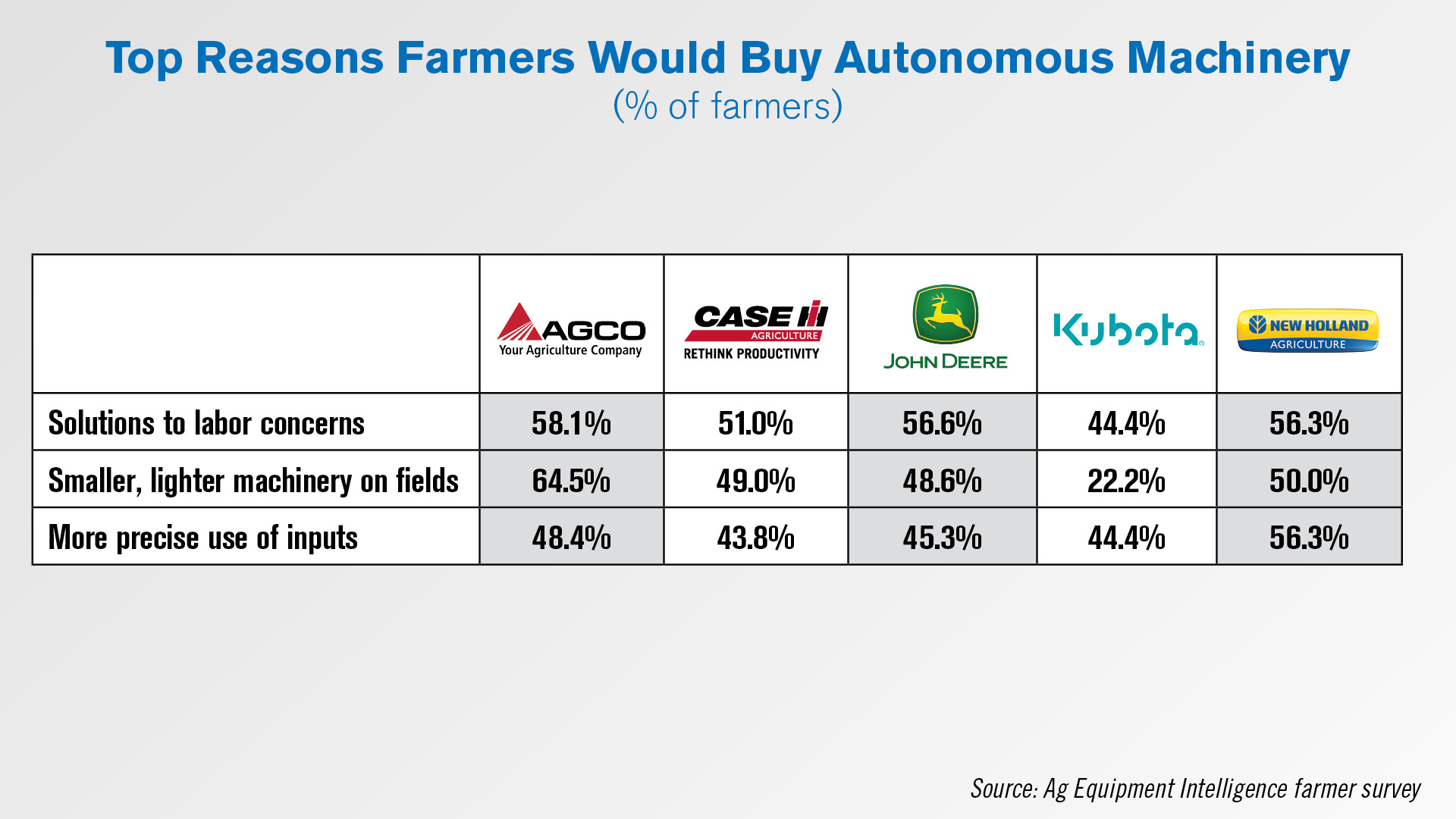 Learn more about the impact autonomous farm machinery will have on North American dealers, manufacturers and suppliers in AEI's upcoming report, "Autonomous Farm Equipment: U.S. Farm Adoption & Outlook."
Data Point: Global Farm Machinery Market Forecast
This week's DataPoint is brought to you by Ag Equipment Intelligence's 2023 Executive Briefing.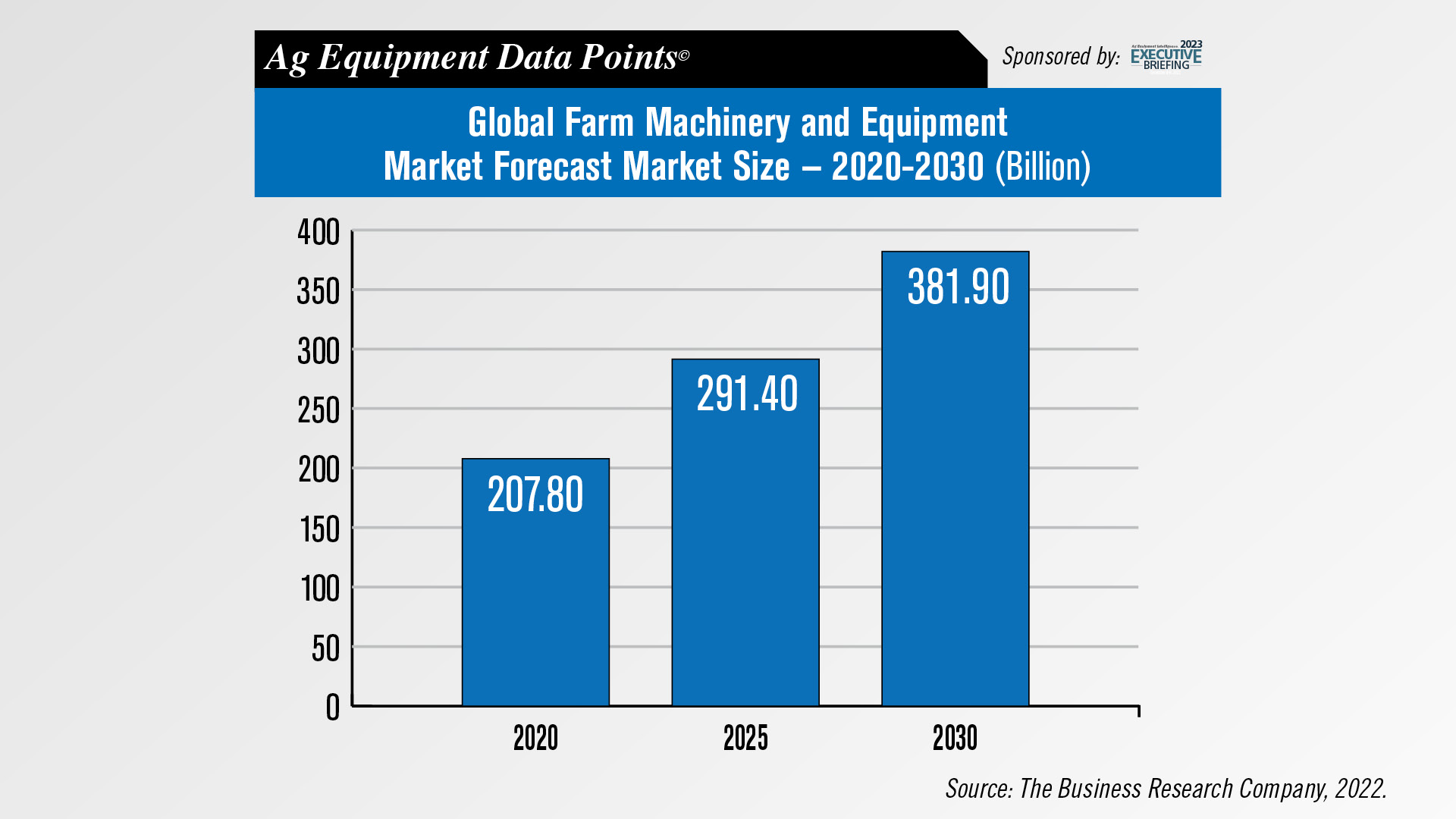 The size of the global farm machinery market is expected to grow from $207.8 billion in 2020 to $291.4 billion in 2025. This would be an increase of 40.2%. Between 2025 and 2030, a 31.1% growth in the market is forecast, for a total value of $391.9 billion.
---
On the Record is now available as a podcast! We encourage you to subscribe in iTunes, the Google Play Store, Soundcloud, Stitcher Radio and TuneIn Radio. Or if you have another app you use for listening to podcasts, let us know and we'll make an effort to get it listed there as well.
We're interested in getting your feedback. Please feel free to send along any suggestions or story ideas. You can send comments to kschmidt@lessitermedia.com.