Updated on Oct. 18, 2021
Case IH informed its dealers on Oct. 8 that effective immediately Scott Harris has taken over the role of Global President of the Case IH brand. Harris will replace Brad Crews who has moved fully into his position as the President of the North American region for CNH Industrial. 
Harris has been with the company since 2006, first with CNH Industrial Capital and later as Northeast region sales manager for both agricultural and construction equipment. In 2007, he became senior director of sales and marketing for that division. His last role with CNH Industrial Capital was vice president of U.S. Financial Services and Operations. Harris then joined CNH Industrial Parts and Service in 2011, first as vice president of sales and marketing for North America and later the entire division in 2013. He became vice president of Case Construction Equipment in 2016 and then vice president of Case IH North America in 2018.
"Scott Harris' strong leadership in North America has made a significant impact on the Case IH brand," said Derek Neilson, CNH Industrial president of agriculture. "As we look to the future, at both Case IH and the agriculture industry as a whole, we are excited for him to make his mark across the globe."
As Case IH global president, Harris will lead the overall strategy for the brand with a strict focus on customer-centric brand building, brand marketing and communications, overall digital customer experience, and the Case IH solutions portfolio. He will coordinate activities with Case IH and CNH Industrial leadership across all regions.
Also effective immediately, Kurt Coffey will transition to the VP of Case IH North America, replacing Harris. In his new role, Coffey is responsible for the strategy and execution of all Case IH North America commercial functions, overseeing the execution of a customer centric go-to-market approach in North America.
Harris served as the VP of Case IH North America for 3 years. Coffey most recently held two concurrent roles as the global head of Case IH brand marketing and communication and North America Case IH commercial marketing and communications leader since 2019. Previously, he was the North American VP of Parts & Service for CNH Industrial from 2016-19. 
"With a rich background rooted in agriculture, Kurt Coffey is committed to supporting North American producers through a strong brand approach along with the right iron and technology solutions," Harris said. "His experiences in the industry have made him an exceptional leader, and we look forward to Coffey's continued future with Case IH."
Coffey holds a bachelor's degree in agricultural business from Illinois State University. He remains actively involved in his family's grain-farming operation in central Illinois, bringing a customer-centric collection of agriculture industry experiences to his new role.  
When Coffey took over his role as VP of Parts & Service, it was to replace Harris who had recently been named VP of Case Construction. 
Full memo that was sent to dealers is below.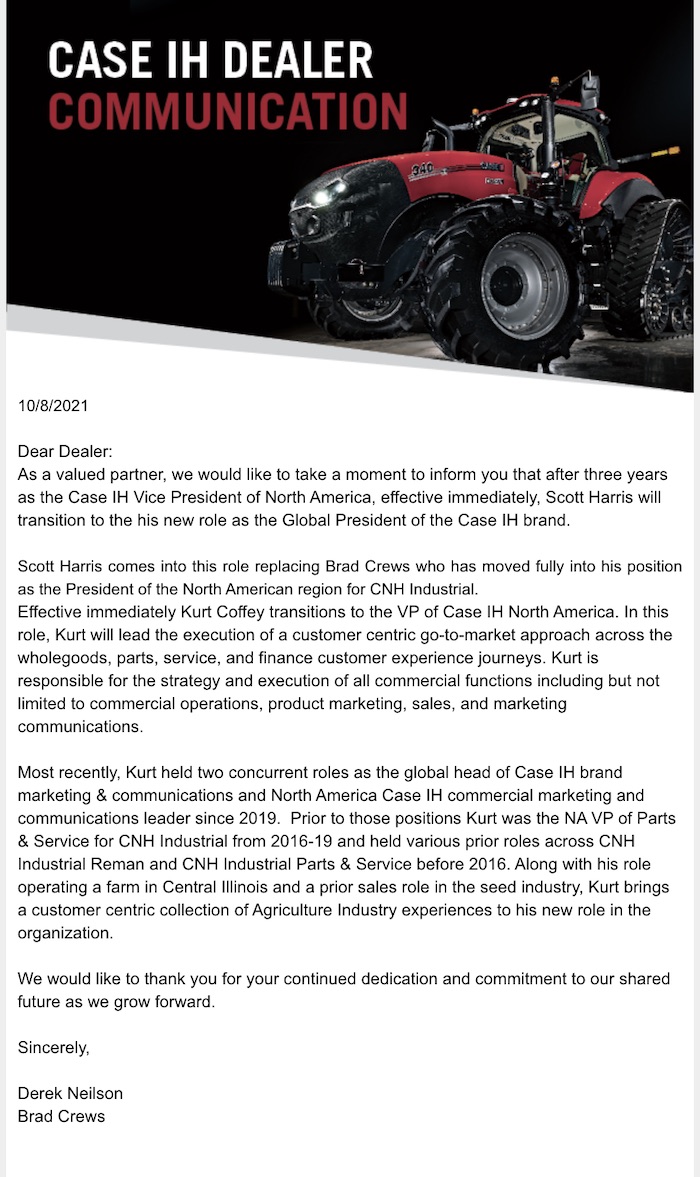 ---
Related Content
'Producer-First' Partners to be Mantra of New Case IH Exec: After 12 years of dealers (partners as Scott Harris calls them) accustomed to the same personality at the top, Harris bring a familiar yet fresh approach as the new leader of Case IH Agriculture's North American dealer network. Read more. 
33 Years Later: Lessons Learned Make Today's Dealers Stronger: Former International Harvester (IH) executive/dealer Paul Wallem & Case IH North America vice president Scott Harris reflected on the IH and Case merger of 33 years ago and contrasted today's ag cycle with the early 1980s during a sit-down at the Case IH Experience Center in Racine, Wis. Read more. 
Kurt Coffey Named Vice President, CNH Industrial Parts & Service in North America: As Vice President of CNH Industrial Parts & Service for North America, Kurt is responsible for the overall sales growth and profitability of the company's aftersales products, services and parts operations in North America. Read more.